Commentary
Carl Edwards lets driving do the talking
Updated:
November 19, 2011, 6:27 PM ET
By
Terry Blount
| ESPN.com
HOMESTEAD, Fla. -- Tony Stewart thinks he has won the mind games this week. Carl Edwards has said all along he doesn't care and it doesn't matter.
What matters are results on the track. On Saturday, the track smack was all Edwards. That's where he did all of his talking.
Edwards is on the pole for the Ford 400. Stewart will start 15th. Edwards was No. 1 in Happy Hour final practice and No. 2 in the opening practice. Stewart wasn't close.
Take that, Tony. Advantage Edwards, big time. A little smack down of his own.
[+] Enlarge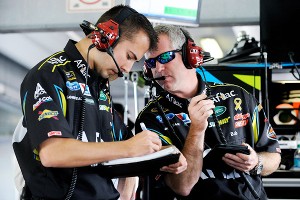 Jared C. Tilton/Getty ImagesCrew chief Bob Osborne, right, had the No. 99 Ford humming Saturday at Homestead-Miami Speedway.
"Things are good," Edwards said. "Today went really well. Our car was really fast in race trim. I didn't know about qualifying trim, so that was a pleasant surprise. But it's truly just one lap. It doesn't change that we still have to put forth the effort for this race."
Edwards, who leads Stewart by three points entering Sunday's battle for the Sprint Cup championship, has heard endless verbal abuse from Stewart for three weeks.
Edwards just keeps laughing it off. And he finally got to show his stuff on the track after rain kept the Cup cars in the garage Friday.
By any measure, the No. 99 Ford for Edwards was better Saturday than the No. 14 Chevy of Stewart. But Stewart doesn't see it that way.
"I'm not known for being much of a qualifier, so I'm pretty content right now,'' Stewart said. "We spent a lot of time working on race setups this morning. I think we're gonna be all right. We just have to sit and wait for tomorrow."
But Stewart had no intention of letting Saturday's preliminaries end with Edwards thinking he has the upper hand.
"You guys need to look at the time sheet," Stewart told reporters. "His [Edwards'] lap times fell off pretty hard on the one long run he did. I think we did the right thing today because our times did not fall off the way they did."
Well, not exactly. Edwards had a best 10-lap average of 168.115 mph in the 90-minute opening practice, second best in the session. Stewart's 10-lap average was one spot behind Edwards.
Edwards kept up the speed show in Happy Hour. When a team turns only three laps in the final practice and two of them are faster than everybody else, it's a clear message without saying a word.
But Stewart wasn't impressed. Stewart was 28th in the final practice, but he turned 52 laps, focusing on race trim.
[+] Enlarge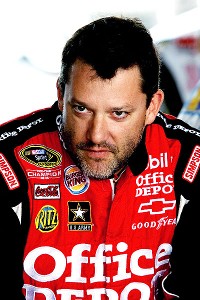 Jerry Markland/Getty Images/NASCARTony Stewart will have some work to do Sunday at Homestead after qualifying 15th.
"I was really proud of our guys today with the way we utilized our practice time," Stewart said. "I think it's a good sign that we made a lot of laps. I was happy with what we had and was just seeing how it was going to hang on or if it would change.
"The good news is every time we made a change, [the car] responded in some way. If you change things on the car and it doesn't respond, then you know you have problems."
And what did he think of the Happy Hour strategy of the 99 team?
"They will either look like geniuses for doing it or not," Stewart said. "We got the one lap out of the way. Now have to do the 400 miles.''
And here's another little Stewart dig at Edwards:
"I thought the best two cars today were the 88 [Dale Earnhardt Jr.] and the 4 [Kasey Kahne],'' Stewart said. "And they were back there with us in the final practice."
By qualifying on the pole, Edwards gets the first pit stall, free and clear of any traffic in front of him. Stewart will have cars on both ends of his stall, a dangerous situation with the title on the line.
"It's an advantage for [Edwards],'' Stewart said. "But the pit stall doesn't guarantee anything. It's a luxury, but don't start etching his name in the trophy yet."
Stewart kept the trash-talking barrage coming, even referring to Thursday's press conference at South Beach when both drivers were on stage together.
"I had fun talking to him,'' Stewart said. "He's an easy target. He's fun to pick at. He brings a knife to a gunfight."
Edwards has no desire to play along now.
"It's just lip service," Edwards said. "We're not going to get caught up in any of that. Today was great, but it's truly just one lap.
"Even if we had qualified 43rd, it wouldn't have changed my approach to this race. We have to go out and do our jobs well and see what happens when the flag falls."
Even Stewart agrees on that assessment.
"Now we get to do it on the track tomorrow," Stewart said.
All the off-the-track talk is over. As for what has transpired on the track, Edwards did all the meaningful talking Saturday.
But Sunday is when it counts. One of these guys will get to do plenty of talking when the day ends.
Terry Blount is a senior writer for ESPN.com. His book, "The Blount Report: NASCAR's Most Overrated and Underrated Drivers, Cars, Teams, and Tracks," was published by Triumph Books and is available in bookstores. Click here to order a copy. Blount can be reached at terry@blountspeak.com.
ESPN Seattle Seahawks reporter
Covered the NFL at the Houston Post and Houston Chronicle, including eight Super Bowls
Received Citation for Writing Excellence from Hearst Newspapers
Also has covered NBA Finals, World Series, Finals Fours, Indy 500 and Daytona 500
SPONSORED HEADLINES
MORE RACING HEADLINES
MOST SENT STORIES ON ESPN.COM
CHAMPIONSHIP WEEKEND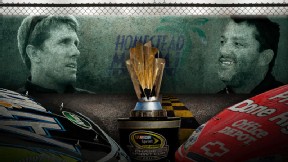 The 2011 Sprint Cup Series title came down to Carl Edwards vs. Tony Stewart, and it lived up to the hype. Stewart won the race, Edwards finished second and they tied on points. The tie-breaker? Total wins, and Stewart won that -- and the championship -- five to one for the season.


Tuesday
•
Willis: Stewart's title historic
Monday
•
Monday Rundown: Thrilling title finishes
•
Power Rankings: The final cut
•
SportsNation: Stewart's legacy
•
Gossage: What a finish!
•
Tony Stewart chat wrap
•
Video: Season in review
•
Video: Sounds of the season
•
Video: Stewart on SportsCenter
•
PodCast: Jayski
•
PodCast: Stewart on Mike & Mike
•
PodCast: Stewart on The Herd
•
PodCast: Stewart on the SVP Show
Sunday
•
Hinton: A finale for the ages
•
Newton: Stewart roars to title
•
Blount: Edwards put up valiant fight
•
Video: SportsCenter highlights
•
Video: Tony Stewart in Victory Lane
•
Video: Carl Edwards deals with loss
•
Video: NACAR Now analysis
•
Recap: Stewart wins and wins
•
Final Sprint Cup standings
•
Ford 400 final results
•
Racing Live! Homestead rewind
•
Sprint Cup 2011 Zoom Gallery
•
Newton: Stenhouse livin' the dream
•
Mark "Guru" Garrow fantasy chat wrap
Saturday
•
Blount: Advantage Carl Edwards
•
Edwards takes pole for finale
•
Hinton: JJ sees edge for Edwards
•
Newton: Johnson a champion's champion
•
Dosh's business blog: NASCAR on the rebound?
•
McGee: Danica limps into the offseason
•
Newton blog: DW remembers close one
•
Hinton blog: Dillon's Trucks title meaningful
Friday
•
Ed Hinton on NASCAR mind games
•
Terry Blount on Brian France and NASCAR
•
David Newton on team orders
•
Blount blog: Danica and moonshine?
•
Newton blog: Keselowski's "secret" fine
•
Ricky Craven on Jimmie Johnson's ride
•
ESPN experts pick the title winner
•
Racing Live! Title Tilt rewind
Columns, Features & Blogs
•
Blount: Edwards figures talk is cheap
•
Newton: Round 1 goes to Tony Stewart
•
Hinton: Edwards would make best champ
•
Blount: Stewart would make best champ
•
Willis: Edwards' time to shine
•
Ed Hinton chat wrap
•
Newton: Roush chasing his dreams
•
Willis blog: For all the marbles
•
Monday Rundown: JJ's reign over
•
Power Rankings: Two-man fight
•
Newton: Homestead, here we come!
Video
•
Season in review
•
Sounds of the season
•
Stewart on SportsCenter
•
SportsCenter highlights
•
NACAR Now championship analysis
•
Tony Stewart in Victory Lane
•
Carl Edwards deals with loss
•
Rain washes out Cup practice
•
Marty Smith interviews Edwards, Stewart
•
Edwards and Stewart: Talking smack
•
RPM Extra: Around the tracks
•
One Last Chance
•
He Said, He Said
•
Edwards Ready For A Championship
•
Soundtracks: Phoenix
Podcasts
•
Jayski: The end of the season
•
Stewart on Mike & Mike
•
Stewart on The Herd
•
Stewart on the SVP Show
•
Jayski: Ready to rumble
•
Dale Jarrett on Mike & Mike
•
Rusty Wallace on the SVP Show
•
Jayski: Clash of the titans
•
Jayski: Edwards, Stewart talk title
•
Jayski: Action-packed week
•
Jayski: Edwards, Stewart stay close