Carl Edwards on pole, Tony Stewart 15th
Updated:
November 19, 2011, 6:49 PM ET
Associated Press
HOMESTEAD, Fla. -- Tony Stewart has run his mouth for almost a month trying to rattle Carl Edwards in the race to NASCAR's championship.
Edwards has tuned it all out, and on Saturday he did his talking on the track.
More on ESPN.com

Talking smack will get you only so far. Carl Edwards made the biggest statement of the week without even opening his mouth, winning the pole for Sunday's Sprint Cup finale, writes Terry Blount. Story
---

It hit Jimmie Johnson like a ton of bricks. He finally realized his five-year run as Sprint Cup champion was over. Are Superman's best years behind him? Don't count on it, writes David Newton. Story
• Newton: DW on the Chase
Edwards won the pole for Sunday's season finale at Homestead-Miami Speedway, where the Sprint Cup Series championship will be decided. Edwards goes into the race with a three-point lead over Stewart, who qualified 15th. One of the two will bring an official end to Jimmie Johnson's record five-year run, and the pole-winning run seemed to indicate Edwards is on pace.
Is it all lining up for Edwards to win his first Cup title?
"I don't know that I believe in fate, but I do believe that things happen for a reason," Edwards said. "I do believe that whatever you encounter you have to treat as if that's just the way it's supposed to be. But, yeah, this is going really well so far and, hopefully, this helps us all race. We didn't need to qualify poorly, get a poor pit stall, have some little thorn in our side the whole race, so this will hopefully help us for the whole event."
But Stewart, a two-time champion, cautioned there's still 400 miles to be run.
"Don't start etching his name on the trophy yet," said Stewart, who is bidding to become the first owner/driver to win the title since Alan Kulwicki in 1992. "I'm excited about it. I'm not known to be much of a qualifier, so 15th, I'm pretty content."
Edwards turned a lap at 175.467 mph in his Roush Fenway Racing Ford, besting Martin Truex Jr. and Kasey Kahne, winner last week at Phoenix.
Kurt Busch qualified fourth and was followed by Penske Racing teammate Brad Keselowski, Edwards teammate Matt Kenseth and Jeff Gordon. Greg Biffle, another Edwards teammate, qualified eighth while Johnson and Denny Hamlin rounded out the top 10.
Stewart's lap for the 15th starting spot was 173.332 mph in a Chevrolet.
He and Edwards had decidedly different strategies during Saturday's two practice sessions. Rain washed out all Cup activity on Friday, so Edwards and Stewart had to get the most of their 2½ hours on the track.
In the first session, Edwards ran 49 laps and his 10-lap average ranked second overall. Stewart ran 30 laps and ranked third in 10-lap average.
But in the second session, Edwards crew chief Bob Osborne switched the No. 99 into qualifying trim and Edwards ran only three laps, logging the fastest lap of the day.
"We ran the first practice completely in race trim and we felt the best strategy for us was to focus on race trim there, and then focus on qualifying trim the second practice," Edwards said. He said he cut a tire during the run, which might have been a blessing because it ended their session and "probably helped us from tuning the thing out of contention."
Sprint Cup Standings

Carl Edwards leads NASCAR's Chase for the Sprint Cup Championship by three points over Tony Stewart entering Sunday's race at Miami.
Full standings
Stewart had a very busy second session, running 52 more laps and logging in at ninth overall in 10-lap average, and he was confident he had the better strategy.
"They're either going to look like geniuses doing it or not," he said of Edwards' strategy. "You look at how many laps we ran, we spent a lot of time trying to find the combination for race trim. We got the one-lap deal out of the way, now we have to worry about the 400 miles."
Edwards said he never checked Stewart's practice strategy, and didn't even know where his rival had qualified. His sole focus is on Sunday's race.
"I didn't pay any attention to them in practice," Edwards said. "I guess the deal is we've still got to go run this race and I know how tough those guys can be, so I'm not counting anything yet. We're just going to keep our heads down and work hard and go do the best we can."
That's been his attack this Chase, even as Stewart reeled off four wins to thrust himself into contention for a title that Stewart believed he had no chance at winning when the 10-race title-deciding series began in September. As Stewart climbed up in the standings and got within reach of Edwards, he tried a variety of one-liners and verbal jabs to get inside Edwards' head.
He kept it up Saturday after qualifying, and admitted he's had fun the last month.
"He's like an easy target. It's like bringing a knife to a gunfight," Stewart said. "He is a fun guy to pick at. He makes himself an easy target, so that makes it easier."
Edwards for the most part has not been rattled. He did seem at one point to grow weary of the gamesmanship in a joint news conference Thursday, but has yet to fold to the pressure.
Edwards has a great history at Homestead and that's helped him stay relaxed. He's a two-time winner at Homestead, is the defending race winner, and has 5.7 average finish in seven races.
He seemed to think Saturday that he can win the season finale.
"I'm not just giving you lip service: I'm here to do a job and to do it well and it truly doesn't matter what's said or what happens until that checkered flag falls," Edwards said.

Copyright 2011 by The Associated Press
SPONSORED HEADLINES
MORE RACING HEADLINES
MOST SENT STORIES ON ESPN.COM
CHAMPIONSHIP WEEKEND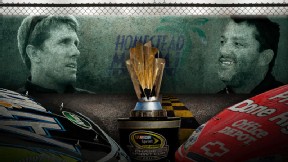 The 2011 Sprint Cup Series title came down to Carl Edwards vs. Tony Stewart, and it lived up to the hype. Stewart won the race, Edwards finished second and they tied on points. The tie-breaker? Total wins, and Stewart won that -- and the championship -- five to one for the season.


Tuesday
•
Willis: Stewart's title historic
Monday
•
Monday Rundown: Thrilling title finishes
•
Power Rankings: The final cut
•
SportsNation: Stewart's legacy
•
Gossage: What a finish!
•
Tony Stewart chat wrap
•
Video: Season in review
•
Video: Sounds of the season
•
Video: Stewart on SportsCenter
•
PodCast: Jayski
•
PodCast: Stewart on Mike & Mike
•
PodCast: Stewart on The Herd
•
PodCast: Stewart on the SVP Show
Sunday
•
Hinton: A finale for the ages
•
Newton: Stewart roars to title
•
Blount: Edwards put up valiant fight
•
Video: SportsCenter highlights
•
Video: Tony Stewart in Victory Lane
•
Video: Carl Edwards deals with loss
•
Video: NACAR Now analysis
•
Recap: Stewart wins and wins
•
Final Sprint Cup standings
•
Ford 400 final results
•
Racing Live! Homestead rewind
•
Sprint Cup 2011 Zoom Gallery
•
Newton: Stenhouse livin' the dream
•
Mark "Guru" Garrow fantasy chat wrap
Saturday
•
Blount: Advantage Carl Edwards
•
Edwards takes pole for finale
•
Hinton: JJ sees edge for Edwards
•
Newton: Johnson a champion's champion
•
Dosh's business blog: NASCAR on the rebound?
•
McGee: Danica limps into the offseason
•
Newton blog: DW remembers close one
•
Hinton blog: Dillon's Trucks title meaningful
Friday
•
Ed Hinton on NASCAR mind games
•
Terry Blount on Brian France and NASCAR
•
David Newton on team orders
•
Blount blog: Danica and moonshine?
•
Newton blog: Keselowski's "secret" fine
•
Ricky Craven on Jimmie Johnson's ride
•
ESPN experts pick the title winner
•
Racing Live! Title Tilt rewind
Columns, Features & Blogs
•
Blount: Edwards figures talk is cheap
•
Newton: Round 1 goes to Tony Stewart
•
Hinton: Edwards would make best champ
•
Blount: Stewart would make best champ
•
Willis: Edwards' time to shine
•
Ed Hinton chat wrap
•
Newton: Roush chasing his dreams
•
Willis blog: For all the marbles
•
Monday Rundown: JJ's reign over
•
Power Rankings: Two-man fight
•
Newton: Homestead, here we come!
Video
•
Season in review
•
Sounds of the season
•
Stewart on SportsCenter
•
SportsCenter highlights
•
NACAR Now championship analysis
•
Tony Stewart in Victory Lane
•
Carl Edwards deals with loss
•
Rain washes out Cup practice
•
Marty Smith interviews Edwards, Stewart
•
Edwards and Stewart: Talking smack
•
RPM Extra: Around the tracks
•
One Last Chance
•
He Said, He Said
•
Edwards Ready For A Championship
•
Soundtracks: Phoenix
Podcasts
•
Jayski: The end of the season
•
Stewart on Mike & Mike
•
Stewart on The Herd
•
Stewart on the SVP Show
•
Jayski: Ready to rumble
•
Dale Jarrett on Mike & Mike
•
Rusty Wallace on the SVP Show
•
Jayski: Clash of the titans
•
Jayski: Edwards, Stewart talk title
•
Jayski: Action-packed week
•
Jayski: Edwards, Stewart stay close