Commentary
Carl Edwards a class act in title defeat
Updated:
November 20, 2011, 11:39 PM ET
By
Terry Blount
| ESPN.com
HOMESTEAD, Fla. -- In a championship race like no other, a title fight none of us will see again unless the solar system starts turning in reverse, Carl Edwards walked away believing he did all he could do.
He lost the title, but he passed the test.
Edwards started on the pole Sunday. He led the most laps in the Ford 400. He had the best average finish in Chase history at 4.9.
And Edwards finished second in the season finale, just 1.3 seconds behind the winner, the only man who could take the crown away from him.
On a historic night for auto racing, an event destined to become legend in sports lore, Tony Stewart beat Edwards for the 2011 Sprint Cup title the only way he could -- winning the race.
[+] Enlarge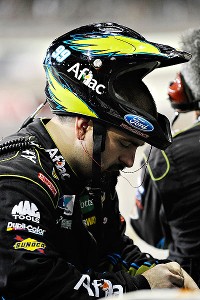 Jared C. Tilton/Getty ImagesA crew member for the No. 99 Ford reacts after Carl Edwards finished second to Tony Stewart at Homestead-Miami Speedway.
It is impossible to imagine a more difficult way to lose a championship. In one way, Edwards didn't lose it. He and Stewart finished in a dead heat in the points, a first in the 62 years of the NASCAR.
But Stewart won the title by virtue of more victories -- 5-1 this season, including 5-0 in the 10 Chase events. In the end, winning mattered, as it should. His average finish in the Chase was 6.3.
But consider what Edwards did in falling short. He had nine top-10s in the Chase. And he was 11th in the other playoff race. He posted seven top-5s, including three consecutive second-place finishes at the end.
In any other season, those amazing numbers easily would have won the championship, but it wasn't enough. And Edwards must be asking why.
He could have hung his head. He could have screamed in anger. He could have cried in sorrow. He could have walked away in silence and disgust as the most disappointed man in America.
Edwards did none of those things. He handled the most devastating championship defeat any driver ever experienced with true class and dignity.
Seconds after the race ended, he was on his radio to his team and crew chief Bob Osborne.
"Guys, keep your heads up," Edwards said. "Bob, you're the best crew chief out here. I appreciate everything you guys did for me this year. We will go home, work hard and beat them next year."
Before Stewart got out of his car in Victory Lane, Edwards walked over and shook his hand.
"It shows how classy he is to be the first one to congratulate me," Stewart said on the ESPN telecast. "He just said, 'Promise me one thing. You'll really enjoy this and we'll do it again next year.' ''
Edwards lost the championship in a way no man ever has lost one in the past 36 years. Since this points system was established in 1975, Stewart is the only driver to win a Cup title by winning the last race.
"We knew all the circumstances that could happen, but this was the least probable outcome," Edwards said. "I was prepared for anything. I told my family before the race, whatever the outcome, win, lose or draw, I want to be a good example for my kids."
Edwards' example was exemplary.
"This night is about Tony," Edwards said. "They beat us fair and square. I wish so bad we had that trophy, but it wasn't meant to be tonight. I give Tony credit, but that is everything I've got."
It took an extraordinary series of events for Stewart to end up on top after his team made a decision to gamble on fuel mileage near the end of the race.
[+] Enlarge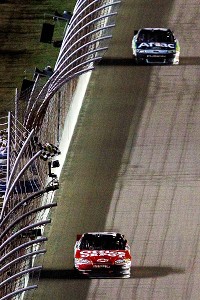 Tom Pennington/Getty Images for NASCARTony Stewart, bottom, tied with Carl Edwards in the final standings, but Smoke won the title with the tiebreaker.
It looked as though the move would backfire, but a brief rain shower brought out a caution at just the right time, enabling Stewart to stay near the front of the pack for the final restart. Edwards had to pit under caution while leading and Stewart restarted two spots ahead of Edwards (fourth to sixth).
Stewart took the lead with 36 laps to go. Edwards moved to second three laps later, but he never came close to catching Stewart at the end.
"I tried all sorts of stuff,'' Edwards said, racing so close to the wall down the stretch that it appeared he would either win or wreck. "That's as hard as I can drive the car. I drove it on the edge. I drove it over the edge. That's everything I had."
When Edwards walked into the media center after the race, Martin Truex Jr., the third-place finisher, was speaking. Edwards sat and listened, never looking down.
"That thing could have gone either way," Truex said of the championship battle. "It was cool to watch. I just wish I could have beaten both of them."
"That would have been fine with me," Edwards said, bringing a roar of laughter from the room.
A Truex victory would have meant an Edwards championship. That little comic moment was as much frivolity as Edwards could muster.
But he didn't pout or complain or place blame on anyone. If only more athletes today would handle defeat the way Edwards did Sunday.
"There's a Kipling poem I keep thinking about." Edwards said. "You meet triumph and disaster and treat those two imposters just the same.
"Although this did not come out with the outcome we wanted, we are better for it. I'm not trying to be philosophical. I just know it's true. I didn't change the person I am. I did it my way and I'm proud of that. I feel personally I passed the test."
In more than three decades as a sports writer, I have learned far more about an athlete in defeat than I ever have in victory.
We all learned a lot about Edwards Sunday night. He lost the title, but he passed the test.
Terry Blount is a senior writer for ESPN.com. His book, "The Blount Report: NASCAR's Most Overrated and Underrated Drivers, Cars, Teams, and Tracks," was published by Triumph Books and is available in bookstores. Click here to order a copy. Blount can be reached at terry@blountspeak.com.
ESPN Seattle Seahawks reporter
Covered the NFL at the Houston Post and Houston Chronicle, including eight Super Bowls
Received Citation for Writing Excellence from Hearst Newspapers
Also has covered NBA Finals, World Series, Finals Fours, Indy 500 and Daytona 500
SPONSORED HEADLINES
MORE RACING HEADLINES
MOST SENT STORIES ON ESPN.COM
CHAMPIONSHIP WEEKEND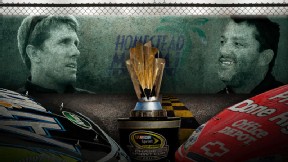 The 2011 Sprint Cup Series title came down to Carl Edwards vs. Tony Stewart, and it lived up to the hype. Stewart won the race, Edwards finished second and they tied on points. The tie-breaker? Total wins, and Stewart won that -- and the championship -- five to one for the season.


Tuesday
•
Willis: Stewart's title historic
Monday
•
Monday Rundown: Thrilling title finishes
•
Power Rankings: The final cut
•
SportsNation: Stewart's legacy
•
Gossage: What a finish!
•
Tony Stewart chat wrap
•
Video: Season in review
•
Video: Sounds of the season
•
Video: Stewart on SportsCenter
•
PodCast: Jayski
•
PodCast: Stewart on Mike & Mike
•
PodCast: Stewart on The Herd
•
PodCast: Stewart on the SVP Show
Sunday
•
Hinton: A finale for the ages
•
Newton: Stewart roars to title
•
Blount: Edwards put up valiant fight
•
Video: SportsCenter highlights
•
Video: Tony Stewart in Victory Lane
•
Video: Carl Edwards deals with loss
•
Video: NACAR Now analysis
•
Recap: Stewart wins and wins
•
Final Sprint Cup standings
•
Ford 400 final results
•
Racing Live! Homestead rewind
•
Sprint Cup 2011 Zoom Gallery
•
Newton: Stenhouse livin' the dream
•
Mark "Guru" Garrow fantasy chat wrap
Saturday
•
Blount: Advantage Carl Edwards
•
Edwards takes pole for finale
•
Hinton: JJ sees edge for Edwards
•
Newton: Johnson a champion's champion
•
Dosh's business blog: NASCAR on the rebound?
•
McGee: Danica limps into the offseason
•
Newton blog: DW remembers close one
•
Hinton blog: Dillon's Trucks title meaningful
Friday
•
Ed Hinton on NASCAR mind games
•
Terry Blount on Brian France and NASCAR
•
David Newton on team orders
•
Blount blog: Danica and moonshine?
•
Newton blog: Keselowski's "secret" fine
•
Ricky Craven on Jimmie Johnson's ride
•
ESPN experts pick the title winner
•
Racing Live! Title Tilt rewind
Columns, Features & Blogs
•
Blount: Edwards figures talk is cheap
•
Newton: Round 1 goes to Tony Stewart
•
Hinton: Edwards would make best champ
•
Blount: Stewart would make best champ
•
Willis: Edwards' time to shine
•
Ed Hinton chat wrap
•
Newton: Roush chasing his dreams
•
Willis blog: For all the marbles
•
Monday Rundown: JJ's reign over
•
Power Rankings: Two-man fight
•
Newton: Homestead, here we come!
Video
•
Season in review
•
Sounds of the season
•
Stewart on SportsCenter
•
SportsCenter highlights
•
NACAR Now championship analysis
•
Tony Stewart in Victory Lane
•
Carl Edwards deals with loss
•
Rain washes out Cup practice
•
Marty Smith interviews Edwards, Stewart
•
Edwards and Stewart: Talking smack
•
RPM Extra: Around the tracks
•
One Last Chance
•
He Said, He Said
•
Edwards Ready For A Championship
•
Soundtracks: Phoenix
Podcasts
•
Jayski: The end of the season
•
Stewart on Mike & Mike
•
Stewart on The Herd
•
Stewart on the SVP Show
•
Jayski: Ready to rumble
•
Dale Jarrett on Mike & Mike
•
Rusty Wallace on the SVP Show
•
Jayski: Clash of the titans
•
Jayski: Edwards, Stewart talk title
•
Jayski: Action-packed week
•
Jayski: Edwards, Stewart stay close