Commentary
Stewart is NASCAR royalty now
Updated:
November 21, 2011, 12:23 AM ET
By
Ed Hinton
| ESPN.com
HOMESTEAD, Fla. -- Tony Stewart drove a race for the ages. He won a championship for the ages. And Carl Edwards, in all-out pursuit to the end, helped Stewart seal Sunday's Ford 400 as the best NASCAR season finale there ever has been -- and probably ever will be.
They finished 1-2 on the track, they finished tied in points for the first time in NASCAR history, and Stewart won the championship on the first tiebreaker, most race wins, with five to Edwards' one this season.
"If this doesn't go down as one of the greatest championship battles in history, I don't know what will," Stewart said in Victory Lane.
"

If this doesn't go down as one of the greatest championship battles in history, I don't know what will.

"

-- Tony Stewart
He needn't even qualify this with "one of …"
This was it, thus far in NASCAR's 64-year history. As for posterity, he needn't worry.
Stewart -- 40 now yet clearly in his driving prime, he showed Sunday -- likely will be retired, gray-haired and long-inducted into NASCAR's Hall of Fame without ever seeing another season-ending performance come close to matching his and Edwards' duel Sunday.
Nor need Stewart fret about someone soon equaling his Chase performance of 2011, a record five wins in the 10 playoff races.
"Five out of 10 -- pretty damn impressive," his crew chief, Darian Grubb, deadpanned about Stewart's topping Jimmie Johnson's four.
Stewart and Edwards ran 1-2 for the final 34 laps, but Edwards, who'd led the most laps in the race, couldn't make any more headway.
Still, "I was fully prepared for Tony to run out of fuel, for him to have a tire problem, for anything to happen," Edwards said. "I just had to drive the hardest I could, and I did. I drove it to the edge and beyond, and that's all I had."
Edwards had said coming in that "It truly could come down to one of us having to win this race."
And it truly did. Normally, a season ender in NASCAR is a matter of a standings leader cruising around trying to protect a points lead, and not worrying about winning -- only about keeping a cushion.
Usually, separate ceremonies are held after the finale for the race winner and the season champion. Stewart consolidated everything Sunday night.
And this was the same Stewart, mind you, who, almost exactly three months ago, had said of his then-winless team, "If we're going to run this bad it really doesn't matter whether we make the Chase or not."
"That was probably the time that turned the attitudes around," Grubb said Sunday night.
"When I said we didn't belong in the Chase, there were two things that could have happened with our group of guys," Stewart said. "They could have hung their heads and said, 'Our guy doesn't believe in us.' Or they could do exactly what they did. They never gave up. They fought like the Bad News Bears."
And they brought Stewart his third Cup championship, the fifth highest total in NASCAR history but to a level with some legendary names: Lee Petty, David Pearson, Cale Yarborough and Darrell Waltrip.
After his third win of this Chase, at Martinsville, Va., Stewart began to crow that points leader Edwards "better be worried," and Stewart followed up immediately with a fourth win at Texas. He never let up on the smack talk.
"I don't care what he does," Stewart said of Edwards on arrival in Miami for championship week. "If we can go out and win the race, we don't even have to lead the most laps this time [to accrue enough points]."
[+] Enlarge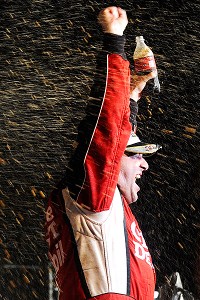 Jared C. Tilton/Getty ImagesStewart fell to 40th early, but had plenty of reason to celebrate by race end.
That's exactly what happened Sunday. Edwards led the most laps, 119 of the 267, and collected a one-point bonus for that. He'd come into the race leading Stewart by three points, so his second-place finish left him tied with Stewart in the final points total.
All race, even during rain delays, the suspense and drama were relentless. That was Stewart had shown early on that he would keep storming back, just about no matter what, even while Edwards dominated.
Stewart's mishaps and pit-stop gambles -- including almost running out of fuel when he waited till the last moment for his final stop -- merely provided him with more chances to put on spectacular shows within the show.
Falling back as far as 40th after pitting just 17 laps into the race with a grille damaged when he ran over debris, Stewart drove the way the movies make drivers appear to drive.
Along the way, he would dive inside a three-wide group of cars and pass them all at once. Or, next move, he might go high around a pair running side by side and clear them easily.
But his aria on wheels came on the final restart, with 37 laps left. Restarting third, Stewart shot immediately to the front, under leader Brad Keselowski and second-place Kyle Busch, then dueled with Keselowski for a few moments before taking the lead for keeps.
His decisive surge to the front "was the one hairy moment of anything that I did all day where I felt like, 'Oh, my, I just lost it,' " Stewart said. "I got loose underneath the 18 [Busch] and the 2 [Keselowski] and it was a three-wide drag race going into [Turn] 3."
But he got through cleanly, and was off into the ages.
Ed Hinton is a senior writer for ESPN.com. He can be reached at edward.t.hinton@espn.com.
SPONSORED HEADLINES
MORE RACING HEADLINES
MOST SENT STORIES ON ESPN.COM
CHAMPIONSHIP WEEKEND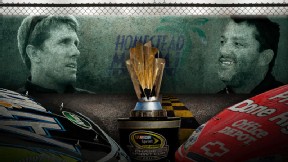 The 2011 Sprint Cup Series title came down to Carl Edwards vs. Tony Stewart, and it lived up to the hype. Stewart won the race, Edwards finished second and they tied on points. The tie-breaker? Total wins, and Stewart won that -- and the championship -- five to one for the season.


Tuesday
•
Willis: Stewart's title historic
Monday
•
Monday Rundown: Thrilling title finishes
•
Power Rankings: The final cut
•
SportsNation: Stewart's legacy
•
Gossage: What a finish!
•
Tony Stewart chat wrap
•
Video: Season in review
•
Video: Sounds of the season
•
Video: Stewart on SportsCenter
•
PodCast: Jayski
•
PodCast: Stewart on Mike & Mike
•
PodCast: Stewart on The Herd
•
PodCast: Stewart on the SVP Show
Sunday
•
Hinton: A finale for the ages
•
Newton: Stewart roars to title
•
Blount: Edwards put up valiant fight
•
Video: SportsCenter highlights
•
Video: Tony Stewart in Victory Lane
•
Video: Carl Edwards deals with loss
•
Video: NACAR Now analysis
•
Recap: Stewart wins and wins
•
Final Sprint Cup standings
•
Ford 400 final results
•
Racing Live! Homestead rewind
•
Sprint Cup 2011 Zoom Gallery
•
Newton: Stenhouse livin' the dream
•
Mark "Guru" Garrow fantasy chat wrap
Saturday
•
Blount: Advantage Carl Edwards
•
Edwards takes pole for finale
•
Hinton: JJ sees edge for Edwards
•
Newton: Johnson a champion's champion
•
Dosh's business blog: NASCAR on the rebound?
•
McGee: Danica limps into the offseason
•
Newton blog: DW remembers close one
•
Hinton blog: Dillon's Trucks title meaningful
Friday
•
Ed Hinton on NASCAR mind games
•
Terry Blount on Brian France and NASCAR
•
David Newton on team orders
•
Blount blog: Danica and moonshine?
•
Newton blog: Keselowski's "secret" fine
•
Ricky Craven on Jimmie Johnson's ride
•
ESPN experts pick the title winner
•
Racing Live! Title Tilt rewind
Columns, Features & Blogs
•
Blount: Edwards figures talk is cheap
•
Newton: Round 1 goes to Tony Stewart
•
Hinton: Edwards would make best champ
•
Blount: Stewart would make best champ
•
Willis: Edwards' time to shine
•
Ed Hinton chat wrap
•
Newton: Roush chasing his dreams
•
Willis blog: For all the marbles
•
Monday Rundown: JJ's reign over
•
Power Rankings: Two-man fight
•
Newton: Homestead, here we come!
Video
•
Season in review
•
Sounds of the season
•
Stewart on SportsCenter
•
SportsCenter highlights
•
NACAR Now championship analysis
•
Tony Stewart in Victory Lane
•
Carl Edwards deals with loss
•
Rain washes out Cup practice
•
Marty Smith interviews Edwards, Stewart
•
Edwards and Stewart: Talking smack
•
RPM Extra: Around the tracks
•
One Last Chance
•
He Said, He Said
•
Edwards Ready For A Championship
•
Soundtracks: Phoenix
Podcasts
•
Jayski: The end of the season
•
Stewart on Mike & Mike
•
Stewart on The Herd
•
Stewart on the SVP Show
•
Jayski: Ready to rumble
•
Dale Jarrett on Mike & Mike
•
Rusty Wallace on the SVP Show
•
Jayski: Clash of the titans
•
Jayski: Edwards, Stewart talk title
•
Jayski: Action-packed week
•
Jayski: Edwards, Stewart stay close