Darian Grubb earlier told he's out at SHR
Updated:
November 21, 2011, 2:11 AM ET
By
David Newton
| ESPN.com
HOMESTEAD, Fla. -- Crew chief Darian Grubb, who made several key calls in helping Tony Stewart win his third Sprint Cup championship on Sunday at Homestead-Miami Speedway, is looking for a job.
Grubb said after Stewart won the title by a tiebreaker over Carl Edwards that he was told midway through the Chase at Charlotte that he would not be back with Stewart-Haas Racing in 2012.
[+] Enlarge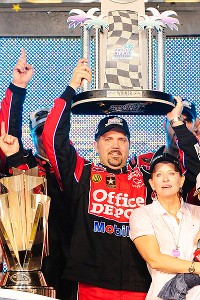 Mark J. Rebilas/US PresswireTony Stewart's crew chief Darian Grubb celebrates after winning the 2011 NASCAR Sprint Cup championship at Homestead Miami Speedway.
Sources close to the situation told ESPN.com that Grubb has been offered a job to return to Hendrick Motorsports, where he worked for four seasons as an engineer and administrative assistant.
Sources also said Grubb, who won a Daytona 500 as an interim crew chief for Jimmie Johnson, has been contacted by Michael Waltrip Racing and several other teams about a crew chief job.
Stewart declined to discuss whether winning the title has changed his mind on Grubb possibly returning.
"I know what his status is for the rest of the night ... I'm going to get him drunk,'' Stewart said. "Tomorrow, if we can just pick our heads up off the floor without throwing up, I'm going to be extremely happy. But I'll worry about that tomorrow.
"There's a lot of things in the offseason and decisions that have to be made. Obviously, we wanted to get through this championship battle first and we'll sit down as a group this week and figure out the direction of our program.''
Among the speculation is that Stewart will hire former Joe Gibbs Racing crew chief Greg Zipadelli to be his director of competition and Steve Addington, the crew chief for Kurt Busch at Penske Racing, to be his crew chief.
JGR president J.D. Gibbs told ESPN.com before Sunday's finale that he planned to have Zipadelli, who is under contract for 2012 and beyond, back next season with Joey Logano and the No. 20 team.
Sources said Addington is not expected to return to Penske Racing, but could not confirm where he would go.
Grubb said he would sit down with Stewart this week and see where things stand. Asked if winning the title would change things, he said, "It all depends.''
"We'll just have to do those talks this week and see what happens,'' he said. "Obviously, this is what I came in to do as a goal, and now I've done that with this team.''
Grubb made several key calls during the race, including an audible from a four-tire to two-tire pit stop when a lug nut stuck in the air gun and making the decision to stretch fuel mileage during the second-to-last run.
Afterwards, Stewart radioed, "Darian Grubb, you are the f------ man! You did it, bud.''
But that doesn't assure Grubb a job with SHR next season.
"I've had a lot of conversations with a lot of people, telling them please give me the courtesy of waiting until tonight to see what we could accomplish,'' Grubb said. "And now that we have done that, I guess we'll start talking, but we'll do a little celebrating first.''
David Newton covers NASCAR for ESPN.com. He can be reached at dnewtonespn@aol.com.
ESPN Carolina Panthers reporter
Covered Panthers, NFL for 11 years
More than 25 years experience covering NFL, college football and NASCAR
Joined ESPN in 2006
CHAMPIONSHIP WEEKEND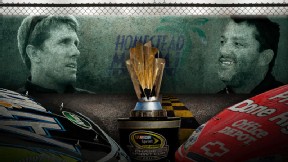 The 2011 Sprint Cup Series title came down to Carl Edwards vs. Tony Stewart, and it lived up to the hype. Stewart won the race, Edwards finished second and they tied on points. The tie-breaker? Total wins, and Stewart won that -- and the championship -- five to one for the season.


Tuesday
•
Willis: Stewart's title historic
Monday
•
Monday Rundown: Thrilling title finishes
•
Power Rankings: The final cut
•
SportsNation: Stewart's legacy
•
Gossage: What a finish!
•
Tony Stewart chat wrap
•
Video: Season in review
•
Video: Sounds of the season
•
Video: Stewart on SportsCenter
•
PodCast: Jayski
•
PodCast: Stewart on Mike & Mike
•
PodCast: Stewart on The Herd
•
PodCast: Stewart on the SVP Show
Sunday
•
Hinton: A finale for the ages
•
Newton: Stewart roars to title
•
Blount: Edwards put up valiant fight
•
Video: SportsCenter highlights
•
Video: Tony Stewart in Victory Lane
•
Video: Carl Edwards deals with loss
•
Video: NACAR Now analysis
•
Recap: Stewart wins and wins
•
Final Sprint Cup standings
•
Ford 400 final results
•
Racing Live! Homestead rewind
•
Sprint Cup 2011 Zoom Gallery
•
Newton: Stenhouse livin' the dream
•
Mark "Guru" Garrow fantasy chat wrap
Saturday
•
Blount: Advantage Carl Edwards
•
Edwards takes pole for finale
•
Hinton: JJ sees edge for Edwards
•
Newton: Johnson a champion's champion
•
Dosh's business blog: NASCAR on the rebound?
•
McGee: Danica limps into the offseason
•
Newton blog: DW remembers close one
•
Hinton blog: Dillon's Trucks title meaningful
Friday
•
Ed Hinton on NASCAR mind games
•
Terry Blount on Brian France and NASCAR
•
David Newton on team orders
•
Blount blog: Danica and moonshine?
•
Newton blog: Keselowski's "secret" fine
•
Ricky Craven on Jimmie Johnson's ride
•
ESPN experts pick the title winner
•
Racing Live! Title Tilt rewind
Columns, Features & Blogs
•
Blount: Edwards figures talk is cheap
•
Newton: Round 1 goes to Tony Stewart
•
Hinton: Edwards would make best champ
•
Blount: Stewart would make best champ
•
Willis: Edwards' time to shine
•
Ed Hinton chat wrap
•
Newton: Roush chasing his dreams
•
Willis blog: For all the marbles
•
Monday Rundown: JJ's reign over
•
Power Rankings: Two-man fight
•
Newton: Homestead, here we come!
Video
•
Season in review
•
Sounds of the season
•
Stewart on SportsCenter
•
SportsCenter highlights
•
NACAR Now championship analysis
•
Tony Stewart in Victory Lane
•
Carl Edwards deals with loss
•
Rain washes out Cup practice
•
Marty Smith interviews Edwards, Stewart
•
Edwards and Stewart: Talking smack
•
RPM Extra: Around the tracks
•
One Last Chance
•
He Said, He Said
•
Edwards Ready For A Championship
•
Soundtracks: Phoenix
Podcasts
•
Jayski: The end of the season
•
Stewart on Mike & Mike
•
Stewart on The Herd
•
Stewart on the SVP Show
•
Jayski: Ready to rumble
•
Dale Jarrett on Mike & Mike
•
Rusty Wallace on the SVP Show
•
Jayski: Clash of the titans
•
Jayski: Edwards, Stewart talk title
•
Jayski: Action-packed week
•
Jayski: Edwards, Stewart stay close
MOST SENT STORIES ON ESPN.COM