Commentary
Gene Haas deserves some credit, too
Updated:
November 30, 2011, 2:59 PM ET
By
David Newton
| ESPN.com
LAS VEGAS -- The person who made Stewart-Haas Racing's first Sprint Cup championship possible won't be on the main stage at the head table during Friday night's awards banquet at the Wynn Las Vegas.
No, Tony Stewart hasn't been banned for wanting to toast this third title with Schlitz instead of champagne.
[+] Enlarge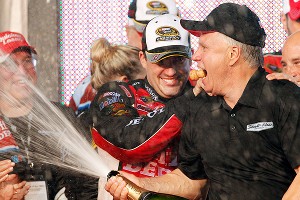 AP Photo/Terry RennaGene Haas celebrated Tony Stewart's title-clinching victory at Homestead-Miami Speedway on Nov. 20.
Not yet, anyway.
This is about Gene Haas, who in 2008 while serving a prison sentence for tax fraud gave Stewart half of what was then CNC Haas Racing in exchange for Stewart's driving talent and name to help give his struggling organization what it needed to hire a top supporting cast.
Haas has asked to sit in the audience at one of the team tables.
It's not surprising.
Haas never wanted to be at the forefront of his organization, even when he owned it all. He wanted to build the best facility possible and hire the best people possible, then sit back and watch it blossom into a championship organization.
There was just one problem.
He was an outsider.
All the money in the world -- and Haas had a lot as the owner of Haas Automation when he started this racing venture in 2002 -- doesn't attract the drivers, crew chiefs and everybody else it takes to reach the top in NASCAR.
Haas finally realized that in 2008 as his teams struggled to make races and stay in the top 35 in owners' points for a guaranteed spot in the field each week. He told then-general manager Joe Custer, "We need to make a change or tear the place down and turn it into a truck stop."
So Custer came up with what Haas called this "wild, crazy idea" to go after Stewart, then a two-time champion driving for Joe Gibbs Racing. Next came the wild idea to actually give Stewart half the company, understanding the benefits of having him as a driver by far outweighed the benefits of selling for profit to another investor.
"Tony Stewart is a superstar, we knew that," Haas said after Stewart won the final race at Homestead-Miami Speedway to claim the title by tiebreaker over Carl Edwards. "I had the jack stands. Unfortunately, you need a wheelman.
"You could have the best equipment in the world, but without a good wheelman you really don't have a whole lot."
VEGAS CHAMPION'S WEEK SCHEDULE
Wednesday
Kickoff event -- Begins at 2:15 p.m. on Fremont Street. Free and open to the public. A Newlywed Game-type competition will take place between the top 12 drivers, who will be randomly paired in groups of two. They then will be paired with a fan and asked questions about each other. The winners will receive suite passes for next year's race weekend at Las Vegas Motor Speedway.
Thursday
NASCAR/NMPA Myers Brothers Awards Luncheon -- The event begins at 11 a.m. in the Bellagio Ballroom. It includes the presentation of awards, from the champion crew chief to the most popular driver; NASCAR Victory Lap -- Begins at 3 p.m. and features the top 12 drivers in show cars driving down the famed Las Vegas Strip. There will be a pit stop along the route as well as two burnout sections. It will begin in front of Planet Hollywood Hotel & Casino and end at the Hard Rock Hotel & Casino; Coca-Cola Fan Zone -- This will open at noon and offer fans prime seating for the end of the Victory Lap. Interactive games will be in place; NASCAR After the Lap -- Begins at 4:30 p.m. for fans who have purchased $20 tickets for the event at the Hard Rock Hotel & Casino. It will feature the top 12 drivers in an unfiltered "tell-all" format. It's a fund-raiser for the NASCAR Foundation.
Friday
2011 Sprint Cup Series Awards Ceremony -- The event begins at 6 p.m. at the Wynn Las Vegas. The top 10 drivers will be recognized, capped by the crowning of champion Tony Stewart.
The wheelman will get all the accolades as the circus known as NASCAR hits Vegas on Wednesday for its three-day celebration. It'll be the wheelman who does the burnout on the famous Strip. It'll be the wheelman who will be honored at Thursday's luncheon and again at Friday's banquet.
And deservedly so.
Before Stewart came on board and brought Ryan Newman with him, Haas had Jack Sprague, John Andretti, Ward Burton, Jason Leffler, Mike Bliss, Jeff Green, Johnny Sauter, Jeremy Mayfield, Max Papis, Tony Raines, Scott Riggs and Ken Schrader.
Those drivers had a combined 16 Cup wins between them, and 10 of those came from Burton and Mayfield. Four more came from Schrader, who made only one start for CNC Haas near the end of his career.
Stewart has 44 Cup wins, 11 the past three years for SHR.
Before Stewart, Haas' drivers were winless in 284 races. They had only one top-5 and never finished better than 21st in points -- that with Burton in 2003.
Stewart hasn't finished worse than seventh.
"When you enter [NASCAR], you have these expectations that you can run with the big dogs," Haas said. "And that's a lot harder to do than you think."
It is without a top-flight driver, as we've seen throughout history.
But the man who was willing to give away half of what he had invested millions in deserves some credit. Had Haas chosen a different tactic Stewart might still be at JGR and CNC Haas might indeed be a truck stop.
"I thought Tony was a little crazy for doing it, but Tony is a little bit smarter than you think sometimes," Haas said. "He obviously saw some potential in what we did. He has a lot of great relationships. Like we had a lot of great relationships with Hendrick, so we had good equipment.
"Tony had good people."
Haas realized that the first time he returned to the shop in 2009 after being released from prison. He sensed a different attitude, a confidence that never was there before.
Before his first race back -- the 2009 All-Star Race at Charlotte Motor Speedway -- Haas said, "We can win."
Then Stewart won.
"When we first started out, it wasn't a great time to enter the sport because it was kind of somewhat in the height of its popularity, drivers were at a premium, most people in the garage don't put a lot of faith in a new team," Haas said. "So you have to spend your time just earning their respect."
Stewart supplied instant respect.
It was a win-win proposition that we all should have known from the start would turn out this way.
"It's amazing to see it," said Rick Hendrick, whose run of five straight titles with Jimmie Johnson was ended by the man he brought into the sport 10 years ago by selling him a truck race facility and supplying him cars, as he still does.
"Gene put a lot of effort, time and money in building a team. He never, ever denied that team anything. Facilities, equipment, anything and everything they needed for the 10 years. ... He's sure paid his dues."
And he did it by giving it away.
"This is a big industry and my goal from day one has been to be able to look Gene Haas in the eyes and shake his hand and say, 'Hey, it didn't cost you a dime this year to go race, I want you to just come to the track and have fun and enjoy what you've built,' " Stewart said.
Haas will enjoy it on Friday night at the banquet, only he'll enjoy it from the sidelines, as he always has.
But he deserves some of the credit.
David Newton covers NASCAR for ESPN.com. He can be reached at dnewtonespn@aol.com. Follow him on Twitter at @DNewtonespn.
ESPN Carolina Panthers reporter
Covered Panthers, NFL for 11 years
More than 25 years experience covering NFL, college football and NASCAR
Joined ESPN in 2006
CHAMPIONSHIP WEEKEND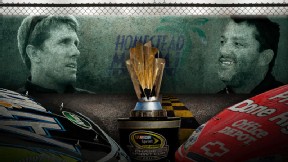 The 2011 Sprint Cup Series title came down to Carl Edwards vs. Tony Stewart, and it lived up to the hype. Stewart won the race, Edwards finished second and they tied on points. The tie-breaker? Total wins, and Stewart won that -- and the championship -- five to one for the season.


Tuesday
•
Willis: Stewart's title historic
Monday
•
Monday Rundown: Thrilling title finishes
•
Power Rankings: The final cut
•
SportsNation: Stewart's legacy
•
Gossage: What a finish!
•
Tony Stewart chat wrap
•
Video: Season in review
•
Video: Sounds of the season
•
Video: Stewart on SportsCenter
•
PodCast: Jayski
•
PodCast: Stewart on Mike & Mike
•
PodCast: Stewart on The Herd
•
PodCast: Stewart on the SVP Show
Sunday
•
Hinton: A finale for the ages
•
Newton: Stewart roars to title
•
Blount: Edwards put up valiant fight
•
Video: SportsCenter highlights
•
Video: Tony Stewart in Victory Lane
•
Video: Carl Edwards deals with loss
•
Video: NACAR Now analysis
•
Recap: Stewart wins and wins
•
Final Sprint Cup standings
•
Ford 400 final results
•
Racing Live! Homestead rewind
•
Sprint Cup 2011 Zoom Gallery
•
Newton: Stenhouse livin' the dream
•
Mark "Guru" Garrow fantasy chat wrap
Saturday
•
Blount: Advantage Carl Edwards
•
Edwards takes pole for finale
•
Hinton: JJ sees edge for Edwards
•
Newton: Johnson a champion's champion
•
Dosh's business blog: NASCAR on the rebound?
•
McGee: Danica limps into the offseason
•
Newton blog: DW remembers close one
•
Hinton blog: Dillon's Trucks title meaningful
Friday
•
Ed Hinton on NASCAR mind games
•
Terry Blount on Brian France and NASCAR
•
David Newton on team orders
•
Blount blog: Danica and moonshine?
•
Newton blog: Keselowski's "secret" fine
•
Ricky Craven on Jimmie Johnson's ride
•
ESPN experts pick the title winner
•
Racing Live! Title Tilt rewind
Columns, Features & Blogs
•
Blount: Edwards figures talk is cheap
•
Newton: Round 1 goes to Tony Stewart
•
Hinton: Edwards would make best champ
•
Blount: Stewart would make best champ
•
Willis: Edwards' time to shine
•
Ed Hinton chat wrap
•
Newton: Roush chasing his dreams
•
Willis blog: For all the marbles
•
Monday Rundown: JJ's reign over
•
Power Rankings: Two-man fight
•
Newton: Homestead, here we come!
Video
•
Season in review
•
Sounds of the season
•
Stewart on SportsCenter
•
SportsCenter highlights
•
NACAR Now championship analysis
•
Tony Stewart in Victory Lane
•
Carl Edwards deals with loss
•
Rain washes out Cup practice
•
Marty Smith interviews Edwards, Stewart
•
Edwards and Stewart: Talking smack
•
RPM Extra: Around the tracks
•
One Last Chance
•
He Said, He Said
•
Edwards Ready For A Championship
•
Soundtracks: Phoenix
Podcasts
•
Jayski: The end of the season
•
Stewart on Mike & Mike
•
Stewart on The Herd
•
Stewart on the SVP Show
•
Jayski: Ready to rumble
•
Dale Jarrett on Mike & Mike
•
Rusty Wallace on the SVP Show
•
Jayski: Clash of the titans
•
Jayski: Edwards, Stewart talk title
•
Jayski: Action-packed week
•
Jayski: Edwards, Stewart stay close