Commentary
Racebook Daytona: Say what?
Updated:
February 24, 2012, 1:36 PM ET
By
Marty Smith
| ESPN.com
Status updates from NASCAR's finest, as interpreted by -- OK, as made up by -- ESPN.com's Marty Smith.

The opinions expressed are solely those of the writer.
Tony Stewart: In Victory Lane at the Duel some guy informed me I was the defending champion but I'd never won the Daytona 500 in my career. Thanks, dude. I didn't realize that.
Carl Edwards: Daytona 500 pole almost feels like a win. I'd have run into the grandstands, but no one was there.
Kevin Harvick: I thought KHI was expensive. Then I went diaper shopping.
Matt Kenseth: Forget that other No. 17 in New York. Cheeseheads call it #Kensanity.
[+] Enlarge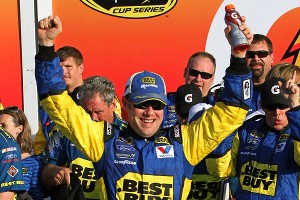 Jerry Markland/Getty ImagesMatt Kenseth is pretty happy with the way things are going so far in 2012.
Brad Keselowski: Imagine the response three years ago if I'd said I was putting your Twitter on my truck.
Jimmie Johnson: Maybe Knaus should have scheduled that vacation to South Africa for next week.
Dale Earnhardt Jr.: The last pack I liked this much was comprised of six beers.
Jeff Gordon: I used to break-dance to "The Roof Is On Fire." In the Bud Shootout, I lived it.
Mike Helton: I figured a guy named Bubba driving the General Lee at a NASCAR race was the perfect fit.
Danica Patrick: At this rate, they'll rename this joint Danicatona before I leave.
Kyle Busch: Mitch Buchanan never made a save like that.
Marty Smith is a contributor to ESPN's NASCAR coverage. He can be reached at ESPNsider@aol.com. Follow Marty on twitter at @MartySmithESPN
NASCAR
ESPN NASCAR lead reporter
Former NASCAR.com senior writer
15 years covering NASCAR
2012 Daytona 500

The 54th running of the Daytona 500 is in the books. What started as a new season of hope for all ended its first chapter with one of the most memorable events in NASCAR history.
Monday, Feb. 27
Sunday, Feb. 26
Saturday, Feb. 25
Friday, Feb. 24
Thursday, Feb. 23
Wednesday, Feb. 22
Tuesday, Feb. 21
Monday, Feb. 20
Sunday, Feb. 19
Saturday, Feb. 18
Friday, Feb. 17
Thursday, Feb. 16
Wednesday, Feb. 15
Tuesday, Feb. 14
Monday, Feb. 13