Chad Knaus suspended for six races
Updated:
March 1, 2012, 3:57 PM ET
By
David Newton
| ESPN.com
DAYTONA BEACH, Fla. -- The crew chief for Jimmie Johnson has been suspended for six weeks and the team docked 25 points, leaving the five-time Sprint Cup champion in his deepest hole to start the season.
NASCAR handed down the penalty for Chad Knaus and the No. 48 team on Wednesday, two days after Johnson wrecked at the start of the second lap and finished 42nd in the Daytona 500.
Newton: Knaus is no villain

Chad Knaus may be made the villain again, but the six-race penalty -- and 25 points deducted from Jimmie Johnson -- is just knocking Knaus for doing what other chiefs say he should, writes David Newton. Story
Johnson is now last in the Sprint Cup standings, 70 points behind 500 winner Matt Kenseth.
Knaus also was fined $100,000 and car chief Ron Malec was suspended for six weeks. Both were placed on probation until May 9.
Hendrick Motorsports will appeal the penalties, allowing Knaus and Malec to remain with the team until that appeal is heard. Both will be at Phoenix this weekend.
"Our organization respects NASCAR and the way the sanctioning body governs our sport,'' owner Rick Hendrick said in a statement. "In this case, though, the system broke down and we will voice our concerns through the appeal process.''
Johnson, in a post to his Twitter page Wednesday, also pointed to the appeals process and thanked his fans for their support.
"We appreciate all of the support. Now it's up to the appeal process," he wrote.
The penalties are the result of what NASCAR officials considered illegal C-posts -- pillars that come down from the roof to the quarter panel -- to gain an aerodynamic advantage.
Officials confiscated the C-posts during the initial inspection process at Daytona International Speedway. Series director John Darby said the alterations were so obvious they could be seen by the naked eye.
The Hendrick Motorsports team was allowed to replace the pillars and continue with Speedweeks.
Hendrick told ESPN.com during Speedweeks the same car went through inspection 16 times prior to NASCAR's Daytona inspection without any problem.
Hendrick said then as he did Wednesday he planned to appeal any penalty. He said the car is the same one that Johnson ran in all four restrictor-plate races last season, including the Daytona 500, and the roof had not been altered.
He added that the car went to NASCAR's Research and Development Center in Concord, N.C., for inspection and was returned without any notification of being outside the lines.
"That car, we've run it four times,'' Hendrick said at Daytona. "It was built for this place and they never touched the roof, and it's been to the Tech Center after they won Talladega [in the spring]. All that's been done is paint it, so I don't get it.''
[+] Enlarge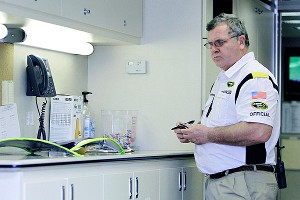 AP Photo/John RaouxIn this Feb. 17 photo, NASCAR official Dean Monroe looks over C-posts that were confiscated from Jimmie Johnson's car after it failed inspection.
Hendrick acknowledged that this is the same car Johnson drove when Knaus was caught on video prior to the October Talladega race telling his driver to damage the rear end if he won. Johnson's car was taken back to the R&D center after that race and the remaining races in 2011. No violations were found.
Asked if this was in response to the Talladega incident, for which Knaus received a reprimand from NASCAR, Hendrick said, "Maybe you can put it together.''
"I don't understand,'' Hendrick continued. "They know the serial numbers of the cars. Our guys swear they have not touched the roof on the car. "When you take it to the Tech Center you would think they could see it if they have a problem.''
This is Knaus' first penalty since 2007, when he was suspended for six races after NASCAR claimed the front fender was outside the tolerances at Infineon Raceway.
Knaus has been penalized by NASCAR nine times prior to this offense. They are:
• March 2001: suspended for two races and fined $5,000 for using an unapproved shoulder harness in a car driven by Stacy Compton.
• October 2001: fined $750 for using unapproved window clips on Compton's car.
• July 2002: fined $25,000 for having improperly installed mounting bolts. The team was docked 25 championship points and 25 owner points.
• July 2002: fined $5,000 for cursing during a live television interview.
• May 2003: fined $1,000 for using an unapproved air-directional device during the All-Star race.
"

Our organization respects NASCAR and the way the sanctioning body governs our sport. In this case, though, the system broke down and we will voice our concerns through the appeal process.

"

-- Team owner Rick Hendrick
• May 2003: fined $2,500 for using an unapproved refrigerant.
• March 2005: suspended two races and fined $35,000 because Johnson's race-winning car failed to meet the minimum height requirement during postrace inspection at Las Vegas. The suspension later was overturned, but Knaus was placed on 90 days' probation and the fine stood.
• February 2006: ejected from the Daytona 500 and suspended for four races for an illegal device that raised the rear window to create an aerodynamic advantage. Also fined $25,000.
• June 2007: fined $100,000, suspended for six races and placed on probation for altering the front fender at Infineon Raceway.
Hendrick stopped short of saying the governing body is picking on his crew chief, arguing the C-posts were ruled illegal without going through inspection.
"You know, I don't like it if we find some flagrant problem,'' Hendrick said. "I don't like it when someone says I just don't like the looks of it and never put the plate down on it.''
While this is a big deficit for Johnson to overcome, it isn't the first time he has started the season in a hole. In the previous five Daytona 500s he finished 27th, 35th, 31st, 27th and 29th. He made the Chase each year and won the championship every season but the last one.
David Newton covers NASCAR for ESPN.com. He can be reached at dnewtonespn@aol.com.
ESPN Carolina Panthers reporter
Covered Panthers, NFL for 11 years
More than 25 years experience covering NFL, college football and NASCAR
Joined ESPN in 2006
2012 Daytona 500

The 54th running of the Daytona 500 is in the books. What started as a new season of hope for all ended its first chapter with one of the most memorable events in NASCAR history.
Monday, Feb. 27
Sunday, Feb. 26
Saturday, Feb. 25
Friday, Feb. 24
Thursday, Feb. 23
Wednesday, Feb. 22
Tuesday, Feb. 21
Monday, Feb. 20
Sunday, Feb. 19
Saturday, Feb. 18
Friday, Feb. 17
Thursday, Feb. 16
Wednesday, Feb. 15
Tuesday, Feb. 14
Monday, Feb. 13
MOST SENT STORIES ON ESPN.COM