Commentary
No. 11 or No. 43? It's no contest
Updated:
March 9, 2012, 11:47 AM ET
By
Ed Hinton
| ESPN.com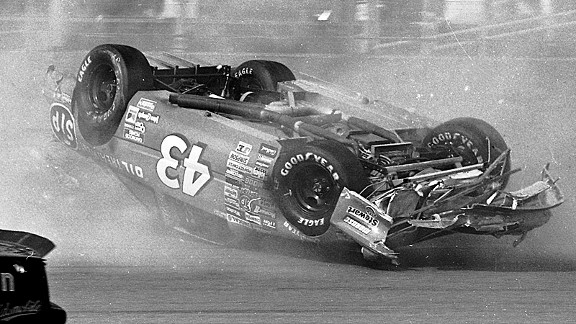 ISC Archives/Getty ImagesThe No. 43 upside down didn't look anything like "43," as many of us saw when Richard Petty crashed in the 1988 Daytona 500.
Imagine No. 11 upside down. Now imagine No. 43 upside down.
That's your first clue as to why No. 11 is a greater number in NASCAR history than No. 43.
Huh?
Stay with me, all ye who love the numbers and nuances of NASCAR history.
You may have heard by now that Denny Hamlin's win at Phoenix last Sunday moved No. 11 into a tie with No. 43 for all-time wins in the Cup series, at 198.
ESPN research whiz Chris Lees, who has a good sense of NASCAR history, suggested when he broke down the numbers on the two winningest car numbers that a debate begin on which has been best in NASCAR history.
So here we go ...
The 43 is the most revered number because it carried Richard Petty to 192 of his 200 wins. The only trouble is, it's almost totally a one-man number and has carried only two Hall of Famers, The King and his father, Lee Petty. (It does boast one Hall of Fame crew chief, Dale Inman.)
[+] Enlarge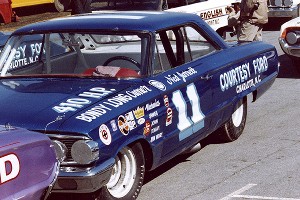 ISC Archives/Getty ImagesNed Jarrett was second in points to Richard Petty in 1964, but he was the first to drive the 11 car to a title, in 1961, and added a second one in '65.
The 11, I would argue, has hauled a far more diverse and colorful cast of characters down through the years: Hall of Famers Bobby Allison, Ned Jarrett, Junior Johnson, Darrell Waltrip, Glen Wood and Cale Yarborough. Now add open-wheel legends who crossed over and won in NASCAR in No. 11: Mario Andretti in the 1967 Daytona 500, and A.J. Foyt at Riverside, Calif., in 1970.
Lees found that the 11 has a higher winning percentage (11.4) than the 43 (10.9), the 11 being propelled into the lead in current times by Hamlin's 18 wins in it, while the 43 hasn't won a race since 1999 with John Andretti aboard.
And the 11 has carried drivers to eight championships, to Petty's seven in the 43.
Besides, the 11 started at a handicap -- which brings us back to this upside-down business.
At the dawn of NASCAR, many of its pioneers were plenty superstitious. Among the phobias: anything green, anywhere near a racetrack, other than the green flag itself; peanuts at a track; and cars with numbers that read the same upside down as right side up.
The fear was that if you carried such a number -- 8, 11, 88 or in the early years when three digits were allowed, 111 and 888 -- you might die upside down.
Jarrett, perhaps a tad more cerebral than some of his contemporaries, was the first to drive the 11 to a championship, in 1961, and added another in '65. The upside-down taboo was on its way to being shattered when Joe Weatherly won the championships of '62 and '63 in No. 8, but then Weatherly was killed in the 8 at Riverside, Calif., in '64.
Waltrip was the first flouter of multiple taboos, in the green No. 88 Gatorade car in the late '70s. But I don't recall his ever eating peanuts in the garages -- the lore on that one was that some pioneer driver spilled salted peanuts in his car and got them on the soles of his shoes, causing his foot to slip off the brake and leading to a fatal crash.
[+] Enlarge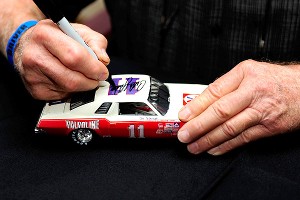 Rusty Jarrett/Getty ImagesThe legacy of the 11 car is far-reaching, as Cale Yarborough was reminded in September 2009 at Darlington Raceway.
I learned by the mid-'70s that you just didn't wear, say, a green golf shirt at the track, lest a driver turn around and walk -- if not run -- away from you. The last known driver who didn't like the sight of green was Dale Earnhardt. To this day, I don't own any green clothing.
(That applied not only in NASCAR but Indy cars. When eight key U.S. Auto Club officials were killed in a small plane crash in April 1978, those who saw the officials off at the airport were immediately worried because the pilot was wearing a green shirt.)
Anyway, the point is that during the era of superstition, the 11 was a harder number to get a driver to climb into than the 43 -- which of course doesn't look at all the same upside down.
Besides, the 43 became legendary only by an afterthought of an afterthought. The King once told me that when his father originally applied for a NASCAR number, Lee Petty asked for 24. But it was already taken. So he reversed the digits and settled for 42, which led to Richard's 43.
Otherwise we'd be talking about the King in No. 25 here, which still doesn't measure up to the 11 in the upside-down scenario.
So where would that leave Jeff Gordon now? Oh, maybe he'd have won 85 races in 42 or 43, numbers that might have been readily available when he arrived in Cup.
By now you're asking where the other eight of Petty's 200 wins went, if they weren't in the 43. The young King-to-be drove with various other numbers, including 2, occasionally his father's 42 and even 142.
When I arrived to cover NASCAR, in 1974, there was absolutely no doubt when you saw that red-and-blue No. 43 rumble out of its garage stall that The Man was coming through.
But then here would come the 11, and you knew that was one of the King's most serious competitors, Yarborough.
Years passed, then decades, and the 43 faded as a power number. Petty Enterprises lagged behind in the high-tech era and could no longer attract top names, so that the last driver of the 43 with a top-10 finish in points was Bobby Hamilton in '96.
[+] Enlarge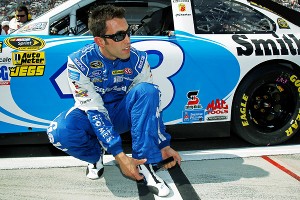 Todd Warshaw/Getty Images for NASCARThe legacy of the 43 now rests in the hands of Aric Almirola -- at least for the foreseeable future.
Meanwhile, from Jarrett to Hamlin, the 11 has been a pretty consistent contender down through the decades. It was in the 11, driving for Johnson, that Yarborough won three straight titles, '76-'78. It was from the wrecked 11 that Yarborough climbed to fight with the Allison brothers at the end of the '79 Daytona 500 (although, granted, it was the 43 that Petty maneuvered through the wreckage to win the race).
It was in Johnson's 11 that Waltrip won his three championships, in '81, '82 and '85 -- and along the way grew notorious for his gifts of gab and braggadocio, outraging fans and drawing cascades of boos throughout his tenure in that number.
It was in the Holman-Moody 11 that a little Italian immigrant named Andretti arrived at Daytona from the Indy car tour in '67, scared the hell out of the NASCAR regulars with his dive-into-the-corners driving style and won the 500 almost out of nowhere.
It was the 11 that Earnhardt might have driven to many of his wins and championships, had not Budweiser executives told Johnson that Earnhardt didn't fit their image -- at least, that's what Johnson has consistently told me.
Speaking of Earnhardt, Lees looked at the No. 3 in the course of his research. It's third on the all-time wins list, with 97 -- 67 by Earnhardt, who followed Johnson, David Pearson and Richard Childress himself as drivers of the 3 over the years.
The 43 does lead the 11 in Hall of Fame crew chiefs, 1-0, with Inman. But the 11 has been directed by a more diverse group, including Herb Nab, Travis Carter, Jeff Hammond, Tim Brewer and now Darian Grubb.
Overall, there's a case to be made for the 43 if you're talking most impact on NASCAR through the formative years.
But the 43 appears stuck at seven championships for the foreseeable future, what with the number in the stable of a second-tier team, Richard Petty Motorsports, and young Aric Almirola at the wheel.
The 11 is at eight championships and counting -- capable of contending for the title yet again this year. Yes, it's early, but Hamlin leads the points with a win and a fourth-place finish.
For perpetual prominence and for cast of characters, down through history to this very day, the greatest number in my NASCAR history book reads the same, upside down or right side up:
11.
SPONSORED HEADLINES
MORE RACING HEADLINES
MOST SENT STORIES ON ESPN.COM