Commentary
Furman Bisher set the standard
Updated:
March 19, 2012, 7:23 PM ET
By
Ed Hinton
| ESPN.com
The man who changed my whole life is gone. Furman Bisher is dead at 93.
He taught me there was no shame in covering stock car racing, and no arrogance in writing it well.
Here was the singular, undisputed titan of all Southern sports writers, who for more than 50 years running covered the Kentucky Derby and the Masters, many a Wimbledon fortnight and British Open, and nearly all the World Series and Super Bowls of his time.
And he unabashedly wrote about NASCAR, never once condescendingly, even though no one -- and I mean no one -- despised the stuff more than the genteel classes of the Deep South that made up his primary readership.
[+] Enlarge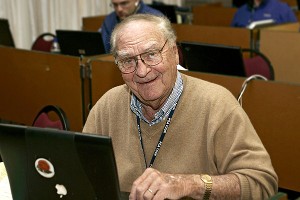 Getty ImagesFurman Bisher celebrated his 88th birthday while covering the third round of The Tour Championship at East Lake Golf Club in Atlanta on Nov. 4, 2006.
To them it wasn't even a sport. It was more an embarrassing, garish exhibition by and for the white trash, shameful to the region. Yet Bisher stuck it right under their noses in the Atlanta Journal and later the Journal-Constitution, whether from Daytona or that misbegotten track down in Hampton, Ga., below the south side of the greatest New South city.
Written or spoken, Bisher's words always resounded. Always. A tiny excerpt thunders in my mind on this, the day after his passing, Sunday evening of a heart attack.
"I knew Ty Cobb, who fixed baseball games, and Shoeless Joe Jackson, who didn't … and Herman 'Turtle' Beam, the slowest stock car racer who ever lived …"
He included a journeyman racer in a litany of dozens if not hundreds of great sports characters he'd known, in a speech he delivered upon his induction into the National Sportscasters and Sportswriters Hall of Fame. He went in with Frank Deford, who later would become another mentor of mine, that year. I think it was 1989.
Once I sat beside the legendary Red Smith at an NFL game. I was not at all starstruck, because I'd sat so often beside one of Smith's closest friends, Bisher, at so many football and baseball games, so many Olympic events … and so many races.
Bisher never differentiated. He took the Atlanta 500 as seriously, for that day, as he did the Run for the Roses on its day, or the final round of the Masters on those pollen-raining Sundays.
If you go to an event, you write it as well as you can write it on that day. That's what he taught me.
The other great sports writers of the era wouldn't touch the subject of motor racing -- or if they did, disparaged it. Jim Murray of the L.A. Times shredded the Indy 500 many times -- I sometimes sat beside him and watched him do it -- and Deford himself blistered Indy on his one visit for Sports Illustrated.
Bisher, on the other hand, had covered the very first Cup race, then called the Strictly Stock division, at the Charlotte Fairgrounds in 1949.
The first time I ever heard Bisher's thundering baritone voice, it was over the screams of the turbocharged engines at Indy in 1975, two years before I went to work alongside him in Atlanta. I sat two seats down from him, and kept watching the famous writer out of the corner of my eye. He was, you gathered from the printed page, the quintessential Southern gentleman/baron/intellectual.
And then A.J. Foyt came tearing out of the pits with a jack handle dangling from the rear end of his car.
Suddenly came the booming proclamation that, "Judas Priest! Foyt looks like an old mule with a hoe handle stuck up his a--!"
It was Bisher. I was astonished that the bona fide aristocrat could talk like a sharecropper.
He'd grown up on a farm and in the textile mill of an industrious German immigrant family in Denton, N.C. He was named for a fiery Baptist preacher in Carolina lore, James Furman.
"Judas Priest!" I would learn later, was Bisher's favorite exclamation. He'd gotten it from Branch Rickey, the man who'd brought Jackie Robinson into baseball.
"Keep a clear eye," he once advised me on writing columns. "Don't ever be steered by what others may be writing."
Most of all, "Write what you feel, and tell everybody else to go f--- themselves."
In 1981, I learned just how fearless Bisher really was and always had been. The city of Atlanta was abuzz with a controversy I had detonated from the Sugar Bowl, when I poked harsh fun at the University of Georgia's national champion football team and its unruly fans.
What they're tweeting about
Furman Bisher ...
Josh Elliott @JoshElliottABC
RIP legendary former AJC columnist Furman Bisher--a literary giant, who just happened to write about sports. He was 93.
Rick Reilly @ReillyRick
Rest in peace, Furman Bisher, 93. Covered more than 50 Masters for the Atlanta JC. Wrote his last column on the same typewriter as his 1st.
Monte Dutton @MonteDutton
Growing up, Furman Bisher defined my vision of a journalist. Feel so fortunate to have known him. Today we pale by comparison.
Jeff Schultz @JeffSchultzAJC
Furman Bisher: We all lost a window into history, I lost a friend.
Commander @cofcompetition
Furman Bisher was a true professional and one of the finest journalists I ever met. He wrote with style, class and passion. God Bless.
Greg Pincus @gregpincus
I'm sad to see that Furman Bisher died. I read his Strange But True Baseball Stories more than any other book growing up.
Pat Forde @YahooForde
Very sorry to hear that AJC institution Furman Bisher has died at 93. Talking to him at the Kentucky Derby was always a pleasure.
Atlanta Braves @Braves
The Braves were saddened to hear of the passing of longtime AJC columnist Furman Bisher who covered the team since Atlanta arrival in "66.
Ryan McGee @RyanMcGeeESPN
So sad to hear about death of Furman Bisher. Here is a pic of him interviewing my Pops.
Keith Hammond @BirdDawgs
Rest in Peace, Furman Bisher. As Jim Minter said of you, "He never wrote a bad column."
@ESPNMotorsports on Twitter
The other great Atlanta columnist, humorist Lewis Grizzard, a Bulldawg to his marrow, shredded my column in his column. Bisher then verbally nuked Grizzard in his column. The publisher of the papers wrote a front-page "Apology to our Readers."
Tom Callahan, then of the Washington Star and later of Time magazine, was the only other columnist in America who had ripped Georgia's triumph -- "Them Dawgs are dogs," he wrote. Callahan and I were shot in effigy -- not hanged, shot -- at a rally on the Georgia campus, with Grizzard as emcee.
"Just trying to defuse the situation," Grizzard told me later. "They wanted to kill you. I'm serious: They really wanted to kill you."
Then one evening, the top commentator on Atlanta's top TV station, WSB, aired a piece on "the columnist war at the Journal-Constitution."
Moments after the piece ended, my home phone rang.
"Ed," said an aged female voice, "this is Becky."
Becky was Bisher's housekeeper. Twice divorced, he'd hired her decades earlier to run his household and be the nanny as his three sons grew up. "Daddy" was what she called Bisher.
"I just wanted to tell you: Right on, right on, right on!"
Guess it didn't hurt that Becky was a lifelong Alabama fan, even in a household where she knew Daddy and Bear Bryant were bitter if not mortal enemies.
"There've been times," she said, "when Daddy could get awful rough in his writing. There were times I had to get the children out of the house because somebody had threatened to bomb it.
"So I'm just telling you from experience, this will pass. So don't you worry."
Two years later, in 1983, Bryant died. He'd sued Bisher along with the Saturday Evening Post, and later bludgeoned Bisher in his autobiography, over a football controversy many years earlier.
"The man coaches violence," Bisher had written in a Post article headlined, "College Football is Going Berserk," soon after a "forearm" from one of Bryant's players had literally torn the jaw off a Georgia Tech player.
The day Bryant died, the phones were lit up when I got to the office. I sat down and waited for instructions. I was Bisher's backup columnist at the Journal -- now you talk about a drop-off on the depth chart …
"Hinton, get ready to write a Bryant obit column," an editor told me. "I don't think the big boy's gonna touch this one."
Minutes later, the editor in chief of the Journal-Constitution, Jim Minter, stepped off the elevator into the sprawling sports room. Minter was a hard-ass' hard-ass, but understood his region better than any other editor I've ever worked for. He was a man of few words.
"Where's Bisher?" Minter asked.
"He's in L.A.," a midlevel editor said.
"He writing about Bryant?"
"Nope. You know how those two felt about each other."
"I don't care. The South's greatest sports writer ought to write about the death of the South's greatest coach. Get him on the phone."
The junior editor shrugged and dutifully dialed the Century Plaza in L.A., asked for Bisher's room, then handed the phone to Minter.
"Furman, Jim Minter. What do you think about Bryant?"
Minter listened for a moment, hung up, and headed for the elevator.
"What'd he say?" the editor asked Minter.
I won't repeat what Bisher had said to Minter. Suffice it to say he made it clear in a sentence he wasn't going to write about Bryant. Minter walked away without another word, and I wrote the Bryant column.
Bisher was fearless but he was not brutal. And he damn sure wasn't a hypocrite.
"Furman writes in the vernacular of his region, which is hard to do and still sound literate," David Israel of the Chicago Tribune once said.
Surreptitiously around Atlanta, lesser writers made fun of Bisher's eloquence.
"I've always thought that if people wanted to read literature, they'd go to the library," one rival -- but not nearly a peer -- once said of Bisher.
Once asked, on a local TV talk show, whether sports writing shouldn't be plain and simple, Bisher asked a rhetorical question that resounds to this day.
"What's wrong," he asked, "with the well-turned phrase?"
Bisher wrote in the vernacular not of the South but of the genteel South, yet wrote as eloquently about the hardscrabble folk as he did the gentry. Not only did he never forget he came from Denton, N.C., he was proud of it.
Richard Petty loved him. Once, seeking a little privacy from the teeming newsroom for an interview, Petty and I retreated to Bisher's office -- he was out of town -- and closed the door.
Petty asked to borrow my pen and a sheet of paper. On it he wrote a note to leave for Bisher. It contained a high school football score.
"Furman,
"Randleman 42, Denton 7.
"Richard."
Not that famous, flourishing Petty autograph. Just "Richard."
Bisher knew Bill France Sr., the founder of NASCAR, so well that when Big Bill developed Alzheimer's, his son, the second czar, Bill France Jr., confided in Bisher when he wouldn't tell anybody else.
I overheard them once in the press box of what was then Atlanta International Raceway.
"Otherwise, he's as healthy as a horse," the second czar said softly. "That's the tough part."
Bisher always said he would never retire, that in one respect, "I've been retired all my life, because I've been doing exactly what I want to be doing."
Two years ago he "retired." He made his final statement sound dignified, but the inside word I got from the knowing in Atlanta was that at 91, he'd been squeezed out in the general struggle of all newspapers to save themselves.
They let him use his email address for a few more days, and I wrote to him, beginning, "Furman, I am sobbing as I type this …"
No Atlanta writer, though, is more eloquent than Minter, the editor, when he speaks of the passing of one of his great writers.
After Grizzard died, Minter ended his column, "Precious memories. How they linger."
Sunday evening, upon word of Bisher's death, the Journal-Constitution contacted its former editor, its greatest editor ever.
"He put more quality words on newsprint than any other writer in the last half of the 20th century," Minter told the reporter. "He never wrote a bad column."
Even when speaking to the Southern gentry about the Southern common folk of NASCAR. He was the first to nominate a redneck sport for general acceptance.
SPONSORED HEADLINES
MORE RACING HEADLINES
MOST SENT STORIES ON ESPN.COM