Commentary
Four drivers remain in contention
Updated:
November 2, 2012, 10:57 AM ET
By
Ricky Craven
| ESPN
Editor's note: An explanation of Ricky's "Rule of 72" can be found here.
Denny Hamlin came into the Chase for the Sprint Cup with four regular-season wins and a lot of momentum. But Hamlin is one of three names added to the list of disappointment this week -- drivers who have been eliminated from contention for the Chase for the Sprint Cup championship under the Rule of 72.
Martin Truex Jr. and Tony Stewart also were eliminated from contention under the Rule of 72 after their finishes last week. It was clear what Truex needed to do at Martinsville to stay in contention, but he finished 23rd -- his worst finish in the Chase -- giving him a total of 80 points under the Rule of 72. And Stewart will not defend his title after finishing 27th. He hasn't had the Chase that he would have hoped for or expected.
The surprise of the three is Hamlin, who has had a plethora of issues throughout the Chase. But his 33rd-place finish at Martinsville because of a mechanical failure eliminates him from championship contention based on the Rule of 72. Hamlin has totaled 75 points and will have to wait for 2013 to make a run at his first title.
RULE OF 72 LEADERBOARD
Ricky Craven thinks that to compete for a Sprint Cup title, the combined total of a driver's Chase finishes must stay below 72 entering the final race at Homestead-Miami. Bonus points are subtracted from the total finishes.
DRIVER FINISHES IN CHASE RACES
DRIVER
CHI
NH
DOV
DEGA
CHR
KAN
MAR
TEX
PHX
HOM
BON
PTS
TOTAL
Jimmie Johnson
2
2
4
17
3
9
1
--
--
--
9
29
Brad Keselowski
1
6
1
7
11
8
6
--
--
--
9
31
Kasey Kahne
3
5
15
12
8
4
3
--
--
--
0
50
Clint Bowyer
10
4
9
23
1
6
5
--
--
--
6
52
Denny Hamlin*
16
1
8
14
2
12
33
--
--
--
12
75
Jeff Gordon*
35
3
2
2
18
10
7
--
--
--
0
77
Martin Truex Jr.*
9
17
6
13
10
2
23
--
--
--
0
80
Greg Biffle*
13
18
16
6
4
27
10
--
--
--
6
88
Tony Stewart*
6
7
20
22
13
5
27
--
--
--
9
91
Matt Kenseth*
18
14
35
1
14
1
14
--
--
--
3
94
Kevin Harvick*
12
11
13
11
16
11
32
--
--
--
0
106
Dale Earnhardt Jr.**
8
13
11
20
44
44
21
--
--
--
3
158
*Eliminated according to Ricky's Rule of 72.
**Did not race at Charlotte and Kansas; assigned 44 points for both events.
Entering the Chase, Hamlin and the No. 11 team showed good speed and appeared capable of challenging for the title. But as they say in football, they didn't protect the ball. The word you hear around the garage at this time of year is "execution," and the No. 11 team didn't execute out of the gate. I'm sure from Hamlin's standpoint it's very frustrating, because they came into the Chase as the points leader and weren't able to capitalize.
The four drivers who were able to capitalize are the four remaining under the Rule of 72: Jimmie Johnson, who's leading the points race and the Rule of 72 standings, Brad Keselowski, Kasey Kahne and Clint Bowyer. All four of these drivers are still alive, with Johnson in a position of strength.
Keselowski, who is two points behind Johnson under the Rule of 72, has been remarkable in the seven races in terms of consistency. His worst finish is 11th and he has a couple of wins. He's only a whisker behind Johnson, but I'm going on the assumption that Johnson is going to continue to knock down top-5s.
I call it the Jimmie Effect. Some might scratch their heads and wonder, "How could Keselowski be behind after such a strong first seven races?" Jimmie Johnson and the No. 48 team can leave another driver left thinking, "What else do I have to do?" Because the one thing Johnson does so well is find a way to finish in the top five, especially at this time of year. And oftentimes he finds a way to lead the most laps, as he did at Martinsville.
[+] Enlarge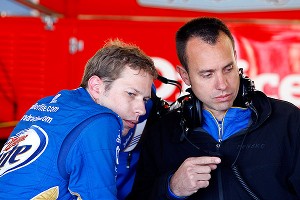 AP Photo/Autostock, Russell LaBountyBrad Keselowski and crew chief Paul Wolfe will need to find more top-5 finishes to challenge Jimmie Johnson for the title.
When I evaluate Johnson versus Keselowski through 70 percent of the Chase, the only things missing from Keselowski's effort are top-5 finishes. And that, in fact, could be the determining factor in all of this. History shows that each year, the eventual Chase champion, on average, has six top-5s in the Chase. Johnson has five top-5s though seven races; Keselowski has only two.
If you look at Keselowski's numbers, he had two top-5 finishes in the first three races of the Chase. But he has gone four consecutive races without a top-5 finish. The No. 2 team has done a fabulous job of managing this Chase and Keselowski's results are great on average, but when you compare them with Johnson's results, it's not going to get it done. So Keselowski needs top-5s, starting this week at Texas.
As this relates to Kasey Kahne and Clint Bowyer, it's obviously time to air it out. To stay in contention, they need solid finishes. And if Kahne or Bowyer is going to win this championship, one of them needs to put together back-to-back wins at Texas and Phoenix to give himself a chance going into the final race.
We're all aware, more so than we were a week ago, that what happened to Hamlin at Martinsville can happen to any driver. We know that can happen. But it hasn't happened to Johnson in a long time. And as I sit here today, I am of the opinion that if you're going to beat Jimmie Johnson for the championship, you're going to have to take it from him.
Ricky Craven is a driver with wins in all of NASCAR's top three series, including rookie of the year titles in both the 1992 Nationwide Series and 1995 Sprint Cup series. He currently serves as a NASCAR analyst on ESPN studio programs.