Rick Hendrick: 'Fence did its job'
Updated:
February 25, 2013, 8:45 PM ET
By
David Newton
| ESPN.com
DAYTONA BEACH, Fla. -- Winning Daytona 500 team owner Rick Hendrick wants to find out what allowed the front clip of Kyle Larson's car to be sheared off in Saturday's Nationwide Series race.
He is willing to work with NASCAR to develop technology that will help prevent another incident like Saturday's, which left 28 fans injured when debris flew into the stands.
Larson's car went airborne into the catch fence on a horrific last-lap crash.
The engine, built by Hendrick Motorsports, was separated from the car and landed on the concrete in front of the Campbell grandstands between Sections H and I.
More on ESPN.com

Jimmie Johnson wasn't the talk of Speedweeks -- Danica Patrick was. And while she acquitted herself well, Johnson is hauling home the hardware, writes Ed Hinton. Story
---

The new Gen-6 car didn't make a big splash Sunday. But that's OK. It was a good race -- and no one got hurt, writes David Newton. Story
• James: Danica Makes History
• Radio: Jimmie Johnson weighs in
• espnW: Danica's Day On Twitter
• McGee: Instant Race Analysis
• SN: Will JJ Win Cup? | All-time best?

One of the tires with the hub attached sailed over the fence and hit two fans, sending both to nearby Halifax Heath with critical injuries, one life-threatening. Both, according to a hospital representative on Monday, are stable and no longer critical.
"I think the fence did its job," Hendrick said during Monday's Daytona 500 champion's breakfast for driver Jimmie Johnson and the No. 48 team. "I've never seen the clip come off before. ... What happened to the clip, there might be something else we can do. I've never seen that happen."
Daytona International Speedway president Joie Chitwood sat in Sections H and I for the first 30 laps of Sunday's Great American Race. He wanted to assure fans that he was completely confident in repairs to the catch fence and that nobody was in danger.
He said no fans sitting in that section asked to be moved.
"I thought it was appropriate," Chitwood said of sitting there. "I run the track."
Chitwood said fans were having a good time. One even offered him a beer.
"I politely declined," he said. "That might be for tonight."
Chitwood said he will work with NASCAR moving forward to see if there was something in the design of the fence that might have made the accident worse than it might have been.
He noted that after Carl Edwards' car went into the catch fence at Talladega in 2009 the track replaced all of its fencing with new 22-foot high fencing.
"If changes need to be made, we will do that," Chitwood said.
ESPN Carolina Panthers reporter
Covered Panthers, NFL for 11 years
More than 25 years experience covering NFL, college football and NASCAR
Joined ESPN in 2006
55th Daytona 500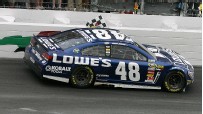 Follow Motorsports on ESPN:
Twitter
Horrific Crash At Daytona
MOST SENT STORIES ON ESPN.COM