Report: Joey Logano had help?
Updated:
September 12, 2013, 4:14 PM ET
ESPN.com news services
Penske Racing may have cut a deal with Front Row Motorsports in the closing laps at Richmond for track position to help get Joey Logano in the Chase for the Sprint Cup championship.
[+] Enlarge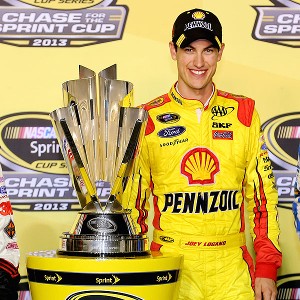 Jerry Markland/Getty ImagesJoey Logano has a chance to win this year's Sprint Cup trophy, but a report calls into question the means used to get him into the 12-driver playoff.
In radio communications reviewed Wednesday by The Associated Press for Front Row driver David Gilliland, his spotter informs the team of a request to let Logano pass Gilliland in the final laps of Saturday night's race.
Logano was trying to claim a spot in the 12-driver Chase field. Both Penske and Front Row are Ford teams and thus considered partners.
A voice on the radio, believed to be crew chief Frank Kerr, asks whom the request is coming from. The spotter replies: "We've got the big dog and all his cronies."
Kerr then says: "Travis knows what I've been asking for," an apparent reference to Penske Racing competition director Travis Geisler.
Logano passed Gilliland on a restart and finished 22nd, one spot ahead of Gilliland and good enough for a berth in the Chase field.
Jayski
Mark Garrow reports on more controversy surrounding the Richmond finish with Jeff Gordon and Jimmie Johnson commenting.
"Good job, good job, man," the spotter says after the race. "Hopefully we'll get something out of that."
NASCAR said it is aware of the report and Thursday issued a second statement saying it would "have no further comment until all the facts have been examined."
Speaking on "SportsCenter" on Thursday, Logano said teams talk to each other all the time and that he didn't think anything questionable happened.
"I don't see it being a big deal. I'm focusing on winning in Chicago," he said, referring to the first Chase race Sunday at Chicagoland.
Asked if he felt that he would be penalized, Logano said: "I don't expect it, but obviously you never know what can happen. I don't see the significance of what happened."
Statistics analyzed by the AP also show Gilliland's lap times dropped off by almost 1 second from the times he was running prior to the radio communication.
Chase for the Sprint Cup Standings

Ryan Newman replaced Martin Truex Jr. as the 12th seed in the Chase for the Sprint Cup as part of penalties levied against Michael Waltrip Racing.
Full standings
On Monday, NASCAR punished Michael Waltrip Racing for manipulating the end of the race.
Ryan Newman was on his way to a victory that would have given him the final spot in the Chase. But Clint Bowyer spun to bring out a caution, setting in motion a chain of events that cost Newman the win and the Chase berth, cost Jeff Gordon a Chase berth and put Martin Truex Jr. and Logano in the final two spots.
NASCAR, concluding that MWR had manipulated the outcome of the race, put Newman in the Chase and bumped Truex. It also fined MWR $300,000 and suspended general manager Ty Norris indefinitely. Bowyer, Truex and Brian Vickers each were docked 50 points, and their respective crew chiefs were placed on probation through the end of the year.
Bowyer has denied the spin was deliberate. NASCAR could prove only one action -- radio communication between Norris and Vickers in which a confused Vickers was told to pit as the field went green with three laps to go. The call was an effort to give Logano position on the track to pass Gordon in the standings and knock Gordon out of the Chase so that Truex could gain a wild-card berth.
Logano said the actions in that race may have drawn scrutiny of the media to his team.
"Maybe they want to pile on after what happened in the race before," he said
Information from The Associated Press was included in this report.
MOST SENT STORIES ON ESPN.COM