Commentary
'03 champ Vickers comes full circle
DAYTONA BEACH, Fla. -- Brian Vickers contested his only full Nationwide Series season a decade ago. He was 20 and racing for a friend who had convinced his father to fund a program for the boyish-looking redhead with the precocious skill set.
[+] Enlarge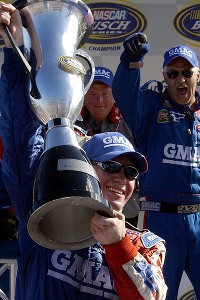 A. Messerschmidt/Getty ImagesBrian Vickers celebrates his 2003 Nationwide Series championship at Homestead-Miami Speedway.
The friend happened to be the late Ricky Hendrick, whose father was Rick Hendrick, proprietor of one of NASCAR's elite teams. Vickers won three races with 13 top-5s and 21 top-10s, becoming the youngest to win a NASCAR championship. He didn't figure to return.
A decade later, Vickers has taken a winding route back to NASCAR's second-tier series. He had an uneven -- though eventful -- tenure with the HMS Sprint Cup team, was left to find his own path outside the shadow of Hendrick's stars at the now-defunct Red Bull Racing, and was diagnosed with a circulatory problem in 2010 that cost him most of the season. He'll race part-time Cup with Michael Waltrip Racing this season, perhaps setting up a full-time gig in 2014.
A decade after his only NASCAR title, Vickers said the Nationwide Series looks very much the same, aside from the haircuts.
"A lot of the guys in the Nationwide Series are going to be racing for the championship. It's their second or third year in the series. There's a lot of well-funded teams," he said. "I think this is one of the first years that I can remember that it's kind of equivalent to [2003]. The Nationwide Series is always at a little bit of a disadvantage because they always lose a lot of their talent to the Cup series. Sometimes it goes one at a time and sometimes it goes in waves."
Bolstered by an influx of young talent and drivers returning to the series after careers in the top-level Sprint Cup Series, Nationwide figures to be deep and diverse when the season begins on Saturday (1 p.m. ET, ESPN) at Daytona International Speedway.
"What comes into the Nationwide Series can vary," Vickers said. "In the 2003 year there was a lot of guys that are now all in Cup from that year. I think you're going to see a lot of that this year. There's a lot of young talent that will end up in the Cup series.
"It's probably going to be one of the more competitive seasons that we've seen in a long time."
A look at the new, the old and the in-between of the Nationwide Series:
Old hands
" Vickers: He will team at Joe Gibbs Racing with Elliott Sadler, a former Cup racer who returned to Nationwide full-time in 2011, finishing second both seasons for Kevin Harvick Inc. and then RCR. Sadler won four races last season. JGR's Nationwide effort should be one of the strongest in the series.
" Sam Hornish Jr.: The three-time IndyCar Series champion resurrected his NASCAR career with a second chance in the Nationwide Series with Penske Racing, finishing fourth in points last year. He's back full-time.
Newton: It's Pastrana time

Yes, Nationwide driver and X Games legend Travis Pastrana is different, especially compared to his button-downed boss, Jack Roush. How will this odd couple work? Winning means everything, writes David Newton. Story
• Nationwide Series coverage
" Austin Dillon: He returns for a second full season in the series after finishing third in points and winning twice last year for Richard Childress Racing. Brian Scott joins him for his fourth Nationwide campaign.
" Trevor Bayne: He hasn't attempted a full Nationwide season since 2011, a star-crossed year if ever there was one. He became the youngest to win the Daytona 500 -- at 20 years, one day -- in his second start for the Wood Brothers (on loan from Roush Fenway) and was contesting the series title with teammate Ricky Stenhouse Jr. until he was felled by what was finally diagnosed as Lyme disease. He returns to Roush's Nationwide program still waiting for a full-season Sprint Cup bid that has yet to come because of sponsor woes.
"Hopefully, we can take advantage of this Nationwide season this year and run for the championship and prove to Jack [Roush] that we're ready, and hopefully he'll move us up," Bayne said.
" Regan Smith: He won at Darlington for Furniture Row in the Cup series in 2011 but was ousted late last season for Kurt Busch. This is his next big chance, at JR Motorsports.
" Justin Allgaier: He's won a Nationwide race each of the past three seasons but regressed from third to sixth in points last season for what should be a competitive Turner Scott Motorsports team.
New blood
" Kyle Larson: Tony Stewart does not offer praise easily, but he is effusive in describing the talent of the 20-year-old product of NASCAR's "Next 9." A USAC product like Stewart, Larson, the K&N Pro Series East champion, is a developmental prospect with Earnhardt Ganassi but will run for Turner Scott Motorsports.
" Travis Pastrana: His full-season debut was supposed to happen last season for Michael Waltrip Racing, but a broken ankle suffered in a 2011 X Games freestyle motocross competition derailed his bid. Global Rally Cross complicated matters last year. Now with Roush Fenway Racing full-time, the extreme sports veteran finally will engage in the long grind of a NASCAR season. If he is good -- and he has been in everything else -- and if he likes it, Pastrana adds much-needed panache.
" Johanna Long: The 20-year-old is in her second full season in Nationwide, but this could feel like a rookie campaign -- refreshingly so -- with Danica Patrick running just a limited schedule. Now the only full-time female in the series, the popular Long may not have to deal with so many of the comparisons she finds so uncomfortable.
" Nelson Piquet Jr.: He won two Truck series races, one of his two Nationwide starts and a K&N race last season and will contest his first full season with Turner Scott. The son of three-time Formula One champion Nelson Piquet could be ready for a breakout season.
Contributor, espnW.com
Brant James has covered the Daytona 500, Indianapolis 500, a World Series and Stanley Cup for the big hometown daily, an NCAA tournament and a Super Bowl. He's walked to the paddock with Kentucky Derby horses before post, ridden to the top of Mount Washington with Travis Pastrana and landed on an aircraft carrier with Dale Earnhardt Jr. He once induced Danica Patrick into a dance number from Moulin Rouge by saying the word "Switzerland." It's been pretty interesting so far.
SPONSORED HEADLINES
MORE RACING HEADLINES
MOST SENT STORIES ON ESPN.COM