Commentary
Next for JJ: Nationwide race at PIR
Updated:
March 1, 2013, 2:43 PM ET
By
Brant James
| ESPN.com
Jimmie Johnson's whirlwind work week -- winning a second Daytona 500, subsequent media barnstorming, starring with his crew in a celebratory "Harlem Shake" video on the apron at Daytona International Speedway -- resumes in an unusual place this weekend: in a Nationwide Series car at Phoenix International Raceway.
Though Johnson is eighth on the all-time Sprint Cup wins list with 61 and third all time with five championships, his body of work, qualitatively and quantitatively, has been modest in the Nationwide Series. Part of that is because Johnson exploited a career-defining opportunity driving the newly created No. 48 Chevrolet at Hendrick Motorsports in 2002, began winning races at NASCAR's highest level immediately and didn't require further seasoning in the sanctioning body's top developmental series.
[+] Enlarge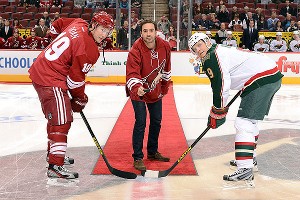 Norm Hall/NHLI via Getty ImagesDaytona 500 winner Jimmie Johnson prepares to drop the puck between Shane Doan of the Phoenix Coyotes and Mikko Koivu of the Minnesota Wild before the start of their NHL game Thursday in Glendale, Ariz.
Part of it, Johnson admits, is because he just wasn't very good in Nationwide cars, winning once in 92 starts. His lone victory came in his only full-time Nationwide season, with Herzog Motorsports in 2001. Since then, he's dabbled in the under series.
Perhaps the current version of the Nationwide car is more to his liking. He nearly pulled off a win last season in his only start in the series since the car was introduced in 2010. He'll find out soon enough, driving the No. 5 Chevrolet for JR Motorsports on Saturday (4:30 p.m. ET, ESPN2).
"I think that I should run well. My goal is to get more experience on the track," said Johnson, who has one top-5 and two top-10s in five previous JRM starts. "It will be fun, for starters. I always have fun when I get to drive for Junior. I get to see my old friend, Greg Ives [Johnson's former engineer who is now crew chief of JRM's No. 7 Chevrolet], and some other familiar faces on the team."
Johnson hasn't raced for JRM since 2011, when he overcame two pit-road penalties to finish a hard-charging second after a green/white/checker finish at Watkins Glen. Though he has an average finish of 26.3 in three Nationwide starts at Phoenix, in Cup Johnson has four wins, 12 top-5s and 15 top-10 finishes at the 1-mile facility.
Kevin Harvick, who also will run both the Nationwide and Cup events this weekend, said additional track time is the obvious positive of the extra duty.
"There really isn't much that will translate from one series to the other, because the cars are so different," he said.
Other storylines likely to emerge in the shadow of Rattle Snake Hill:
" Much of the Nationwide storyline this weekend likely will be consumed by a much more obscure driver and what he apparently said to an MTV reporter within earshot of a NASCAR representative last week at Daytona, however. Jeremy Clements was suspended indefinitely by the sanctioning body for what NASCAR senior vice president of racing operations Steve O'Donnell described in a news release as "an intolerable and insensitive remark" that Clements admitted to ESPN was a racial slur.
Newton: Knaus fulfilled?

Chad Knaus has been the best crew chief in NASCAR over the past decade, but he didn't always seem like the happiest. That has changed, making his Daytona 500 win icing on the cake. Story
• Nationwide Series coverage
" Kyle Larson returns to the No. 32 Turner Scott Motorsports Chevrolet a week after his car was vaulted into the catch fence at the end of the season-opener at Daytona, shedding debris that injured scores of fans seated in the stands.
Larson, 20, and making just his second Nationwide start, told ESPN.com earlier this week that he is "physically fine and mentally perfect." If so, he could be a threat at Phoenix, where the heralded Earnhardt-Ganassi Racing prospect finished second in a Truck series race for Turner Scott last season.
" Aric Almirola, the full-time driver of the No. 43 Ford at Richard Petty Motorsports in Sprint Cup, will take over the same number in Nationwide for Michael Annett, who suffered a fractured sternum in the big crash preceding the bigger crash at Daytona last week. Annett is expected to miss up to eight weeks after undergoing surgery to have a plate inserted in his chest to repair the sternum.
Almirola has won a pole (2011) and placed as high as sixth (2010) at Phoenix.
"It's an unfortunate situation to have Michael hurt, especially with the high hopes we had for this season. But this is just a bump in the road," crew chief Philippe Lopez said. "We will focus on the owners' championship this season and getting Michael back in the car."
" Roush Fenway Racing, represented this weekend by full-timers Trevor Bayne and Travis Pastrana, has eight wins (including four of the past eight), 24 top-5s and 44 top-10s in 62 Phoenix starts.
" Brian Vickers will make his second start for Joe Gibbs Racing at Phoenix. In his first Nationwide start with the team in November, he finished second to then-teammate Joey Logano.
" Kyle Busch is tied with Carl Edwards as PIR's all-time wins leader (four) in 14 starts. He leads NASCAR there in most green-flag passes (362), most quality passes (251), most laps led (642) and highest percentage of laps led (24.5 percent).
Contributor, espnW.com
Brant James has covered the Daytona 500, Indianapolis 500, a World Series and Stanley Cup for the big hometown daily, an NCAA tournament and a Super Bowl. He's walked to the paddock with Kentucky Derby horses before post, ridden to the top of Mount Washington with Travis Pastrana and landed on an aircraft carrier with Dale Earnhardt Jr. He once induced Danica Patrick into a dance number from Moulin Rouge by saying the word "Switzerland." It's been pretty interesting so far.
SPONSORED HEADLINES
MORE RACING HEADLINES
MOST SENT STORIES ON ESPN.COM