Commentary
Pressure? Not for Parker Kligerman
Updated:
March 13, 2013, 5:44 PM ET
By
Brant James
| ESPN.com
Parker Kligerman keeps getting the question about how intimidating it is having Kyle Busch as his car owner. Not at all, he said. He's accustomed to high-profile -- if not imposing -- bosses, and working for the Sprint Cup driver/firebrand has been a learning experience, the Nationwide series regular said, not an ordeal.
"At 18 years old I signed to drive for Roger Penske," said Kligerman, now 22. "There will definitely not be anything more intimidating than that."
And to this point in his career, perhaps nothing more disappointing as that relationship eroded after four years, with Kligerman eventually being released last season. But the Connecticut native who discovered racing as a fan flipping channels on television has apparently recovered, wiser about the clinical calculation of the business and in a good position undertaking his first full season in NASCAR's second-tier series for Kyle Busch Motorsports.
[+] Enlarge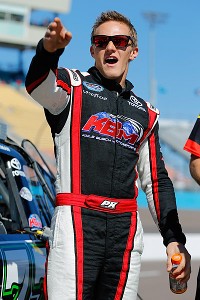 Jared Wickerham/Getty ImagesParker Kligerman has one top-5 and is 12th in points after three Nationwide Series starts in '13.
"Kyle is obviously a guy who wants to win. He's a very dynamic personality," Kligerman said, "but in so many ways that's great. People ask about the pressure, but the way I look at it, as a young driver I've been in a situation where the team was not giving me the tools to win and the owner didn't really care that it wasn't winning, and suddenly I'm put in a situation with an owner that really wants to win and is a race car driver and is also a really good race car driver that understands what you're doing."
Busch is forthcoming with information about cars and tracks, Kligerman said, but usually waits until asked. As it should be, he said.
"He's such a notebook," Kligerman said. "We went to Phoenix and the first time we really talked about driving was after practice, and in 10 minutes talking about driving I turned to a buddy and said, 'My God, I've never learned that much from a driver in all of my career.' Ten minutes with him was huge. He's just a very, very articulate thinker when it comes to racing."
Kligerman's path to enlightenment was winding. He signed with Penske and began racing ARCA in 2008 and Nationwide in 2009 after impressing the team with his exploits racing Midgets in the Midwest. Kligerman became the 10th driver to win the pole in his first Nationwide start, at Kansas in 2009. He also won nine ARCA races in 2009 for Cunningham Motorsports to finish second in points for the Penske development partner.
Kligerman ran a limited NASCAR schedule with various teams in 2010 but undertook a first full-time Truck series schedule in 2011 with Brad Keselowski's team, now a Penske developmental operation. Kligerman finished 11th in series points with four top-5s and eight top-10s and rejoined the team for 2012, while he also was scheduled for a partial Nationwide slate with Penske. He was sixth in Truck points when he was released by Penske after 11 races last season, however, as Ryan Blaney, then 18, became the focus of Penske's developmental system.
"It was a shock as it was happening," Kligerman said. "We weren't having a great time trying to build that team. It was a lot of things inside that team that were just not fitting that were way behind at the race team, and it was apparent we weren't going to put in an effort needed to change it.
"But at the same time, the Penske racing side, it became apparent I wasn't going to get the opportunities that I needed. To be there four years as a developmental driver and being told, 'Oh, we're going to figure it out,' and it never happened, relationships get stale."
James: Bayne's chance

Trevor Bayne would like to be a full-time driver in the Cup series, but Roush Fenway Racing has a tested timetable for driver advancement. Bayne's mission? Win in Nationwide, writes Brant James. Story
He was able to sign with Red Horse Racing without missing a race. He had begun planning for a switch as his situation with Penske eroded, and went on to win at Talladega and produce eight top-5s and 15 top-10s. Seven top-5s came with Red Horse.
"Thankfully I was still top five in points at the time and had something to sell to other race teams," he said. "I knew that the Truck deal was in jeopardy [after being replaced by Blaney in the No. 22 Penske Nationwide car part time] just off the way Brad and I were speaking to each other. I knew it was heading south and at the time I was already starting to look."
Kligerman held on to finish fifth in points, a rarity for drivers splitting a season with multiple teams. He joined Kyle Busch Motorsports this offseason after proving, Busch said, "that he was capable of running up front week in and week out in the Truck series."
Bristol may be arriving at an opportune time for Kligerman, as he has finished ninth there twice in Nationwide and second and 10th in the Truck series. He began the season with a fifth-place finish at Daytona, but has suffered mechanical problems in consecutive weeks, sinking him to 12th in points. Now he's just hoping to keep moving on, just like when meeting -- sort of -- his Formula One idol two years ago.
"I was a huge Kimi Raikkonen fan my whole life, and when he came over to do the Charlotte Truck race [for KBM] he was in the rookie meeting with me and I was going to meet him and everything and I looked down and I said, 'You know what, I don't want to meet this guy,' " Kligerman recalled. "You know, you're not supposed to meet your heroes. I didn't want to meet him. So I didn't meet him.
"We got into the race and we were going down the backstretch and we were three-wide and I looked to the left and it was him. I thought, 'You know, three-wide at a Truck race at Charlotte, that's pretty cool.' So I passed him and moved on."
Contributor, espnW.com
Brant James has covered the Daytona 500, Indianapolis 500, a World Series and Stanley Cup for the big hometown daily, an NCAA tournament and a Super Bowl. He's walked to the paddock with Kentucky Derby horses before post, ridden to the top of Mount Washington with Travis Pastrana and landed on an aircraft carrier with Dale Earnhardt Jr. He once induced Danica Patrick into a dance number from Moulin Rouge by saying the word "Switzerland." It's been pretty interesting so far.
SPONSORED HEADLINES
MORE RACING HEADLINES
MOST SENT STORIES ON ESPN.COM