Commentary
Road to victory goes through JGR
Updated:
March 22, 2013, 3:45 PM ET
By
Brant James
| ESPN.com
It's not as though Elliott Sadler or Brian Vickers needs any extra motivation to win their first Nationwide Series race of 2013. But management would kind of like to keep its streak going at Auto Club Speedway in Fontana, Calif.
[+] Enlarge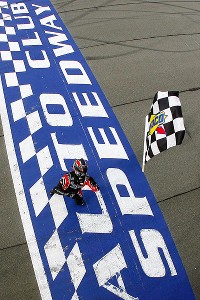 Jason Smith/Getty Images/NASCARJoe Gibbs Racing drivers have won eight straight Nationwide races at Auto Club Speedway, including this Kyle Busch victory in March 2011.
Kyle Busch might have that covered, though, if his past performance is indicative of results this weekend at the 2-mile speedway. Joe Gibbs Racing has won eight consecutive races at the track in NASCAR's top developmental series, a record five by Busch, who fills out a three-driver JGR contingent for Saturday's Royal Purple 300 (5 p.m. ET, ESPN).
Team owner Joe Gibbs seemed surprised his team had been able to cobble together such a streak, but credit an engine shop led by Mark Cronquist with providing the power to navigate a track that pleases drivers with numerous lane options.
"It means a lot. I don't know how that happened," Gibbs said. "These things are so hard to win."
While Busch, who also drives full time for JGR's Sprint Cup team, has accounted for five of the wins, Joey Logano has added two and Tony Stewart one. Logano is now with Penske Racing and Stewart is focusing on his own Cup driving/management career.
The JGR streak began with Stewart's win in 2008 -- when he beat Busch in a Braun Racing Toyota. All of Busch's wins at Fontana have come in the No. 18 Toyota, but he will drive the No. 54 this weekend. The No. 18 will not be used this weekend.
Busch would pass Jason Leffler as the all-time Nationwide Series starts leader (141) on Saturday and is coming off a victory at Bristol Motor Speedway in an electric finish over Kyle Larson that was the second closest in series history.
Jeff Burton is the last non-JGR driver to claim a Nationwide win at Fontana. Oddly, Toyota has never won at Fontana in 11 Sprint Cup starts.
Logano, the defending race winner, will not enter this year, with Penske represented by points leader Sam Hornish Jr. and defending Sprint Cup champion Brad Keselowski.
Richard Childress Racing figures to challenge JGR on Saturday. Brian Scott, who has the longest top-10 streak of any driver in a top-three NASCAR series (six), has a top-5 and two top-10s in five starts at Fontana and finished a career-best fourth there last year. He is third in series points, 25 behind Hornish.
James: Who is this guy?

Kyle Larson made headlines after crashing into the catch fence at Daytona. Now he's making headlines for driving the wheels off his race car, writes Brant James. Story
"Fontana has been a good racetrack for me," Scott said. "It's big and slick; it's one of those tracks where you really need to slip between the seams, because they'll really affect your tires. It's really similar to Chicagoland Speedway, both tracks I've had really strong success by finishing inside the top five. There are multiple grooves to run through the corner with the ability to pass. As a driver, you have to be really disciplined because it's such a challenging track as you slip around from lap to lap."
Teammate Austin Dillon finished fifth last season at California in his only Nationwide start there. Dakoda Armstrong will make his second career Nationwide start and first of a scheduled five for RCR.
While JGR has strictly professional motivation Saturday, Kyle Busch Motorsports' Parker Kligerman enters with personal inspiration for his career objectives. His 90-year-old grandmother will see him race for the first time professionally.
"I'm really excited that Grandma Dottie will be in the stands on Saturday," he said. "She probably wondered what I was doing at the beginning of my racing career, but she's always been one of my biggest supporters. Out of all my fans, she is probably the one that is watching my races most intensely and taking the best notes -- maybe even better than the notes we take."
Contributor, espnW.com
Brant James has covered the Daytona 500, Indianapolis 500, a World Series and Stanley Cup for the big hometown daily, an NCAA tournament and a Super Bowl. He's walked to the paddock with Kentucky Derby horses before post, ridden to the top of Mount Washington with Travis Pastrana and landed on an aircraft carrier with Dale Earnhardt Jr. He once induced Danica Patrick into a dance number from Moulin Rouge by saying the word "Switzerland." It's been pretty interesting so far.
SPONSORED HEADLINES
MORE RACING HEADLINES
MOST SENT STORIES ON ESPN.COM