Commentary
Will Wallace get chance to move up?
Updated:
October 31, 2013, 5:35 PM ET
By
Brant James
| ESPN.com
Darrell Wallace Jr. needs to make more history in the NASCAR Camping World Truck Series before he advances to the sanctioning body's second-tier Nationwide Series.
So says precedent. So says Kyle Busch.
Granted, that declaration comes from someone hoping to assemble a sponsor package to field Wallace -- the first African-American to win a NASCAR touring series event in 63 years -- to race for his truck series team again next year. But Busch, a 124-time winner in NASCAR's top three series and the all-time leader with 62 Nationwide wins, has a point.
[+] Enlarge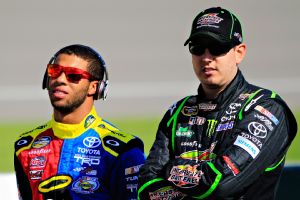 Sean Gardner/NASCAR/Getty ImagesDarrell Wallace Jr. is doing well for Kyle Busch Motorsports in the Camping World Truck Series, winning at Martinsville.
Wallace is talented. He has potential. His historic win at Martinsville Speedway created a wave of good will and perceived impetus for what may or may not stimulate a tepid sponsor market to fund his future endeavors.
But Wallace, ultimately, is 20, is 19 races into his first full truck season and has contested just four Nationwide races -- all in 2012 -- and needs steady work to develop enough to eventually follow fellow diversity program graduate Kyle Larson into Sprint Cup.
"I would have to say this certainly has to help some things," Busch said on Saturday after Wallace's win at Martinsville. "We've been trying for a month or so to try to continue to put things together for Darrell. I mean, I want to see him back in our trucks. I think a second season does a world of wonders.
"I think we've seen it with a lot of drivers over the years who have stayed one year in this and that and moved on, and then all of a sudden you don't see them anymore."
A teen prodigy who had to deal with age limitations and limited vacancies in front of him coming up with Roush Fenway Racing, Busch jumped with scant experience to Hendrick Motorsports for his full-season Nationwide debut in 2004. He succeeded. He is unusual.
"I think it takes a two‑year season to get your feet really wet and get dug in and get a platform and get comfortable in this sport, and the trucks is the best way to do that and the Nationwide is the best way to do that after that," Busch said. "There's a stepping stone here for a reason."
Wallace still has a relationship with Joe Gibbs Racing -- Busch is one of the team's Sprint Cup drivers -- with whom he has made all four Nationwide starts.
BURNING QUESTIONS
A driver not named Kenseth or Johnson with a shot at the title? Who leaves Texas with the points lead? Martinsville's race grade? The significance of Darrell Wallace Jr.'s victory? Our guys weigh in. Turn 4
JGR vice president of Nationwide Series operations Steve deSouza mentioned Wallace last week when considering his options for the team's No. 20 Toyota Nationwide seat vacated for the final three races because of a recurrence of blood clotting problems for regular driver Brian Vickers. Denny Hamlin will race the car on Saturday at Texas Motor Speedway before ceding to prospect Drew Herring at Phoenix and Homestead.
JGR spokesman Chris Helein said there was nothing to report in terms of a possible change of plan for Wallace after the victory on Saturday.
Team owner Joe Gibbs said in a statement after the win that he had spoken with Wallace and his family in victory lane and was "just thrilled for him and his entire family." Wallace said that in the conversation Gibbs suggested "something might pop up over there."
"We obviously think a lot about Darrell," Gibbs said in the statement. "He has tremendous talent, and we really believe he can have a huge impact on our sport."
It will require money. And money well spent would buy him time in an under series. Unfortunately for Wallace, money has not yet materialized.
"It's just taking the right step at the right time," he said. "Winning definitely helps out with sponsorship ... so hopefully make some phone calls, make some stuff happen. I'd love to be back in a Toyota Tundra for Kyle, competing for wins each and every weekend, especially now after this.
"We've learned a lot ... and to do that again next year, we should be going for that championship and a hard one to beat."
Contributor, espnW.com
Brant James has covered the Daytona 500, Indianapolis 500, a World Series and Stanley Cup for the big hometown daily, an NCAA tournament and a Super Bowl. He's walked to the paddock with Kentucky Derby horses before post, ridden to the top of Mount Washington with Travis Pastrana and landed on an aircraft carrier with Dale Earnhardt Jr. He once induced Danica Patrick into a dance number from Moulin Rouge by saying the word "Switzerland." It's been pretty interesting so far.
SPONSORED HEADLINES
MORE RACING HEADLINES
MOST SENT STORIES ON ESPN.COM