NASCAR sets new qualifying format
Updated:
January 22, 2014, 10:34 PM ET
By
Brant James
| ESPN.com
NASCAR on Wednesday revamped the qualifying system for its three top series, moving away from single-car, two-lap qualifying in most races to knockout-group qualifying that could enliven an otherwise mundane process for drivers, fans and track promoters.
The new system will be used in the Sprint Cup, Nationwide and Truck series, but qualifying procedures will remain unchanged for the Daytona 500, non-points Sprint Cup events and the trucks race on the dirt at Eldora Speedway in Ohio.
Hinton: Why not?

So long, single-car qualifying. NASCAR ramped up the prerace excitement level -- and made qualifying more relevant -- with a new knockout format that's sure to scramble some nerves, writes Ed Hinton. Column
"We believe the timing is right for a new qualifying format across our three national series," vice president of competition Robin Pemberton said in a statement. "This style of group qualifying has all the makings of being highly competitive and more engaging to our fans in the stands and those watching on television and online."
The system is similar to formats used for non-oval Formula One and IndyCar events.
On tracks of 1.25 miles in length or longer, all cars will qualify collectively for up to 25 minutes, with the top 24 based on fastest laps advancing for a subsequent 10-minute session.
The top 12 from that group will advance to the final, five-minute round.
On tracks shorter than 1.25 miles in length, all cars will begin qualifying in a 30-minute group session, with the field narrowed to the top 12 for a 10-minute final period. Cars or trucks knocked out after the initial round will be sorted based on their times from the first round, in descending order. The fastest remaining cars from the second session will earn positions 13th through 24th based on their times posted in qualifying in descending order.
Asked about the changes, Chad Knaus, crew chief for six-time and defending Sprint Cup champion Jimmie Johnson, told ESPN.com he was "OK with it" and predicted "there are going to be a lot of upset people at the end of the qualifying sessions for sure. I think it's going to be exciting.
[+] Enlarge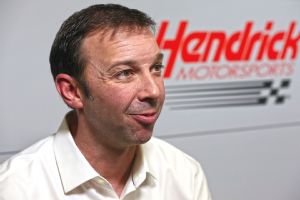 Streeter Lecka/NASCAR/Getty ImagesChad Knaus, the crew chief for Jimmie Johnson, said of NASCAR's changes: "There are going to be a lot of upset people at the end of the qualifying sessions for sure. I think it's going to be exciting."
"But where it's going to get crazy is some of these tracks you're trying to put 43 cars out there in a 25-minute span and not have someone block you. Or you're trying to do a deal at Bristol with 43 cars for 30 minutes and trying to get a clean lap is going to be very difficult."
In open-wheel qualifying, teams generally have remained on the track long enough only to post a satisfactory lap and react to the performance of competitors.
Pemberton said he did not expect the few additional laps of qualifying to negatively impact engine wear. Only one set of tires will be allowed, Pemberton said, and crews will not be allowed to work under the hood during breaks in qualifying. Though teams will not be allowed to make "extreme adjustments," Pemberton said adjustments to wedge, tape and other moderate areas will be permitted during breaks.
Sprint Cup drivers will be allowed to draft during qualifying on the restrictor-plate tracks of Daytona International Speedway and Talladega Superspeedway.
New Hampshire Motor Speedway general manager Jerry Gappens said he would have preferred twin qualifying races -- such as what will remain for the Daytona 500 -- but he supported Wednesday's move.
"Today's announcement is a positive step," Gappens said in a release. "We need to create compelling on-track action all weekend. It will be interesting to watch what strategies teams utilize to get the best starting spot they can."
Contributor, espnW.com
Brant James has covered the Daytona 500, Indianapolis 500, a World Series and Stanley Cup for the big hometown daily, an NCAA tournament and a Super Bowl. He's walked to the paddock with Kentucky Derby horses before post, ridden to the top of Mount Washington with Travis Pastrana and landed on an aircraft carrier with Dale Earnhardt Jr. He once induced Danica Patrick into a dance number from Moulin Rouge by saying the word "Switzerland." It's been pretty interesting so far.
MOST SENT STORIES ON ESPN.COM