Ed Carpenter gives Colts' Wayne a lift
Updated:
July 28, 2014, 12:38 PM ET
ESPN.com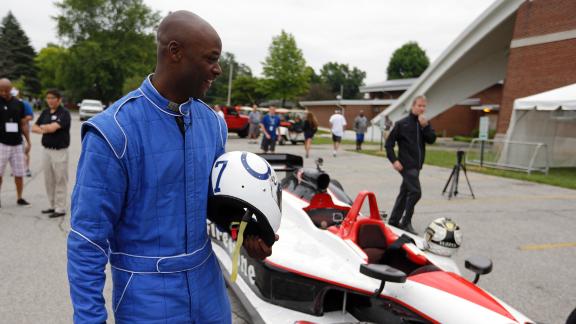 Reggie Wayne Makes Another Big Entrance
Keeping in line with his tradition of arriving to training camp in grand fashion, Colts receiver Reggie Wayne came to camp this year in an Indy car.
Reggie Wayne Makes Another Big Entrance
NEXT VIDEO
IndyCar Series driver Ed Carpenter made big headlines Wednesday, but it had little to do with his driving performance. It had a lot to do with the passenger riding along in the two-seater Indy car he was driving: Indianapolis Colts wide receiver Reggie Wayne.
Wayne is known for making a grand entrance at the start of training camp each summer. He didn't disappoint this go-round, arriving for camp at Anderson University in the back seat of an open-wheel race car.
Social media, of course, went wild ...
Reggie Wayne is my idol

- LucaNap (@Luca_Bazooka34) July 23, 2014
2009 - Dump Truck 2010 - Military humvee 2013 - Helicopter How did Reggie Wayne arrive at Training Camp in 2014? http://t.co/40WIHpbVhF

- ESPN (@espn) July 23, 2014
.@Colts WR Reggie Wayne got a special ride to camp this morning from #IndyCar driver @edcarpenter20 pic.twitter.com/kHmCfpxpiM

- IndyCar Series (@IndyCar) July 23, 2014
Next year, I want Reggie Wayne to sky dive into camp. Wonder how that would go over with Ryan Grigson?

- Bob Kravitz (@bkravitz) July 23, 2014
Green flag for REGGIE, REGGIE, REGGIE!!!! READ: http://t.co/ki0W40V9Lx pic.twitter.com/QJbCcG54Xd

- Indianapolis Colts (@Colts) July 23, 2014
Reggie Wayne wins. #Colts #NFL https://t.co/iQnq5ZT0Wz

- Rich Gray (@RichGray1060) July 23, 2014
Six-time Pro Bowl WR Reggie Wayne arrived at Colts' camp in an Indy car. (via @MikeWellsNFL) pic.twitter.com/hC0dQmqLh4

- NFL on ESPN (@ESPNNFL) July 23, 2014
Love Reggie Wayne dude is awesome only one who could pull off pulling up to camp in a racing car #Colts

- Daniel McNally (@ColtsAreLucky12) July 23, 2014
A very cool day for @edcarpenter20 & @ReggieWaynecolt driving into @colts training camp. Ed is a huge Colts fan. pic.twitter.com/7JQ6Rolqdz

- Ed Carpenter Racing (@ECRIndy) July 23, 2014
if I make it to the big leagues I'm arriving to spring training every year like Reggie Wayne ���� #onpoint

- Hunter (@groves88_hunter) July 23, 2014