Tony Stewart's actions questioned
Updated:
August 13, 2014, 1:06 PM ET
ESPN.com news services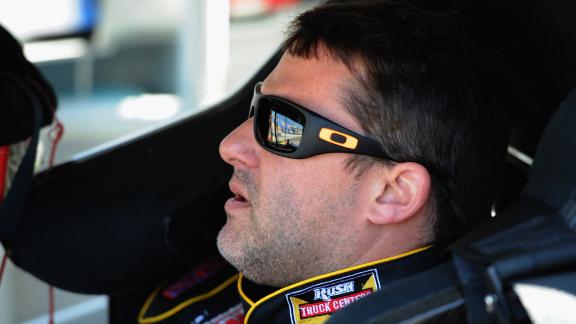 Preventing On-Track Confrontations
Ricky Craven discusses the thought process of a driver deciding to get out of his car and what NASCAR can do to prevent on-track confrontations.
Preventing On-Track Confrontations
NEXT VIDEO
SYRACUSE, N.Y. -- The father of the driver struck by Tony Stewart's car told The Syracuse Post-Standard that "there's no reason for" the crash that led to his son's death.
More from ESPN.com

It's easy to get too comfortable. Too complacent. Have too much faith that we're shielded from the industrial-strength violence on racetracks across America. Kevin Ward Jr. is a blunt reminder, writes Ryan McGee. Story
---

Tony Stewart's love for grassroots racing almost cost him his career a year ago. That same love resulted in the death of a young racer in upstate New York on Saturday night, Ed Hinton writes. Story
Kevin Ward Jr. was sent into the wall when his car was bumped by Stewart's in a dirt track race on Saturday night at Canandaigua Motorsports Park. Ward got out of his car and walked onto the track, where he was hit by Stewart's car.
Kevin Ward Sr. tells the newspaper that "Tony Stewart was the best damn driver by far on the track that night. Why he had to go up as high as he did and hog my son, there's no reason for it."
When the 20-year-old Ward got out of his damaged car, he walked on the track and appeared to point at Stewart. Other cars drove past him, but Stewart's right-rear tire appeared to hit him and drag him along the track.
"Apparently, Tony Stewart was the only one driving out there who didn't see him," Ward told the newspaper.
Ward Sr. told the Post-Standard that he was at the track with his wife, Pamela, on Saturday night but that he didn't see the crash that killed his son. After Ward Jr.'s car was pushed into the wall, Ward Sr. jumped on a four-wheeler to go meet his son on the spot where damaged cars are taken.
Ontario County sheriff Philip C. Povero said in a statement Tuesday that the investigation into Ward's death is expected to continue for at least another two weeks, if not longer.
No charges have been filed against Stewart, but they are still possible.
Ward Sr. also addressed that in his interview with the newspaper, saying: "The one person that knows what happened that night is possibly facing 10 years in prison. Is he going to say what he done?"
Racing at Canandaigua is expected to resume Saturday.
Information from the Associated Press was used in this report.