Debate: NASCAR's burning questions
Originally Published:
November 5, 2013
ESPN.com
Our experts weigh in on four of the biggest questions in NASCAR this week:
Turn 1: Joey Logano had another good finish Sunday, third, and has moved to ninth in the standings. He's only 23. Will he be a top-three title contender in the future?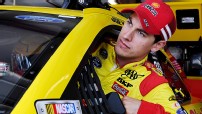 John Harrelson/NASCAR/Getty ImagesSurging Joey Logano finished third at Texas Motor Speedway.
Terry Blount, ESPN.com: It has been a confidence-building year for Joey, no question. But I'm not sure he's a top-three guy. He might get there, but he isn't on par yet with Jimmie Johnson, Matt Kenseth, Tony Stewart (if Tony returns healthy), Kevin Harvick or Kyle Busch. Ask me again when he is 28. If you want my answer now, it's a no.
Ryan McGee, ESPN The Magazine: The key here is that second sentence. I think, when we look back, JoLo will be the final chapter of the Young Gun craze when we saw so many teenagers getting moved up too fast and having their confidence torched before they could reach their potential. Since Chicago, he has been outscored by only four guys and he's one of only six Chase participants with three or more top-5s. I think he has established that he's a legit Chaser, and there's no reason to believe he can't make that next step up at some point.
Ryan McGee: Power Rankings

It's been a back-and-forth season between Jimmie Johnson and Matt Kenseth, but JJ showed at Texas why he's the top man in Ryan McGee's Power Rankings. Rankings

David Newton, ESPN.com: He has succeeded at every other level, so I don't see why not. The move to Penske Racing and having the opportunity to work with Brad Keselowski has been good for him. Keselowski truly treats Logano like an equal, something he didn't always have at Joe Gibbs Racing with Kyle Busch and Denny Hamlin. He was thrust into the limelight a year or two earlier than planned at JGR when Tony Stewart left unexpectedly, so he never had a chance to grow. As mentioned, he's only 23. With talent and a strong team, he still has the potential for a bright future.
Marty Smith, ESPN Insider: Yes. As Logano matures emotionally, he'll gain confidence. All of us do. When a man learns who he really is and what he's really all about, he's willing to champion those things. He won't be especially apt to back down off what he believes. There's great solace that accompanies that realization. Logano in 2013 has shown the promise that made Mark Martin -- and, in turn, the rest of us -- so intrigued by him from the moment he burst onto the scene. He believes in his team, and it believes in him. I'm not certain that was the dynamic at Joe Gibbs Racing. Sometimes change is bad. Sometimes it's good. For Logano, the move to Penske was very good.
Turn 2: Matt Kenseth overcame a critical error at Texas -- speeding on pit road -- with the help of a fast race car to finish fourth. He's now seven points behind Chase leader Jimmie Johnson. Is the pressure getting to the 2003 Cup champion?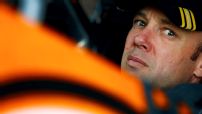 Tom Pennington/NASCAR/Getty ImagesMatt Kenseth trails Jimmie Johnson by seven points heading to Phoenix.
Blount: I don't think so. Matt's just not that type of guy, but it might get to his crew a little bit. Matt's still in this, but he needs to hope Johnson doesn't dominate at Phoenix this weekend. If Matt just stays close, he has a decent shot of outrunning JJ in Homestead.
McGee: No. I'm not sure he has the ability to feel a whole lot of pressure, which I think makes him the perfect opponent for Johnson because he's impervious to the head games the 48 crew likes to play down the stretch. If you're a Kenseth fan, you need to be glad the pit road speeding penalty happened at Texas, a place where he could make up that ground. If you make that same mistake at Phoenix, you're toast.
Jayski
Mark Garrow has the story from Texas, where Jimmie Johnson dominated to win and now leads Matt Kenseth by seven points. Jeff Gordon crashed to end his title hopes.
Newton: Nope. He simply made a mistake. Johnson's team made a couple last season after Texas and cost the five-time champion the title. It happens every week to teams. It just gets magnified in the Chase. But Kenseth has been around too long and is too cool under pressure to make a mistake simply because he's in a championship run.
Smith: No. Not even. He told me personally Sunday night after the race that he's as confident as he's ever been. I asked him about the beatdown Johnson put on the field, and how that affected his personal confidence. He didn't blink. His team is excellent, probably the best he's ever had. He knows when they perform to capability, he can win anywhere. He told me this: If I win the final two races, the points work out in my favor. That's his focus.
Turn 3: How competitive will Martin Truex Jr. be in 2014 and beyond driving for one-car Furniture Row Racing?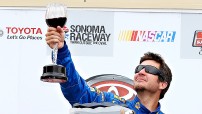 Todd Warshaw/Getty ImagesWhat can we expect from Martin Truex Jr. at Furniture Row?
Blount: He'll do OK, but he won't contend for the title, not that he was going to do that at Michael Waltrip Racing, either. If Kurt Busch, a much better driver than Truex, can't win at FRR, I don't see Truex setting the world on fire there, no matter how many other changes they make.
McGee: I don't think he'll struggle for long stretches like we saw the team do when it had Regan Smith and was still in its infancy. And I don't think we'll see him be as consistent as the team has been with Kurt Busch. So let's say he'll be somewhere in the middle, contending for wins at the racetracks where we've seen Truex run well throughout his career and fighting for the last Chase spot, but not a weekly top-5 ride. The wild card in this is his relationship with Ryan Newman, with whom he's pretty close. That might further grease the rails of the already solid cooperation between FRR and RCR.
James: Still chasing JJ

Here we go again. That had to be what Matt Kenseth was thinking after he finished fourth at Texas and still lost ground in the Chase to five-time champion Jimmie Johnson, writes Brant James.
Monday Rundown
Newton: No offense to Truex, but he's simply not as talented as Kurt Busch when it comes to what he can do behind the wheel. Busch did things in the No. 78 that Smith couldn't do before him. It'll be tough to make the Chase, but this still could be a top-15 team.
Smith: I think he'll be competitively comparable to what he's been at Michael Waltrip Racing -- on the cusp of Chase contention each year with a chance to qualify. The cars are fast. Some of that, of course, is Kurt Busch's insane talent. Busch carries that car a lot. Crew chief Todd Berrier told me that himself. But Truex will have something Busch didn't -- his pit crew. The fact that the entire 56 crew is moving to the 78 is big news for Truex.
Turn 4: Sam Hornish Jr. trails Austin Dillon by six points heading into the Nationwide Series' penultimate race at Phoenix. Which driver will leave PIR with the points lead?
Blount: I don't know, but wouldn't it be something if one of them actually won one of the last two races? I know, I know. Might as well ask for world peace. Dillon is winless, and Hornish's only victory was back in March. I'm sure the Cup bullies will show us how it's done, as they always do in their little practice playground of meaningless victories.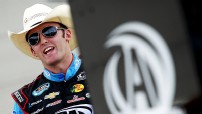 Sean Gardner/Getty ImagesWill Austin Dillon fend off Sam Hornish Jr. down the stretch?
McGee: The good news for Hornish is that he is solid at Phoenix, including his career-changing win there in 2011. The bad news for Hornish is that Dillon is one of the few drivers who have outpointed him at PIR over the past two years. I think Dillon will protect his lead, but it will still be plenty close enough that we'll have a genuine title fight when we get to Homestead. Sadly, they both likely will have to concede the win to a Cup moonlighter, so let's count points ... yay.
Newton: They're both solid here, but I'll go with Hornish. He has won at Phoenix, and the track really fits his style. In six races there, he has three top-10s. Dillon has three top-10s there, as well, but never has finished better than fourth.
Smith: Dillon.
SPONSORED HEADLINES
MORE RACING HEADLINES
MOST SENT STORIES ON ESPN.COM