Corey LaJoie is NEXT
NASCAR's upcoming speedster
Originally Published:
December 25, 2012
By
Ryan McGee
| ESPN The Magazine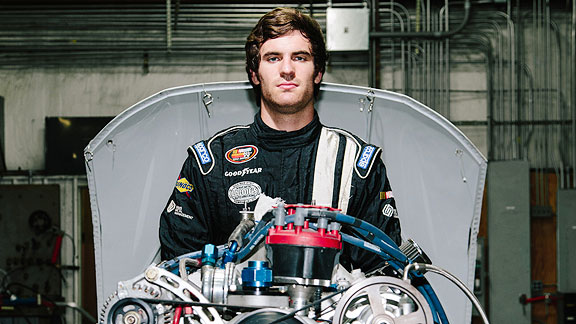 Andrew Hetherington for ESPNLaJoie finished second in the 2012 K&N Pro Series East standings.

This story appears in ESPN The Magazine's Jan. 7 NEXT Issue. Subscribe today!
AGE: 21
HOMETOWN: Kannapolis, North Carolina
NEXT CRED: Led NASCAR's 2012 K&N Pro Series East with five wins in 14 starts
GALLERY »
Corey LaJoie has some nerve -- and he gets it honestly. His father, Randy, is a Connecticut native who earned the respect of the Southern set by clawing his way over racing's biggest obstacles (i.e., lack of cash) and winning the 1996 and '97 Busch (now Nationwide) Series titles. Corey is taking the same path, though not by choice. He works at his father's race seat manufacturing company while building his own cars for select 2013 ARCA events and cold-calling local companies for one-race sponsorships. "Our budget is about one-tenth of what everybody else has," LaJoie says, referring to K&N rivals backed by Hendrick Motorsports and Joe Gibbs Racing. "That's the deck they're playing with, and we've got our hand of cards." Meanwhile, he keeps openly lobbying for a shot from one of those superpowers the only way he knows how: "You have to win. You can't sit and wait on the phone to ring. You work your butt off until that door finally opens."
"

I had the tweet ready 'talent beats money 100 percent of time' ... I hate I had to change it to 'talent beats money 99.9 percent of time.'

"

-- From @supershoeLAJOIE, after a Nov. 3 race
On Oct. 27 at legendary Greenville-Pickens Speedway, LaJoie put the bumper to Brett Moffitt on the race's final restart to seize the win. "We went down into Turn 1, and he ran me up into Spartanburg," says LaJoie of his controversial win. "So once he got clear on the backstretch, I was like, Well, okay, screw you right back. I gave it to him. I got him loose, got him out of the groove and got the checkers."
Follow The Mag on Twitter (@ESPNmag) and like us on Facebook.
ESPN The Magazine, NASCAR
ESPN The Magazine senior writer
2-time Sports Emmy winner
2010, 2014 NMPA Writer of the Year
ESPN The Magazine: January 7, 2013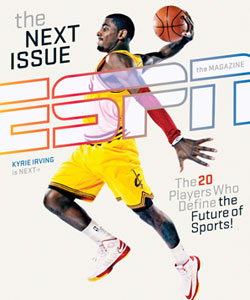 MOST SENT STORIES ON ESPN.COM