Think you could go over the wall? Think again
May, 15, 2009
05/15/09
4:18
PM ET
So you think you have what it takes to become a quality pit crew guy at the Sprint Cup level?
Not so fast there, Mr. Lug Nut. Better leave these assignments to the pros.
Alan Gustafson is someone who should know. The crew chief for Mark Martin's No. 5 Chevrolet was asked this week what he looks for in an over-the-wall athlete for pit road.
Gustafson is a meticulous guy, so he took the time to explain in detail the requirements for each spot on a pit crew.
First up, tire changers.
[+] Enlarge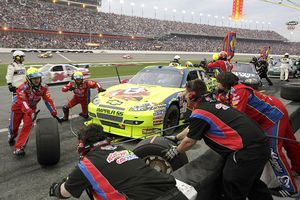 AP Photo/Terry RennaMark Martin's pit crew has to be precise and athletic to work for crew chief Alan Gustafson.
"They have to have really good hand-eye coordination and hand speed," Gustafson said. "Mentally, they have to be strong, because they're going to miss lug nuts and have issues, and they have to bounce right back from that. They can't let that affect them. That's probably the biggest skill position over the wall."
Next are the tire carriers.
"They have gotten really athletic in the last four or five years," Gustafson said. "We have two super athletes [J.D. Holcomb and Dion Williams] as tire carriers on this team. They are both really strong and agile.
"They've become what a typical NFL player would be. You have to be 200-plus pounds, really strong, but you also have to be very agile on your feet."
Williams is a former Wake Forest linebacker who played one season for the Minnesota Vikings. Gustafson said the shape of the new car makes the rear-tire carrier job more difficult.
"Being fast around the car didn't used to be a big deal," he said. "But especially with the COT, the rear is so long, so the rear carrier has a lot farther to go compared to the front carrier.
"His foot speed has to be really fast and he often has adjustments to make, too. Plus carrying a 75-pound tire to put on studs, all in one second."
And what about the jack man?
"He has to have mental toughness like the changers," Gustafson said. "He has to sit there and wait to drop the jack and be mentally strong enough to wait for the work to be done before he drops that jack, even when you see all that competition coming at you.
"He's kind of the coordinator of the stop. When I call for adjustments, he's the coordinator from front to rear to make sure everyone is on the same page. He also has to be strong, fast and agile to carry that jack and lift the car. He's got to be nimble as well, as he's running around other crew members, tires and hoses."
What about the gas man?
"Accuracy is very important for the fuelers," Gustafson said. "They have to get the can plugged in, get to the car as fast as possible. He's got 100 pounds on his shoulders and has to make sure he hits that dry brake straight."
And maybe the least understand job, the catch-can man.
"He used to be a novelty, but he's a vital part of the pit crew now," Gustafson said. "He makes the majority of the adjustments on the back [of the car]. He has to plug in, fuel, make an adjustment, get that stuff out and over the wall and get back there to pull the left-side tires off. All of that takes some strength and speed."
There you have it. Still think you can get 'er done?