After latest, Bernie Ecclestone has to go
July, 7, 2009
07/07/09
4:53
PM ET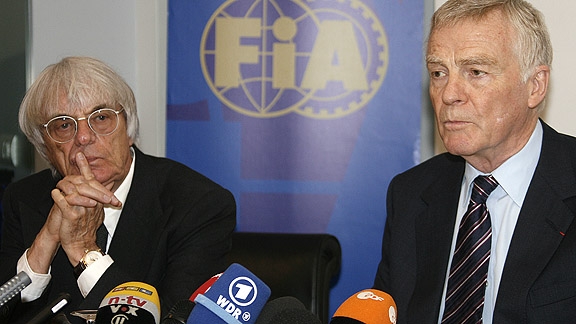 AP Photo/Gareth WatkinsBernie Ecclestone, left, is under fire for recent comments about Adolf Hitler. He was under fire for his support of FIA president and friend Max Mosley, right, who has announced his retirement.
Time to go, Bernie. Feel free to goose-step your way into retirement.
Go join your buddy, outgoing FIA president Max Mosley, who allegedly had a fantasy-game sexual tryst with prostitutes dressed in Nazi uniforms.
F1 boss Bernie Ecclestone needs to step down and leave the sport after his shocking comments about Adolf Hitler.
In an interview with London's "The Times," Ecclestone said Hitler was "able to get things done."
Ecclestone also said democracy "hasn't done a lot of good for many countries -- including [Great Britain]."
For all of Ecclestone's fellow British citizens who lived through World War II, his apology Tuesday doesn't come close to excusing such outrageous statements.
"In the end he got lost," Ecclestone said of Hitler, "so he wasn't a very good dictator."
Ecclestone should know. He has run F1 as a little dictator for many years. Crazy comments are nothing new for Ecclestone, but this time he went too far.
Respected organizations are calling for him to resign, including the World Jewish Council.
"The people who are saying that haven't got the power to say these things," Ecclestone told the Associated Press.
One group does have the power: Formula One Teams Association. FOTA recently forced Ecclestone and Mosley to back down on plans to reduce costs for the sport. And the backlash led Mosley to announce his retirement.
The battle proved Ecclestone's unquestioned reign of power as the commercial rights holder in F1 isn't what it used to be.
So now is the time to send him to a rocking chair in the English countryside. His statements are unacceptable for a leader of the world's most popular racing series.
Ecclestone is 78 years old and one of the wealthiest men in England. So take your money, Bernie, and your crazy comments and leave the sport for good.