With Bud leaving, Kenny Bernstein Racing in limbo
July, 18, 2009
07/18/09
2:11
PM ET
KENT, Wash. -- Imagine the NHRA without a Bernstein involved. It could happen.
Losing the Bernstein family from the NHRA would be similar to NASCAR losing the Petty family.
Budweiser, which has sponsored a Bernstein in a nitro car for 30 years, is leaving at the end of the 2009 NHRA season.
[+] Enlarge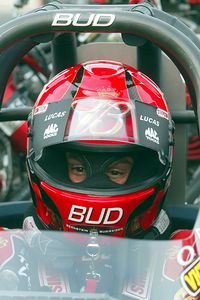 AP Photo/Chris PutmanThe Bud name won't be on Brandon Bernstein's helmet in 2010.
Top Fuel driver Brandon Bernstein tries his best to think positive, but he admits it isn't easy.
"It's the worst time ever to be looking for a sponsor," Brandon said. "We don't have anything, but we're real confident we're going to find something.
"We have a few things working. But my dad [Kenny Bernstein] has made it clear if we don't [find a sponsor] there will not be a Bernstein name out there anymore."
Kenny, an NHRA legend and a six-time champion, has said he won't fund the team out of his pocket. Brandon's dragster will not race in 2010 if a primary sponsor isn't found.
Sponsoring for a Top Fuel dragster at the championship level is expensive (about $3 million a season), but far cheaper than sponsoring a Sprint Cup car in NASCAR. That runs more than $15 million for the top teams.
Brandon, a Texas A&M graduate, says it's difficult not to worry about the future.
"It's distracting, but only during the week," he said. "When I'm at the track I'm so focused on racing and trying to win. But when I get home I think, 'Man, I wonder what we're going to do. What am I going to do if I don't race?' I don't have an answer for that."
This isn't just a problem for the Bernsteins. The bad economy has caused rough spots across the NHRA, just as it has in NASCAR.
NHRA attendance is down at most events. Car counts also are down. Two races did not have full 16-car fields in Top Fuel.
The past two events have seen only 16 Pro Stock entries, a big change from a couple of years ago when more than 30 cars would attempt to qualify in Pro Stock. But sponsorship is down and teams are struggling to make ends meet.
Bernstein still is fully funded for this year and trying to make the most of it. He ranks fourth in the season standings, but he hasn't won this year.
"We would love to win a race, obviously," Bernstein said. "But now we want to go rounds and stay in that top five to align us for the Countdown."
The NHRA Countdown playoff starts in September at Charlotte. The top 10 drivers in each category compete for the championship in the final six events.
Bernstein is getting a little tired of runner-up status at races. He won eight of his first nine career appearances in a final round, but Bernstein has fallen short the past eight times he reached the final.
He just hopes his days of reaching an NHRA final don't end after this season.
"It's in the back of my mind," he said. "But I try to block it out when I'm at the racetrack."