Courtney Force makes her father proud
July, 19, 2009
07/19/09
8:07
PM ET
KENT, Wash. -- John Force's losing streak continues. Daughter Ashley Force Hood also couldn't get it done Sunday and fell out of the Funny Car points lead.
But the Force family didn't go winless. Baby Force took home a trophy.
Courtney Force, John's youngest daughter, earned her first NHRA victory in Top Alcohol Dragster on Sunday in the Northwest Nationals at Pacific Raceway.
Force defeated Chris Demke in the final. She blasted down the track at 5.44 seconds and 257.83 mph.
Courtney turned 21 on June 20.
"So now I can really go celebrate," she said. "When I saw the win light I didn't believe it at first."
[+] Enlarge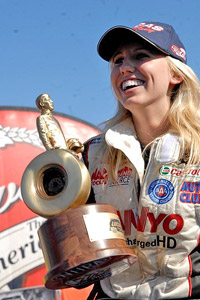 John Force RacingCourtney Force's win Sunday in Top Alcohol Dragster was the 186th victory for John Force Racing.
Neither did her legendary father, who jumped up and down like a kangaroo on hot coals when his little girl got the win light.
"It was a rush," said John, a 14-time Funny Car champion. "It's a moment of emotion where you want to scream and cry at the same time. These girls are little kids I watched grow up.
"To see them come out in a sport that I have loved my whole life and I gave everything to, well, I wanted them to feel what I've felt. Courtney got a taste of that today."
Courtney had to beat her other sister, Brittany, to reach the final. It was the first time the Force sisters had faced each other. Brittany red-lighted at the start, giving the win to Courtney.
"It was a lot of fun racing her," Courtney said. "I got the win, but she'll probably kick my butt next time."
Courtney is a student at Cal-State Fullerton, but drag racing is all she really wants to do.
"I'm going to school just as a backup plan. I'm majoring in communications, hopefully to help me with this exact situation," she said, referring to her meeting with the media afterward. "I was hoping to graduate before having to deal with this. It came a little sooner than expected and I'm more than happy that it did."
Ashley and John both lost Sunday to Tony Pedregon, a former member of John Force Racing.
"That was pressure for me," Courtney said. "After Dad went out in the semis, I heard him tell the announcer, 'It's all up to Courtney.' I thought, 'Oh, I wish I didn't hear that.' But some of the other guys encouraged me. [Funny Car driver] Jack Beckman told me, 'Just have fun.' ''
Her mother, Laurie Force, said no one expected Courtney to win this season. Laurie stood in the middle of the track -- not favoring either lane -- when her daughters raced each other.
"It's not about wanting one to win over the other," Laurie said. "You just want them both to have good, safe runs. I've been watching John win for a lot of years. But for the girls to take on these cars, these animals out here and do well is shocking. I'm really proud of all of them."
John gives Laurie all the credit.
"I am very proud for Courtney, but I have to be honest, I am proud for Laurie," he said. "These are her children. She raised them, God bless her. I know what it means to her."
John Force Racing now has 186 victories -- 180 in Funny car and six in Top Alcohol Dragster. The first five dragster wins went to Ashley. Courtney is the third Force to become an NHRA winner.
"I'm so use to Dad or Ashley taking home the trophy for our team," Courtney said. "It's weird I'm actually taking it home.
"So I really want to dedicate the trophy to my dad. He's done everything for me. He's never stopped and never given up on us. I really appreciate everything that's he's done and I hope he's proud. I got him a win so it was worth it."