Despite doubts, JJ still a lock to win Cup title
November, 14, 2009
11/14/09
1:37
PM ET
AVONDALE, Ariz. -- Perception isn't always reality when it comes to Jimmie Johnson.
Perception: The emotionless machine in the driver's seat on a methodical quest for his fourth consecutive title.
Reality: A relentlessly driven man, churning on the inside in knowing he is on the cusp of racing immortality.
Perception: Total confidence that he can't be stopped with two races to go.
Reality: Hoping and praying he doesn't blow it.
Johnson is human, believe it or not. When something goes wrong, as it did last week with an early crash at Texas, he remains calm on the outside.
[+] Enlarge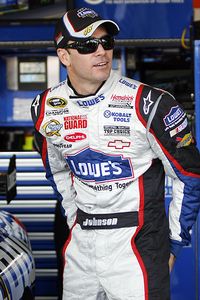 AP Photo/Mary Schwalm Sunday's disaster at Texas shaved 111 points off Jimmie Johnson's Chase lead.
"I just don't want to live by the peaks and the valleys," Johnson said. "I do better in that middle ground."
Easier said than done. On Friday at Phoenix, he admitted the Texas crash got to him. A few doubts managed to creep into his mind this week.
"That's all I've thought about for the whole week," Johnson said. "I'm ready to get that out of the brain. But that negative feeling is there. That emptiness is there.
"Last week, I thought, 'Man, I just lost 111 points.' That part is still there. I've thought about it enough."
Johnson enters the Checker O'Reilly Auto Parts 500 on Sunday with a 73-point lead over Mark Martin.
"I still feel that a 73-point lead is a very, very healthy lead," Johnson said. "But it's hard to look back at the week before when it was 184 [points] and the comfort that it brought."
Johnson won't find any sympathy from the other Chase drivers.
"I know they had one bad week, but a lot of us have more than one bad week," said Juan Pablo Montoya, who is 236 points back in sixth spot. "As a team, they're doing an amazing job. They got everything together."
Teammate Jeff Gordon said Johnson's No. 48 Chevy team reminds him of his championship years with the crew known as the Rainbow Warriors.
"I'm not trying to take anything away from Jimmie," Gordon said Friday. "But you say 'Jimmie' and I say 'team.' To me, all the success I've had at winning championships is because we were the best team. I did my part, and Jimmie does his. He focuses really hard on being prepared and giving his best.
"Not every driver out there puts that much effort into it. And not all crew chiefs put the effort that Chad [Knaus] puts in. Not all team members put in that effort and not all organizations put in the effort. So it's a total team effort."
So let the doubts disappear, Jimmie. He's going to win this thing and become the first driver to earn four consecutive Cup crowns.
You want some reasons? OK. We've got five reasons:
1. History: Cup drivers don't choke off a 73-point lead with two races to go. It's only happened once in 60 years (Alan Kulwicki made up an 85-point deficit in the last two races of 1992).
2. Phoenix: He owns the place. Johnson has won three of the past four races on the 1-mile flat oval, including the last two fall races.
3. Consistency: He had seven consecutive top-10s before the Texas race.
4. Team: As Gordon said, the No. 48 crew is the best in the sport. Last week proved it -- the team rebuilt a destroyed car to get him back on the track. And Knaus is the best crew chief in NASCAR, hands down.
5. Driver: Want to know the best-kept secret in racing? Johnson is the best driver in NASCAR. He can drive this car on the edge better than anyone else in Cup. And he makes fewer mistakes than any other driver.
Denny Hamlin wonders when people will figure out just how good Johnson really is.
"I don't know how long it's going to take for him to get the respect that he deserves as a race car driver," Hamlin said Friday. "We can see out on the racetrack the talent that he has. I know what respect he has from us."
Johnson will start on the inside of Row 2 at Phoenix. Starting up front means less chance of getting caught up in a wreck with slower cars, which caused Johnson's problem at Texas.
"I don't think lightning can strike two weeks in a row," Johnson said. "I'm certainly hoping it doesn't. My goal is to keep the stress down."
That's the calm Johnson, the one the public sees. But there's a voice deep down inside that still worries.
"You never know," he said. "This is racing. Anything and everything will happen."
Surprising things happen, like the impossibility of a driver winning four consecutive Cup championships.
Don't worry, Jimmie. It's a lock.