Penske could pull off Indy-Coke double
May, 25, 2010
05/25/10
5:41
PM ET
A driver winning the Indy 500 and the Coca-Cola 600 on the same day, even with $20 million on the line from racing honcho Bruton Smith, is about as likely as Richard Petty wearing a fedora.
But how about a team owner pulling off the double?
If the publicity-savvy Mr. Smith really wanted to make this interesting, he would make the same offer to any team owner.
[+] Enlarge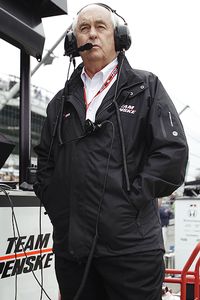 AP Photo/Michael ConroyWith defending Indy 500 winner Helio Castroneves and All-Star race winner Kurt Busch in his stable, Roger Penske has a realistic shot at winning the double on Memorial Day weekend.
No team owner has won the double, but it definitely could happen this weekend for Roger Penske. He has three drivers starting in the top four spots at Indy: pole winner Helio Castroneves, Will Power and Ryan Briscoe.
Castroneves, the defending champ, is a three-time Indy 500 winner. He hopes to join Indy 500 legends A.J. Foyt, Rick Mears and Al Unser as a four-time winner of the historic race.
"I always saw them as the gods of racing," Castroneves said last week. "You always talk about them. For me, they are the icons of motorsports. When people mention that I have the possibility of joining them, I just feel honored. I'm going to work four times as hard so that I can get close to them.
"But I don't feel any pressure. I just feel that you've got to always go to limit and you can't play around here."
Power is the IndyCar Series season points leader and Briscoe fell only 12 points short of the series title last year.
Penske enters the Coca-Cola 600 with the man who won at Charlotte Saturday night. Kurt Busch will try to become the seventh man to win the Sprint All-Star Race and the 600 in the same season.
Busch expects his IndyCar teammates to hold up their side of the deal.
"When they don't win, we scratch our heads," Busch said Saturday after his victory. "I root for those IndyCar guys. I like to see them do well. It's just all an effort that we're all pushing hard at Penske."
But Penske isn't the only team owner with a shot at the double victory. Chip Ganassi has two former Indy 500 winners starting in the first two rows: 2007 Indy 500 winner Dario Franchitti and 2008 winner Scott Dixon.
Ganassi has another Indy 500 winner racing Sunday, but he'll be on the starting grid at Charlotte. Juan Pablo Montoya still is looking for his first oval-track victory in Sprint Cup, but his teammate already has a victory at Charlotte. Jamie McMurray earned his first Cup win in the fall race at Charlotte in 2002 during his first stint with Ganassi.
Ganassi has a chance to do something else that never has been done before: have his drivers win the Daytona 500 and the Indy 500 in the same year. McMurray won at Daytona in February.
"That would be something, wouldn't it?'' Ganassi said last week at Indy. "It certainly has crossed my mind, but I try to stay focused on the job at hand and let other people think about those kind of things.
"I'm just worried about the task at hand. That's kind of the way I look at it. It means nothing, so let's just focus on what we're supposed to be focused on here."
Even "The King" could pull it off, although it would require a huge upset at Indy. Petty is fielding the car that John Andretti got in the show on Bump Day. But Andretti, the first driver to race both Indy and Charlotte on the same day, starts 28th and has little chance of going to Victory Lane at the Brickyard.
Petty has a much better chance of winning the Coca-Cola 600 with Kasey Kahne, who won the race two years ago.
And if old Richard had drivers win both races on the same day, he still wouldn't wear a fedora. But for $20 million, he might give Smith one to cover his shiny crown.