Penske back to its roots with Allgaier
January, 20, 2009
01/20/09
11:47
AM ET
CONCORD, N.C. -- Just because Penske Racing hasn't been winning a lot lately doesn't mean it's not one of the most forward-thinking organizations in NASCAR, and sometimes the most refreshing. Penske will run 22-year-old developmental driver
Justin Allgaier
in a fully funded, full-schedule Nationwide program this season. The announcement came Monday at the opening session of the annual preseason NASCAR media tour here.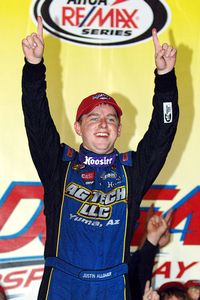 AP Photo/Rainier EhrhardtJustin Allgaier, the 2008 ARCA/ReMax series champion, will drive a full Nationwide schedule for Penske this season.
This comes at a time when most major NASCAR teams are tightening budgets by fielding Nationwide cars for only their star Cup drivers to drop down and cherry-pick in what I've long thought should be an all-developmental series, NASCAR's answer to Triple-A ball. Penske brought up
Ryan Newman
through the ranks, and last year, "When it looked like Ryan might be moving on, we looked at it," said Penske Racing president Tim Cindric, "and said, 'You know what? Maybe we need to go back to our roots and do something similar: bring up the next Ryan Newman.'" Allgaier brings a
Jeff Gordon
-ish résumé of having raced since age 5, and last year won the ARCA/ReMax series championship with six race victories and 14 top-5 finishes. "When you look at the things he's done, he's a guy who deserves a chance, really fits our organization, and could be one of the stars of the future," Cindric said. But in NASCAR, not even noble efforts can be made without funding, and the Penske organization found a high-dollar commitment when Verizon acquired Alltel, and with it a multiyear commitment to sponsor Penske. The diminutive (5-foot-6) Allgaier, who looks more like a Formula One or IndyCar driver, was and wasn't surprised at getting the full-boat effort. "If you look at the Penske organization, they've typically built from within," said the Riverton, Ill., native. This is an optimum situation for a developmental driver. He'll be able to go head-to-head with all the Cup drivers dropping down into Nationwide, but unlike most developmental drivers, he'll be getting equal equipment, technical support, pit crewmen and funding with the big guns. Would the Penske organization like to see other teams help make Nationwide a more purely developmental series? Not necessarily. "The Carl Edwardses and the Clint Bowyers and the Dale Earnhardt Jr.s of this sport do good things for Saturday races," said Chad Walter, the veteran crew chief Penske has assigned to mentor Allgaier. At the same time, "sometimes the best way to get experience is to jump in the deep end and learn how to swim with these guys," Walter said. Cindric's proposal for strengthening the developmental side of Nationwide is the same as mine, and most people I know. "We feel like NASCAR can help it a little bit," Cindric said. "There's a lot of talk about how many races the Cup drivers should participate in. To me, it seems like we could promote these guys who are not Cup drivers in a different way, and maybe the best way is not to give [Nationwide] points to drivers who are in the Cup series. "That doesn't preclude them from running, but it allows these other guys to get a lot more air time," Cindric said. "You talk about Justin, and
Joey Logano
[Joe Gibbs Racing's star pupil of Nationwide last year], and you're building them to the point they're household names, and sponsors will take a look and say, 'I'll take a chance on a Justin,' instead of just knowing you're going to have a
Jeff Burton
or a Dale Earnhardt Jr. in the car.' "These guys will become someone, just out of their successes." Precisely. Well said, as usual, by the class-act Penske organization. Team owner and legendary racing chieftain Roger Penske wasn't present for the announcement, but his longtime right-hand man for all his business ventures, Walt Czarnecki, said the full effort wasn't a sure thing until Verizon surprised the organization by offering a major financial commitment to the Nationwide Series. "When we signed Justin [last September], we weren't sure we were going to be able to run the whole series," Czarnecki said Monday. "But Verizon indicated that yes, they were in a position to help us do that." Verizon is shut out of Sprint Cup promotion due to Sprint's exclusivity rights in NASCAR's top series. Acquiring Alltell, Verizon essentially found itself in a situation similar to the one AT&T did when it acquired Cingular: the new brand names weren't "grandfathered" in. All in all, you might hear as much about Justin Allgaier this season as you heard about Logano last year. If you have trouble with his surname, it's pronounced "ALL-guy-er." Easier to remember, considering his tenacity and his stature, is his nickname from childhood racing: "Little Gator."