Earnhardt uproar steals spotlight from Reutimann
May, 30, 2009
05/30/09
2:26
PM ET
DOVER, Del. -- It's fun to watch guys fly in under the radar.
While we in the NASCAR media corps were obsessing on Dale Earnhardt Jr.'s crew chief switch, and Kyle Busch's shots at the move, David Reutimann quietly took the first step toward showing his win in the Coca-Cola 600 last week wasn't a fluke.
[+] Enlarge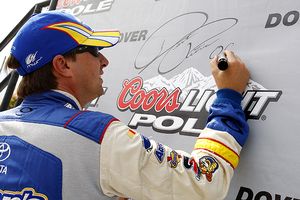 Jason Smith/NASCAR/Getty ImagesDavid Reutimann signs the wall in Victory Lane at Dover International Speedway after winning the pole for Sunday's Autism Speaks 400.
Winning the pole for the very next race, Sunday's Autism Speaks 400, is by no means a guarantee that Reutimann can fulfill the hope he immediately expressed after being declared the winner at rain-slogged Charlotte: "Maybe next time, we'll earn it."
Indeed, only 11 times in 78 races at Dover International Speedway has the pole-sitter won the race.
But, mean as the Monster Mile is -- you can come off a corner, see a car turned sideways and slam it, all in one blink of the eyes because there's just no room here -- it can be kind to an underdog.
And it can help that kind of guy prove a point.
In 1990, Derrike Cope came here with a flying fluke under his belt that season. He'd won the Daytona 500 on the last lap, slipping past the fishtailing car of Dale Earnhardt the moment a tire shredded on the notorious black No. 3.
Even after Cope won, Earnhardt was the big story, because he'd dominated the race. From there, Earnhardt's mantra became famous: "It ain't the Daytona 499."
Finally Cope came here and won, and the fluke talk eased a bit, for nobody thinks this is an easy place to get cheap wins.
Reutimann had it tough from the minute he arrived here Friday morning. Maybe I'm the one who made him nervous from the outset.
Amid the Earnhardt upheaval, I couldn't resist asking the good-humored Reutimann, "If for some reason this winning streak should not continue for you, do you have any fears that your car owner [the equally jovial Michael Waltrip] might change crew chiefs on you?"
The media center broke out in laughter, except for Reutimann, who, very oddly for him, could manage only a nervous smile.
"I hope not," he said. "I think Rodney [Childers] and I have got a pretty good program going, and I'd hate to do anything to mess it up."
Now you could see what was happening. The usually glib, no-worries Reutimann had his first Cup win, and it had been sinking in all week so that he knew what it feels like.
And so here was the 39-year-old journeyman who'd labored happily on the short tracks most of his life, and now he'd reached a new level and was fearful of falling from it.
The one-line artist showed signs of becoming another politically correct Cup driver.
"Not that I couldn't work with Bootie Barker," Reutimann hastened to add, in deference to Waltrip's own crew chief. "But I would fight awful hard to keep Rodney Childers as my crew chief. I don't want him to go anywhere."
Now Reutimann was all in an anxious knot over the power of suggestion.
"Oh, man, I hadn't even thought about it. I wish you hadn't said anything," he said to me.
"You know he was just kidding," said a bystander.
"Yeah -- but I don't know," Reutimann said.
Reutimann recovered fast from that one, after somebody asked him about talk that Martin Truex Jr. might be his next teammate at Michael Waltrip Racing.
What would Reutimann say to Truex to convince him he should come to MWR? That the team is a budding power?
Reutimann thought a moment.
"I'm there."
That broke up the room. The one-line artist was back. After the laughter died down, he said, "I even managed to get that one out with a straight face."
This was the guy who had spent the early season creating mirth with his ironic self-deprecation as "The Franchise" after a team member had nicknamed the then-winless driver that.
But then came more anxiety. He went out early in qualifying Friday, and made his family proud of their three-generations-old No. 00 ("double nothing," is the inside family joke) again -- this time with a lap around the Monster Mile at 156.794 mph.
Then, just as he'd had to pace the pit road for two hours at Charlotte waiting to see if NASCAR would call the race with him sitting at the front of the parked field, Reutimann had to wait ... and wait ... and wait ... to see if someone would better his qualifying speed.
"I'm kind of a nervous person anyway," he said when the pole was finally his. "Waiting around for them to decide if we won the race, and then waiting around all day so everybody had a shot at us to try to knock us off the pole, kind of becomes nerve-wracking over time.
"But in the end," he said of qualifying, "we had a good car."
What about his Toyota in race trim? "It's really good."
Maybe last week is showing a little bit here for the 00 team, in that "I think it gives the shop a little momentum, because those guys work so hard on everything.
"For me, I would like to win a race a little differently than that," he said of Charlotte.
Maybe he can, here Sunday on a monstrous place to try to win, and 00 can go from meaning double-nothing to double-wins.