LOUDON, N.H. -- Let's title this blog "An Afternoon of Life Around Tony."
You know who the leading candidate is to drive a third car for Tony Stewart if he fields one next year?
Me.
Eat your hearts out, Brad Keselowski, Martin Truex Jr. and Kasey Kahne -- the most oft-speculated drivers for the third Stewart-Haas Racing seat, should adequate sponsorship be acquired.
This is on the record. ESPN has it on audio and video.
"Hinton is our No. 1 draft pick right now in our books," Stewart said. "I mean, we've been watching him for years, and obviously, as you guys [the assembled media] heard, his depth and knowledge of the sport makes him a logical candidate."
[+] Enlarge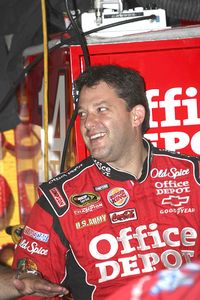 AP Photo/Bob BrodbeckCould it be possible that Tony Stewart actually is considering Ed Hinton to drive a third Stewart-Haas car in 2010? Uh ... no.
Oh, well. Guess you picked up on the sarcasm.
Last time he offered me a ride was a couple of years ago at Daytona, where he said qualifying laps are so easy that "I could put Hinton in the car, especially because he's got so many laps around this place -- in his mind."
It's all part of the running banter between us that's been going on and off for years.
But because the local New England media, not very well versed in NASCAR, seemed all aghast and giggly over Stewart's shots, I thought it wouldn't hurt to explain.
"There's no such thing as a silly question, unless you already know the answer," my freshman chemistry professor at Ole Miss, Dr. George Vaughan, used to say.
Obviously I wandered far afield from premed, and so I hadn't encountered another adamant practitioner of that philosophy until Anthony Stewart, Ph.D. in the school of hard knocks, who simply cannot abide being asked a question to which the questioner already knows the answer.
That's how it started Friday. Although I knew better, I asked Stewart a question to which I already knew the answer, and he knew I knew -- and I knew he knew I knew. More about why I had to ask anyway in a minute.
I'd noticed there'd been eight different winners of the past eight races at New Hampshire Motor Speedway. That's unusual for a flat, tight, 1-mile oval where it's maddening to get a chassis setup right. Looks like whoever hits on the right setup ought to get the edge and hold it for a while.
I knew why it hasn't worked out that way: the changes as the track has aged after resurfacing … the harsh winters and hot summers that change the asphalt race to race … the rains that have cut some races short and left surprise winners -- take this race last year, when Stewart dominated but the rain found Kurt Busch in front and left him the winner … the advent of the frustrating Car of Tomorrow, a chassis setup nightmare … the ongoing scramble to make the new car work, in which teams try a different setup every time they come back to a track.
Everybody comes here guessing, every time, and somebody's right and the rest are wrong.
But the public doesn't want to hear me say it. They want to hear drivers say it.
"You just said it better than I can," Carl Edwards responded to a question of mine at Daytona this past February. Edwards chuckled. "Of course you did. That's your job."
But Edwards' stepfather is a professor of journalism at the University of Missouri, so Edwards understands the rock and the hard place reporters get caught between, and does his best to answer anyway.
Not so with Professor Stewart. He deems all this a waste of time, and rightfully so, from his point of view. We've had our share of run-ins since he arrived as an Indy car rookie in 1996, but 90 percent of the time the issue has culminated with this: "Ed, you've been around long enough to know the answer as well as I do, so why do you ask me?" Or, "C'mon, Ed, you know the answer to that."
The real slam-dunk comeback, once, was, "Ed, you've been around this sport longer than I have. You know the answer better than I do."
And so it came to pass that the banter recurred on Friday when I asked Stewart about eight different winners in four years here.
Oh, another thing about Stewart: You've got to watch every word in how you phrase a question. Give him an opening, he'll pounce.
So my question ended, "Have you ever thought about why this has been such a crapshoot?"
I knew I was dead meat the moment "thought about" came out of my mouth. He dearly loves the ones that imply he would sit down and waste his time pondering the esoteric points of racing.
He gave me that Stewart look that only racing reporters know, and said, "I can honestly say I've never thought about that. Never have." He laughed.
Then he actually gave me a pretty good answer, which you can read in my other currently posted piece from Loudon -- it has a lot of quotes from a lot of drivers -- about eight winners in eight races here.
But the fun wasn't over, for then I went and did it, following up: "So it's a place you can get a handle on but not keep a handle on?"
I guess in the era of sound bites, we're all looking for the perfect sound bite. As my onetime colleague, the maestro sports columnist Dave Kindred, once said, "In this business, you ask 200 questions to get one answer."
So maybe I was fishing for a tighter answer.
"Well," Stewart said, "apparently if nobody has repeated in eight races, I would say that you kind of answered your own question, there, Ed. You could be smarter than all of us."
Just as I figured it was my turn at the top of Tony's bad list this weekend, FoxSports.com's Lee Spencer asked a question to which Stewart reckoned she knew the answer, and he said, "Go take a seat beside Hinton."
"So does Lee pass me for depth and knowledge of the sport?" I heckled.
"Uh … no," Stewart said.
Then Scenedaily.com's Bob Pockrass asked a highly technical question about rules for a backup car after Stewart had crashed his primary during opening practice. Pockrass asked if Stewart wouldn't have to go to the back of the field (which you do if you wreck a car during or after qualifying). But Stewart shot back that Pockrass ought to know that if you wreck a car before qualifying and go to a backup, but keep the same primary engine, then you can start where you qualify.
It was a minute technicality that has rarely if ever come up before, but Stewart pointed out that "It's only been in the rule book for five or six years, Bob … Hinton, pull up another chair over there beside you."
Then some local New England TV guy threw one right in Stewart's wheelhouse, asking if Stewart might ever go back to drive in the Indianapolis 500 again.
"Probably not, unfortunately," Stewart said. "We've answered that one about 8 million times too."
Then he went on to give a nice, elaborate answer as to why not. But he just had to get his shot in.
After the conference broke up, Stewart came over to me, grinning, saying, "You knew the answer to that question Bob Pockrass asked -- "
I hung my head. The rule was so minute, and had come up so rarely …
"Didn't you?"
I found a way to evade, bob and weave.
"You mean the rule about wrecking a car before you qualify," I said.
"Yeah," he said.
I nodded. He nodded. I was out of that one.
"So," I said, "Did Pockrass pass me at the checkered flag for depth and knowledge of the sport?"
"No," Stewart said. "We look at the big picture, long term."
"Lifetime achievement," cracked his chief publicist, Mike Arning.
Just an afternoon of life around Tony.