Busch flying under the radar … but for how long?
November, 7, 2009
11/07/09
12:58
PM ET
FORT WORTH, Texas -- So whatever became of Kyle Busch?
You know, the NASCAR prodigy/brat (depending on your point of view) gone silent since summer in the Cup wins column and the headlines?
[+] Enlarge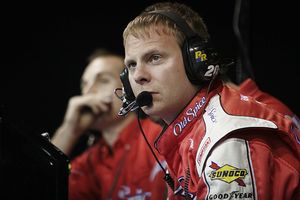 AP Photo/Brett FlashnickDave Rogers, above, replaces Steve Addington as crew chief for the No. 18 Toyota.
Don't necessarily expect to rediscover him this season, even though he's got a new crew chief for the final three races.
"This week and the next three weeks are all about finding direction," said Dave Rogers, who took over for Steve Addington as Busch's crew chief this weekend in time for Sunday's Dickies 500. "We've got to look at the long-term goal here."
It's all a shakedown cruise for 2010, said Joe Gibbs Racing president J.D. Gibbs, who made the change on Busch's No. 18 team.
"It's so hard to do it starting at Daytona -- let's get a little advance," Gibbs said Saturday. "Let's just do it now. Let guys feel each other out."
"When I get back," Rogers said, meaning after the season finale at Homestead-Miami on Nov. 21, "we have the best engineering staff in the business. There's some brilliant people who work for Joe Gibbs Racing and what they want from me is … to give them direction of what projects I need to work on throughout the winter.
"That's the question I need to answer …"
"So far, so good," said Busch, who qualified a surprising -- even for him -- fifth for Sunday's race at Texas Motor Speedway. "That was cool. Dave and the guys have done a lot of work and Steve has been helping us as well back at the shop …"
If you ask me, that's about like Ricky Bobby's ex-wife and best friend inviting him to their wedding in "Talladega Nights" -- but whatever on the ever-soap-operatic Gibbs team.
And anyway, Addington is one of the nicest guys in NASCAR, which could have led to his downfall with the -- harrumph -- pretty intense Busch.
The whole thing "is probably my fault," Gibbs said, "for not sitting down earlier this year with Kyle and Steve and saying, 'Look, here's where we're going off track. Y'all get together.'"
How much of this switch had to do with giving the temperamental -- even if he's gone inside the hauler with his emotions in recent months -- Busch?
"I think it's a factor," Rogers said. "I don't think it's everything. … It takes more than just a change in atmosphere, but it will certainly help."
Rogers' most recent résumé includes success with both Busch and Joey Logano in the Nationwide Series, but his deeper background includes a failure that was a sort of crew chief's boot camp.
"Dave really put the 11 team together," Gibbs said of the formation of the JGR branch Hamlin now drivers for. But Rogers was replaced by Mike Ford in 2006 to bring Hamlin along as a rookie. "To not be able to enjoy that success was hard for him."
"I failed at the No. 11 car -- there's no doubt about it," Rogers said. "And I think you learn more from your failures than you do your successes."
The specific lessons learned?
"Leveling the emotions. Not getting as high when things are good and not getting as low when things are bad …"
Now if he can just pass that along to Busch, you might be seeing some bow-taking and counting off the wins on the fingers again … to open 2010 with a bang.
Sudden resurgence of the 18 to close out this season?
"I wouldn't be opposed to it," Gibbs deadpanned. "But the reality of it is, any good race team takes a little time. We'd just rather do it now instead of waiting till next year to kick it off."