Ford Nation's silence downright deafening
May, 20, 2010
05/20/10
6:26
PM ET
Where are ye, Ford faithful? Are you lost? Gone? Forever silent? What happened to your rages en masse?
Are you not furious that your beloved brand is winless in all of NASCAR's three top series thus far this season?
Don't you care anymore? Time was, there were no more vehement e-mailers than you. No more thunderous boo-birds in the grandstands.
[+] Enlarge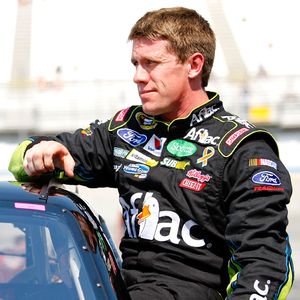 Geoff Burke/Getty ImagesCarl Edwards is still pitching the Ford product, but the Fusion has yet to take him to Victory Lane in '10.
Is it that your leaders, the current Ford drivers, are too meek and mild?
Take Carl Edwards, who casually told reporters at Darlington recently that "I didn't realize we were winless in all three series."
Of all people not to realize.
I mean, Edwards is Ford's star salesman. He can't clear his throat without uttering "Fusion," even standing on pit road as a runner-up.
But more than Edwards, I worry about you.
You, who out of the blue on any given day, for years, were just as likely to e-mail, "Hinton hates Fords and everybody knows it!" as not.
And I would always wonder, what'd I do?
If I mentioned Chevrolet driver Jeff Gordon in a positive light, that was a sure sign to the Ford faithful that I hated Fords. Richard Petty's history with Dodge? Hinton hates Fords. NASCAR needs to change a rule? Hinton hates Fords and so is advocating the conspiracy.
You just don't get mad enough anymore.
For decades there were no masses quite like you. From what you've told me over the years, it began with your great-great grandfather's gratitude that Henry Ford could build and sell a Model T for a price the farmer could afford.
And the loyalty cascaded down through generations as family tradition.
When I was growing up, there were only two sides to any issue: the Ford side and the Chevrolet side.
Not Democrat versus Republican. Not even so much the U.S. versus Russia, even at the height of the Cold War.
Those were matters far, far away from the local drive-in joint where teenagers gathered with their cars, guitars and bootleg liquor.
Even on the local dirt track, where open-wheel modified cars were the rage and cars with fenders were jokes, the "jalopy class," the rivalries raged between engines: flat-head Ford V8s versus 265 Chevy V8s.
(Therefore the loss of brand identity through the COT is not sufficient excuse for the loss of Ford fervor, because there is still the engine rivalry. And that's the problem right now. The new Ford engines haven't been sufficiently developed and are behind the other makes on horsepower.)
Ford versus Chevrolet.
Fights broke out. Families split. Word came down from NASCAR about what unsavory materials Junior Johnson had said he'd rather eat than see a Ford beat a Chevrolet.
Yet somehow I remained largely neutral. (Maybe it was because my family owned Buicks, the uppity GM cousins of Chevys, aloof, and therefore not a flashpoint in the brand brawls.)
I could laugh, rather than square off to fight, when I heard that Ford stood for "Fix Or Repair Daily." I could shrug at the braggadocio after Fords finished 1-2-3 at Daytona.
For Saturday night short-track racing, Chevrolet parts proved cheaper and more accessible, and so Chevy became the dominant brand on local bullrings. It was a matter of pragmatism on the Chevy side versus pure passion on the Ford side.
Eventually Ford Nation became the predecessor of the computer generation's Apple Nation -- feeling an us-against-the-world mind-set, minority devotees to a superior product the rest of America was just too dumb to recognize.
During the early 1990s I began to figure that brand rivalries had all but died out in NASCAR -- that fans were more interested in the individual drivers and teams.
Then with the advent of e-mail came an awakening to the passion of Ford people. Not so much the Chevrolet people -- remember, they're pragmatic, and they're winning.
And now in this winless season, Ford Nation's silence is deafening.
Hinton doesn't really hate Fords. Honest.
But I wish you'd say I do, en masse, again.
I miss you.