Mind games in high Chase gear
November, 19, 2010
11/19/10
4:56
PM ET
On Friday morning, Jimmie Johnson had barely settled into his seat in the Homestead-Miami Speedway's media center when he had already opened friendly fire toward Denny Hamlin, the man he'll chase Sunday afternoon for the NASCAR Sprint Cup title.
"I feel great," said Johnson, trailing Hamlin by 15 points. "I got a great night's sleep. I don't know if Denny did."
Fifteen minutes later Kevin Harvick, trailing by 46 points, was polite enough to point out "the 11 car has easily had more mechanical issues than either one of us [himself and Johnson]."
[+] Enlarge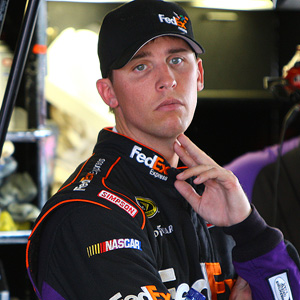 Kevin Liles/US PresswireDenny Hamlin has been the easy target all week.
Ever since the two racers climbed from their cars at Phoenix one week ago they have taken verbal and mental jabs at the man they must catch for the Cup. They have commented on how being the chased is a disadvantage over being the chasers, about his visible nervousness during Thursday's contenders media conference, his lack of experience, and signs of stress that seem to be growing between Hamlin and his crew.
Hamlin's response? "If [Jimmie] keeps bringing up my name, then he's pretty much worried about me."
The spirited stanza of trash talk is a fitting way to close out a season packed with smack. And perhaps it is the final slamming of the door on the perception, fair or unfair, that NASCAR drivers of the so-called "young gun" era had become whitewashed corporate spokesperson clones.
"I think we really saw this start right here at this track one year ago," said three-time Homestead winner Greg Biffle, pointing back toward Turn 4. "It's funny now to think about who it started with."
It was a reference to last year's Nationwide Series race, when weeks of angry exchanges between two drivers culminated with one calling his shot and then spinning out his rival.
That was, of course, Denny Hamlin. (In case you forgot, watch this.
Two months later came the now-famous "Have at it boys" proclamation from Robin Pemberton, NASCAR's VP of competition. Since then we've had Jeff Gordon taking swings at Jeff Burton, Kyle Busch's middle finger, "Kyle Busch is an ass," "His wife wears the firesuit in the family," Twitter feuds, in-house feuds at RCR, Red Bull and Hendrick, Joey Logano's dad going nuts (again), and Carl Edwards vs. Brad Keselowski … twice.
Adds Jeff Burton: "I'm a racer but I am also a race fan. As a race fan, there's been some awesome stuff going on." Then he chuckled and shook his head. "But I would rather read about it and watch it than be in the middle of it. I've been in the middle of it a couple of times haven't I?"
But the kind of gamesmanship we've seen this week among the three Cup title contenders has been more subtle than all of the regular-season noise, more straight jabs than overhand rights. "I'm willing to do whatever it takes to win a championship," Harvick said Friday as he wrapped up his morning media visit. "If someone gets their feelings hurt, then so be it."
While "Have it boys" may be new to current fans, the beauty of Muhammad Ali-like mind games is not, especially during NASCAR title bouts.
1990: Martin vs. The Intimidator
Entering the 1990 season finale at Atlanta, Mark Martin trailed Dale Earnhardt by a scant six points. The two teams participated in a test session prior to the Atlanta Journal 500. The scene in the Roush Racing garage was chaos. Anxious to win just its second driver's championship since 1969, Ford pulled out all the stops to help Martin and team owner Jack Roush.
They brought in Robert Yates, who brought some of Davey Allison's Texaco-Havoline Thunderbirds with him. Martin went from car to car, running laps and comparing notes. "It was a little crazy," admits his co-crew chief at the time, Robin Pemberton. "In retrospect we overthought it."
Perhaps that's because Earnhardt had set up shop in their heads. Sensing an air of desperation from his rivals, The Intimidator spent a good bit of the morning asleep in his car, snoozing in plain view of Martin's scrambling team. The legendary black Chevy ran a few laps and then the Flying Aces loaded up their racecar and left (not unlike Jimmie Johnson's approach to Friday's first practice session).
"Good luck guys," Earnhardt said as he left the track. "I'm going deer hunting."
The following weekend Earnhardt led 42 laps and finished third in the race. Martin never got a good feel for the Yates-built car that his team finally settled on, never leading a lap, finishing sixth and losing the championship by 26 points.
1985: Awesome Bill vs. Jaws
Most people think that Bill Elliott won the Winston Cup title in '85, and that's an honest mistake. It was, after all, the year of Awesome Bill from Dawsonville and his Winston Million bonus. He won 11 races, 10 poles and nearly two and a half million bucks, an astronomical sum in 1985.
[+] Enlarge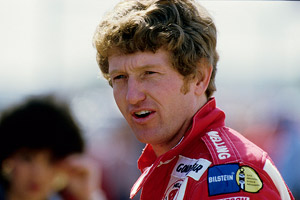 Manny Rubio/US PresswireBill Elliott got to the point in 1985 he didn't want to know what Darrell Waltrip was saying about him.
But it was Darrell Waltrip -- with three wins and four poles -- that took the title. How? The long answer is better consistency, more top-10 finishes, and more success on short tracks. However, anyone who was around that season knows that DW won the Cup with his tongue as much as his right foot.
Seeing Elliott's adverse reaction to the Winston Million media crush over Labor Day weekend at Darlington, the man whom Cale Yarborough pinned with the nickname Jaws ("Because his jaws never stop flapping") soon turned that media against Million Dollar Bill.
After Elliott's historic win in the Southern 500, he led Waltrip by 206 points with eight races to go. Like Johnson and Harvick have done to Hamlin, Waltrip launched into a weekly rant of "all the pressure is on those guys, not us" and "man, I bet they sure are losing a lot of sleep."
The regular media corps, much smaller then, would take those comments to Elliott for a reaction. He asked them to stop. They ran back and reported that to DW. When asked if he felt bad for playing mind games in the newspaper, he said: "Nah, everybody knows those boys from Dawsonville can't read."
In only four weeks Waltrip had not only eaten up Elliott's points lead, he'd opened up a 30-point advantage. Four weeks later Jaws won his third Cup in five years.
1979: Waltrip vs. The King
Before Waltrip mastered the art of smack, he got smacked by someone who refused to be dragged into his war of words, none other than His Royal Fastness.
The mouthy newcomer from Nashville officially became a title contender in '79, announcing his presence with authority with a stunning spring win at Darlington, swapping the lead with Richard Petty four times over the race's final lap. It was a dash that became emblematic of the season.
Emboldened by the daring victory, Waltrip torched his way through the summer, winning five of 10 races between Memorial Day and Labor Day. Holding a massive championship lead over Petty, DW unleashed a deluge of trash talk. He questioned Petty's manhood, joked about his advanced age, and reminded everyone that Petty hadn't won a single race in '78. He declared it as a changing of the NASCAR guard and he was volunteering to ascend to the throne.
The King responded with silence. Then he commenced to doing his talking on the track.
With seven races remaining, Waltrip's lead was 187 points. Six weeks later it had all but vanished. When the teams arrived at the Ontario (Calif.) Motor Speedway for the season-ending L.A. Times 500, the margin was down to just two points. Two hundred laps later, Petty topped Waltrip by three positions on the track and won his record-extending seventh Winston Cup championship by 11 points, the closest margin in NASCAR history and a mark that has been bested only twice in the three-plus decades since.
Afterward, the media fished for a parting shot from the aging King, a final exclamation point to put the newbie in his place.
It didn't happen.
Recalls Dale Inman, Petty's cousin and crew chief: "You know how college students like to just point to the score and say, 'scoreboard'? That's what we did. You can talk all you want. Scoreboard."
That's the best smack of all. And only one of our three Cup combatants will be able to use it this Sunday afternoon.