Facebook favors Junior, if not Atlanta
March, 6, 2009
03/06/09
11:38
AM ET
CHARLOTTE, N.C. -- I was ready to blog that this could be the last spring race at Atlanta Motor Speedway, that Speedway Motorsports Inc. chairman Bruton Smith could take that date and give it to Kentucky Motor Speedway to fulfill his latest promise of having a Sprint Cup race there by 2010.
[+] Enlarge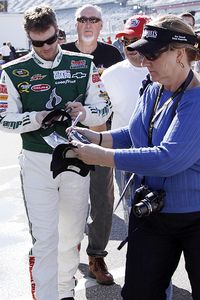 AP Photo/Terry RennaAlways good with the fans, the fans are being good to Dale Earnhardt Jr. on a social networking site.
Then I got sidetracked by Facebook.
Not just Facebook, but a picture inviting me or anyone else who is interested to join "Fans of Dale Earnhardt Jr." Hey, I've given NASCAR's most popular driver a hard time about his rough start, so I figured it was time to show a little love.
What immediately struck me was the number of people posted as fans. A whopping 26,925. That may be more than actually come to Sunday's race at Atlanta, but that's another blog.
I know Junior Nation is strong, but I wanted to know how strong. So I looked for sites of other drivers.
Fans of Jeff Gordon: 439.
Fans of Tony Stewart: 115.
Fans of Carl Edwards: 1,035.
Fans of Jimmie Johnson: 273.
By no means is this a scientific survey. There are numerous fan clubs for each of the drivers. But none came within 25,000 fans of Earnhardt's.
So I read on. I wondered what Earnhardt fans were saying with their driver mired in 29th place in the points standings heading into Sunday's race at Atlanta.
Here are a few samples:
• "I am going to the race this Sunday in Atlanta and was wondering if people were still wearing their #8 shirts and stuff? I have one from two years ago and was wondering if that'd be cool to wear his old stuff? I hope that I get the chance to see him after the race at the airport and that he wins!"
• "He really needs to be more aggressive. Kyle the Idiot Busch [helped her with the spelling on this] will keep driving away from everyone … Jr. needs to drive like he did in Daytona!!! All the fans down here in little Cape Breton would love to see it.!!!"
• "I think [in] the Daytona race I saw Dale Jr.'s father come out in him and I like seeing him race a lot more aggressive. So who cares what other people said bout it. GOOD JOB DALE JR."
Since I began this blog, three more fans have joined the group. That's more than comprise the entire membership of "Fans of Ken Schrader."
So I tried something else to get focused on my original premise that Atlanta is going to lose a race. I clicked on "Fans of Atlanta Motor Speedway."
Another Dale Earnhardt Jr. fan club came up. There are 489 members here.
Then I simply punched in "Atlanta Motor Speedway." Ah, success. Ooh, 26 members. No wonder the track is going to lose a date.