'Nature Boy' Ric Flair goes racin'
March, 13, 2009
03/13/09
3:30
PM ET
CONCORD, N.C. -- Smoke poured around the black curtain. The room darkened with the exception of a single spotlight. Music from "2001: A Space Odyssey" blared from speakers.
Out stepped ... Dale Earnhardt Jr.? Jeff Gordon? Jimmie Johnson?
[+] Enlarge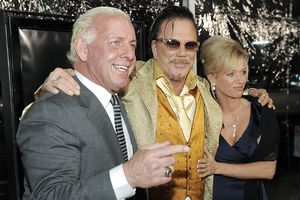 AP ImagesRic Flair, left, mugged for cameras with actor Mickey Rourke at the premiere of the film "The Wrestler."
No, Ric Flair. "Woooooo!"
Lowe's Motor Speedway, in an attempt to add flare to the 25th running of the Sprint All-Star Race, has added Charlotte's best-known Flair to the team.
The 16-time World Wrestling heavyweight champion, affectionately known as "Nature Boy," will serve as the honorary race director.
Wooooo! Wooooo!
In keeping with the wrestling theme the track unveiled a giant event card featuring the face of Sprint Cup drivers on the bodies of the sport's all-time greats. That alone is worth the price of admission for the May 16 event.
The featured match in what is dubbed "a night of fractured fenders and shattered dreams" actually is a rematch from a fight that occurred in the LMS Nationwide Series garage before the October race.
Kevin "Happy" Harvick versus "Cousin" Carl Edwards.
Are you ready to rumble?
"Might be some air-brushing there," Harvick said as he looked at the buff body below his headshot.
On the undercard there was Dale "The People's Choice" Junior versus Tony "Smoke" Stewart, and Kyle "Rowdy" Busch versus "Just About Anybody."
"Everybody wants to run Kyle off the road," Flair said.
[+] Enlarge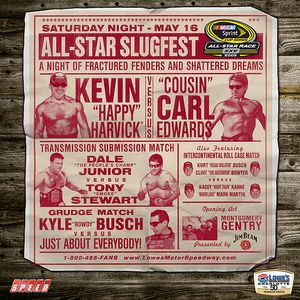 Lowe's Motor SpeedwayGet ready to rumble at the All-Star Race ... er, Slugfest ... May 16 at Lowe's Motor Speedway.
Harvick took a shot at Busch as well. Noting he was the only driver without a wrestler's body below his mug, he said, "They didn't find any body to put on that."
LMS president Marcus Smith had no reservations about pairing NASCAR with wrestling, although it's been done by many before with negative connotations.
Flair said that's unfair, saying "you can't ever denounce NASCAR by connecting it to our sport."
If NASCAR were truly like wrestling, which has been accused of scripting the outcome of matches, wouldn't Earnhardt win every weekend?
Flair laughed.
Bringing Flair to the event definitely will up the intensity. His famous "Wooooo!" will be heard throughout the night, from the drivers' meeting to prerace introductions.
His only question: What took promoters so long to ask? "Finally," he said. "The Nature Boy has been here 35 years. ... Obviously, bringing me into the mix means they're turning up the momentum."
Smith said there will be a few twists to the race format, which last season was four 20-lap segments, but he wouldn't elaborate. Perhaps they should put Flair behind the wheel.
No, Flair will come off the top off a rope with a chair in hand, but he wants nothing to do with coming off Turn 4 at close to 200 mph.
But Flair does plan to offer fighting tips, starting with how drivers should take their helmets off before they start swinging. And he issued a challenge to Harvick to hit as many cars as possible.
"Unfortunately, that probably wouldn't be the first time," deadpanned Harvick, who had a folding chair in hand when he emerged from behind the black curtain.
Flair actually seemed to flinch when Harvick appeared. Perhaps that's because he'd seen the pictures of Harvick and Edwards tussling on top of Harvick's Nationwide car.
"I just noticed the tension," he said of the expression on Harvick's face during Round 1 of Happy versus Cousin. "There has to be a lot of tension. One bad move and you're upside down and dead."
OK, so that may be a bit overstated. But isn't everything in wrestling?
"Wooooo!"