Junior: New Enquirer story bunk; hot tub one …
November, 21, 2009
11/21/09
1:46
PM ET
HOMESTEAD, Fla. --
Dale Earnhardt Jr.
laughed when asked on pit road Friday if recent allegations in a National Enquirer story entitled "Dale Earnhardt Jr. in a death spiral" were true.
He jokingly said there was more truth in a 2004 Enquirer article that said he and drivers Jamie McMurray and Elliott Sadler were involved with "naked partying" with girls in beer-filled hot tubs during spring break in Panama City, Fla.
[+] Enlarge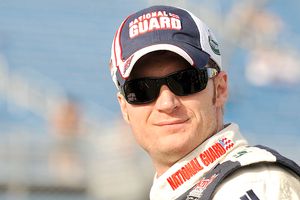 John Harrelson/Getty ImagesDale Earnhardt Jr. was a happy man at Homestead on Friday.
"The hot tub story was kind of true," NASCAR's most popular driver said with a laugh. "Filling it up with beer, well, who hasn't done that?"
I sheepishly raised my hand.
"Even when you were in college?" he said, his voice raising a few octaves. "Holy … !"
Sorry to disappoint.
And by the way, the best part about the 2004 story, which Earnhardt pretty much shot down at the time, was that Martin Truex Jr. also was with the group but identified as Tony Stewart because that's who he told everybody he was.
Back to the current Enquirer article. Earnhardt said he considered legal action against the publication before realizing it was worded in a way "so you really can't go after it."
"I got all tore up about how we qualified at Charlotte [in October] and I got in front of you guys and really said how I feel," Earnhardt said after qualifying at Homestead-Miami Speedway. "A couple of metaphors I used such as 'end of my rope' put me in range of those guys.
"They played target practice on that. I actually researched online how many people had sued and won."
The article anonymously quoted several sources supposedly close to Earnhardt saying he had turned to "booze" to cope with what statistically is his worst season in the Sprint Cup series.
The article said he "burned through a string of girlfriends and he's still haunted by the tragic death of his legendary father."
"Dale Jr. seems almost in a death spiral," disclosed a pal in the story. "He's locked himself away from his closest friends, and he's upset all the time.
"Those closest to him are concerned about his mental health and well-being. No one wants to see him do something stupid. We've suggested that he get help, take some time off and regroup, but he won't listen."
Earnhardt again laughed off the article, refusing to call 2009 his worst season ever even though statistics -- 24th in points with no wins -- suggest otherwise.
What he means is the scrutiny he's been under for lack of performance is far less than what he went through during the family warfare with stepmother Teresa Earnhardt.
"It doesn't really bother me that much," he said of the article. "A lot of people say any publicity is good. We're [24th] in points and still relevant for the National Enquirer."
As for this season, Earnhardt said a lot of good things have happened and that he wished the year wasn't over so his team could continue to improve.
But he said confidence is what his team needs to work on the most during the offseason.
"That's where it starts," Earnhardt said. "I need to believe that they believe, and vice versa. If they get the feeling I don't believe in them, then we are done. That's the worst thing I can do. It's a two-way street between every employee on that team."
Earnhardt said some of the changes crew chief Lance McGrew has made in the structure of the team at the Concord, N.C., shop have helped.
"And we'll see hopefully some more of that as we get closer to Daytona," he said, referring to next year's opener. "He's already made some good changes and done a pretty good job of helping us improve as a team."
The Enquirer probably won't report that, though, unless McGrew fills the car with beer.