Shorter race makes sense; longer one doesn't
January, 13, 2010
01/13/10
6:05
PM ET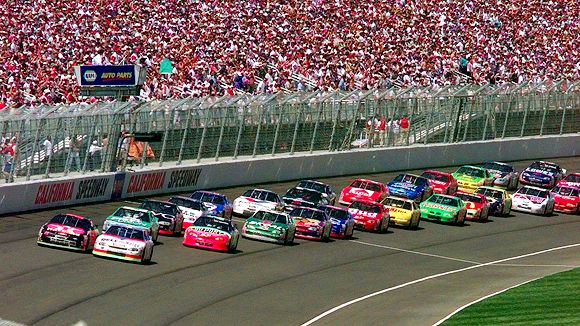 AP Photo/Mark J. TerrillThe first race at Auto Club Speedway was a 500-mile affair back in 1997. This fall's Chase race will be 400 miles for the first time.
CHARLOTTE, N.C. -- Officials at Auto Club Speedway in California apparently get it. Officials at Phoenix International Speedway do not.
Many race fans and many of us who cover the sport have been screaming for shorter races to make the Sprint Cup Series more interesting and exciting. The folks in California apparently listened, announcing Wednesday that they will shorten the Oct. 10 race from 500 miles to 400.
The folks at Phoenix went the other direction, lengthening the race on the 1-mile track by 63 laps -- or 100 kilometers. And don't ask why they measure in kilometers when almost everybody else measures in miles.
I'm not totally certain you can reduce the number of laps enough to take the boredom out of the California race unless you make it a two-lap shootout. Cars tend to get strung out fast at the 2-mile facility, and one driver tends to dominate.
Jimmie Johnson led 126 of 250 laps and Juan Pablo Montoya another 78 in last year's October race. Johnson led 228 laps in the second race of 2008.
But at least Auto Club Speedway president Gillian Zucker is listening to the fans and to NASCAR, which is meeting with drivers and owners to discuss ways to improve the sport.
We expect numerous changes to be announced next week at the media tour, from ditching the wing in favor of the traditional spoiler to allowing drivers to bump draft on plate tracks to allowing drivers to police the sport more in general.
So what does Phoenix do in the face of all of this? It adds laps. Hmmm.
[+] Enlarge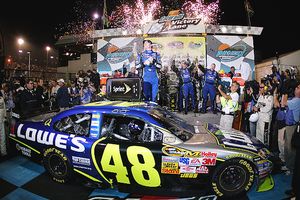 Todd Warshaw/Getty Images for NASCARJimmie Johnson tends to dominate at Phoenix. We might get to see 100 extra kilometers of that during the Chase.
Speedway president Bryan Sperber says the length will add more strategy. Odds are it will just add to the laps-led total of the winner, which has been Johnson in four of the past five events.
Let's look back. Johnson led 238 of 312 laps in the fall race last year. Kurt Busch led 69. Two drivers split the other five laps. Mark Martin led 157 laps in the spring race last season. Johnson led 217 in the second race of 2008. Phoenix is a track where when one driver gets dialed in, he pulls away and there's nothing the competition can do.
So what does adding laps do? It could turn this race into a fuel-mileage event, but do fans really want to see a fluke winner like we often get at Michigan? And do they really want to sit around an extra 63 laps when their attention span already is being challenged?
This seems like nothing more than a gimmick to sell tickets. Just look at the promotion. The so-and-so 600, formerly known as the so-and-so 500, is offering the first 100 fans to purchase tickets in the grandstand the chance to drive six laps around the track. Those who call for tickets after the first 100 also will be given the opportunity to drive some laps around the track.
I'm all for great promotions to sell tickets. It would be great to see every seat sold at every track.
But I'm not for lengthening races. Not in these tough times.
They get it in California. They don't in Phoenix.