Waltrip a one-man town hall with good ideas
January, 14, 2010
01/14/10
12:00
PM ET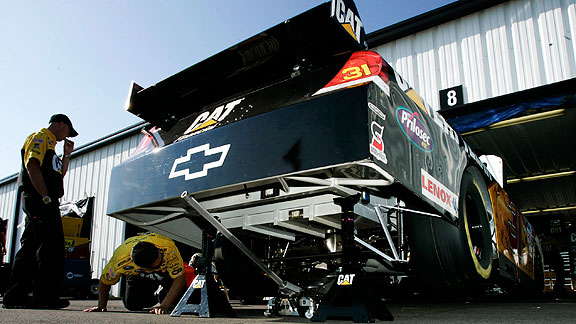 AP Photo/Mel EvansThe wing has been the thing on the Sprint Cup car since its debut, but a spolier may replace it soon. Michael Waltrip said that spoiler should be see-through.
CHARLOTTE, N.C. -- I held my first town hall phone meeting with owner/driver Michael Waltrip on Sunday afternoon, looking for ways to improve the Sprint Cup Series.
Waltrip offered some of the same suggestions he had made to the governing body earlier in the week at a town hall meeting in NASCAR's Research and Development Center in nearby Concord.
It should listen.
Idea No. 1 involves using Lexan instead of aluminum for the rear spoiler that NASCAR is considering to replace the wing on Cup cars. It is, as Waltrip said, a no-brainer.
The clear polycarbonate material used for windshields on race cars would give drivers more visibility with a spoiler that almost certainly would be higher than the one used on the old car, a spoiler that may be even more sight-restricting than the wing.
More visibility would make for better -- and perhaps safer -- racing because competitors would have a clearer picture behind them before making a move.
You could even, as Waltrip suggests, use tear-away sheets like those used on the windshields in case the Lexan gets dirty.
"Better vision equals better racing," Waltrip said. "I don't think people understand that."
NASCAR, which strongly is considering the switch to spoilers if tests prove they offer more downforce, says it is open to the idea but makes no promises until everything is explored.
Idea No. 2 involves fixing the problem at the second Talladega race. You know, when drivers spent most of the 500-mile event lined up single file after NASCAR threatened to punish them for bump-drafting, particularly two-car bump-drafts through the corner.
[+] Enlarge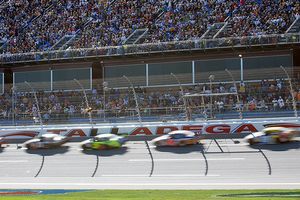 AP Photo/Rainier EhrhardtWhat drivers, fans and NASCAR don't want to see at Talladega is single-file racing like there was in the Chase race last season.
Although NASCAR is considering doing away with the no-bump rule along with the wings as part of its new plan to let drivers drive, that won't completely fix the problem. Even before the no-bump rule, some drivers hung around the back to avoid the so-called "Big One" accident and didn't make their move until the very last minute.
Waltrip, one of 15 drivers who met with NASCAR to discuss potential changes, proposes that the governing body award a point for each lap led.
Don't laugh. It could work. Because the cars are so evenly matched with the restrictor plate, a driver is highly unlikely to pull away and dominate the way four-time defending Cup champion Jimmie Johnson did at Phoenix this past season.
Imagine how aggressive drivers could get if they were awarded a point per lap. Johnson certainly wouldn't have hung around the back watching his points lead dwindle.
And nobody, at least if you're anywhere close to contention for the championship, would sit in line and let one car lead.
One could argue this might result in more wrecks. So what? Is it better to have a dozen wrecks during the race or one big one at the end?
"I know the fans would like it," Waltrip said.
And after all, isn't everything NASCAR is considering because the fans want something different, because they feel the urgency to turn around dwindling television ratings and gate attendance?
The point-per-lap proposal would be special to Dega and perhaps Daytona because they are the only tracks that require restrictor plates.
"The reason I don't like it anywhere else is there's nothing you can do if Jimmie Johnson has a car like he had at Phoenix," Waltrip said. "No one is just riding second to him. He's just got people stumped on that day."
But he agreed, if the math works, some sort of point system for leading laps at other tracks might help. Perhaps give 10 points for every 25 laps led.
Regardless, it's worth considering for Talladega, at least.
"The racing is crazy, but you can't change the cars enough to fix that," Waltrip said. "No matter what people suggest, they're wrong. So in order to address what people didn't like about the second Talladega, which was the drivers lining up and riding around, this is the best way."
Idea No. 3 involved squashing consideration to eliminate the yellow-line rule at Talladega and Daytona. The rule was implemented to give a needed boundary for drivers so they're not dipping into the grass and creating situations more dangerous than what exist now.
"Out of the 15 drivers that showed up so far [for NASCAR's meeting], 14 of them thought eliminating the yellow line was a bad idea," Waltrip said. "What NASCAR wants to do is govern less. I'm a Republican. I'm all for governing less. But there's some things you have to save people from."
I've called Waltrip crazy a few times over the years for things he's done on the track, but what he suggests makes sense. Maybe that makes me crazy.
But maybe he's on to a few things. He's had good ideas in the past, such as the weight rule that requires the driver's weight to figure into the weight of the car, and adding the yellow line.
NASCAR obviously is concerned. Otherwise, it wouldn't be talking to drivers and owners -- as well as listening to its panel of fans -- for ways to improve the sport.
Waltrip also reminded me before we concluded our 30-minute meeting that officials shouldn't be too quick to change just for the sake of change. He said the NFL doesn't look for changes to its sport -- and fans don't ask for them -- when there are boring games such as three of the four playoff games we saw this past weekend.
"I'm really respectful of our sport and fans," Waltrip said. "We need to make sure we understand what they're thinking and figure out how to address it."
With that, meeting closed.
Next meeting scheduled for … stay tuned.