A satisfying offseason for Sprint Cup champ
January, 17, 2010
01/17/10
3:17
PM ET
CONCORD, N.C. -- Jimmie Johnson thought about the question for a moment, cracking a smile as he decided how to answer whether he'd had sympathy pains for his pregnant wife Chandra as she experiences morning sickness.
"Morning sickness?" said the four-time defending Sprint Cup champion Sunday outside a convention center ballroom. "I had tequila sickness one time during the offseason, but it wasn't morning sickness. … Her anti-nausea pills -- or whatever they're called -- helped."
Making sure he just said that, I asked if he really took her morning-sickness pills.
"Hell, yeah!" Johnson said. "Something to stop it."
[+] Enlarge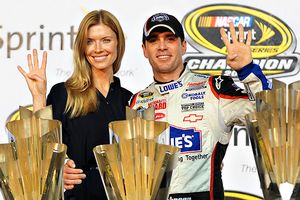 Mark J. Rebilas/US PresswireChandra and Jimmie Johnson do it together as a team, and that includes recovering from a rocky stomach.
From discovering he will become a first-time father in July to becoming the first motorsports driver named the Associated Press Athlete of the Year, it has been an offseason of change and excitement for Johnson.
But one thing he doesn't expect to change is his dominance on the track, although statistics say the performance of drivers that become fathers declines.
"At some points of your career it can slow things down," said the 34-year-old Johnson after being named the National Motorsports Press Association Richard Petty Driver of the Year. "For myself, I really don't think so.
"I remember when I was getting married, there was a big comparison on drivers before marriage and after. And clearly after being married things have gotten a lot better for me. I can't say that's been hurtful for me."
No doubt. Johnson became the first driver in Sprint Cup history to win four straight titles after becoming a husband five years ago. He sees no reason that will stop because of late-night feedings or diaper changes.
"There's no telling what type of experience being a parent is going to be," said Johnson, speaking publicly on the pregnancy for the first time. "I know I have Chani's full support to chase my career and do what I need to.
"I can say the outside things surrounding what I do in the car, it's going to be a lot easier for me to say no and turn that stuff away so I have more free time. If I manage my time in the right way, I can stay focused on what I need to."
That has to be scary for the competition. So does this: Johnson believes upcoming changes by NASCAR such as going from a wing to a spoiler will only strengthen him and crew chief Chad Knaus.
"Anytime that they shake up the rulebooks, it helps us out," Johnson said. "I can adapt to a car as well as anyone. Chad can adapt to adjustments and finding what it takes to make that work as well as anyone. I've always looked at rule changes as an opportunity for us."
This, too, is scary. With seven-time champion Richard Petty standing not far away, I asked Johnson if he considers seven titles realistic. He didn't hesitate to say yes.
"I kind of open up a small part of my brain to seven, and then I kind of laugh and say, 'Hell, why seven? Why not eight?'" Johnson said. "If we're going to dream big, let's do something that's never been done."
When Johnson says seven or eight, he doesn't mean in a row, although there's no reason to think he can't do it. Had a few things gone his way before the current streak, we might already be talking about six or seven in a row from the team that has never finished worse than fifth.
"I don't think it's possible to go on a run that long," Johnson said. "Again, I don't know why I'm not the optimist in this. Why not seven or eight in a row? I guess I'm too much of a realist. I know I've got a lot of years left in me. To have four at this stage, it could mean good things for the future.
[+] Enlarge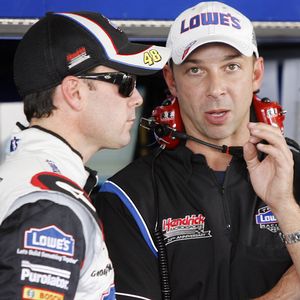 AP Photo/Mary SchwalmJimmie Johnson said he believes rule changes play right into his and crew chief Chad Knaus' hands.
"If it doesn't, I'm going to be a humble champion and represent the sport and hope the next generation of guys that come along and are taking the titles away from me will prop the sport up and carry on like they need to."
The next generation is a long way from taking titles away from Johnson. The current generation doesn't have many capable, although it wouldn't surprise me to see Kyle Busch turn up the heat this season.
And whatever happens, Johnson has earned his place as one of the greatest drivers in the history of the sport. That won't change, no matter what fatherhood brings him.
"Just the small changes we've had have been very exciting and a lot of fun," Johnson said of the pregnancy. "Both of us have really had that part in us [where] we want to be parents. We just wanted to wait, get a few years of being married under our belts and travel and enjoy. And everything has kind of fallen in place."
If that plan works as well as the plan Johnson and Knaus have put together in the past four seasons, watch out.
Sure, there will be surprises along the way. Johnson has already had one regarding morning sickness.
"I didn't realize that morning sickness was really all-day sickness," he said. "It's not just that it's in the a.m. She's had a rough go of it. Seems to be doing a lot better now, which is great."
Life in general is great for Johnson. He's had the most relaxing offseason of his career, putting travel and adventure on hold to prepare for the baby and the upcoming season.
"It's been great," he said. "Probably one of the most relaxing and enjoyable offseasons I've had to date."
One tequila-sickness day aside.