New challenges await Cup mainstay Darby
January, 21, 2010
01/21/10
7:16
PM ET
CONCORD, N.C. -- It was time for one-on-one interviews at NASCAR's Research and Development Center on Thursday and John Darby was nowhere to be found.
"He's probably out having a cigarette," joked one reporter.
Robin Pemberton, NASCAR's vice president of competition, who was waiting to share the microphone with his longtime colleague, smiled and said, "I wish we could get him to quit."
Finally, Darby emerged with a sheepish grin. He didn't admit where he'd been and he certainly didn't indicate a plan to give up what most would agree is a bad habit.
[+] Enlarge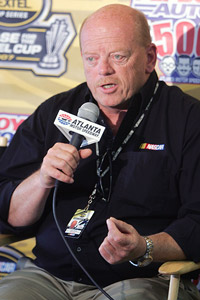 AP Photo/John BazemorThe next Sprint Cup Series director will have his work cut out following in John Darby's footsteps.
Most who have followed Darby's almost-nine year career as the Sprint Cup Series director can't think of him without the image of his stocky frame standing behind the NASCAR hauler with a puff of smoke coming from the corners of his mouth.
It's almost as much a part of the sport's recent history as the spoiler that will replace the wing sometime during the 2010 season.
So when news leaked earlier in the week that Darby was moving into the role of managing director of competition, rumors flew. Was it a health issue because of the smoking? Was it because NASCAR wanted somebody with more of an engineering background, new school as opposed to old school?
Was it because chairman Brian France wanted somebody who looked more Wall Street than gasoline alley?
Nobody seemingly wanted to consider that this was a promotion, that Darby was placed in this role because it was needed and because he was the right person for the job.
That's the way it is in the Land of Suspicious Minds. It was the same way when Darby replaced Gary Nelson late in 2001.
But everybody from NASCAR chairman Brian France to president Mike Helton to Pemberton made it clear during the final stop of the preseason media tour that this was a promotion. They also made it clear that Darby will have a say in hiring his predecessor and will help train him.
Think about it: If NASCAR didn't think Darby was good enough for the job would it let him help hire and train his replacement?
Helton went so far as to say the expectations for the new director have been elevated to a level "that is very significant" because of Darby. He also admitted because technology has elevated to a new level from 15 to 20 years ago that the new person might be "different."
But there's no one in NASCAR who doesn't appreciate the job Darby has done and the job he will do. He's reached a level of respect that allows him to be a part of fining a crew chief $150,000 in the morning and having dinner with him that night.
That will be hard to replace.
But Darby isn't going anywhere. He'll be more involved than ever, overseeing officials for the Cup, Nationwide and Truck series, working closely on changes to the Cup car, developing the new Nationwide car and transitioning to fuel injection in 2011.
"I'll still be as deeply involved in NASCAR racing as I always have been -- times four," Darby said. "I think it's a great idea. I'm quite flattered, actually, that I got the opportunity to advance to this level.
"The teams I'll be working with ... are obviously very good at what they do. Having the ability to try to pull the best from each series and create a much more consistent world for all of our competitors from both the technical aspects in the rules and regulations part of our business, it's going to be a fun challenge."
This isn't the old NASCAR in which chairman Bill France Sr. or Bill France Jr. ruled with an iron fist. Everything is done by committee, as was evident by the eight executives who took center stage on Thursday.
"It's a bigger sport with a whole lot more complex ties and specialization that occurs today," Brian France said. "Hearing us talk about the green economy and that whole initiative, obviously you've got to have people that understand those issues carefully.
"To regulate the events, you know, is far more complicated. A race team today has a whole lot more engineering, a lot more specialization in their own right. We have to keep up with that."
You get the picture. There are a lot of moving parts in NASCAR that didn't exist years ago. The announcement that the sport will get into iRacing is proof of that.
"When you look at the infrastructure of NASCAR over the last three or four years, we even added a lot of people," France said. "We changed some roles and changed some directions with some of the different kinds of people we have hired when others have left.
"We are actually a pretty flat organization, believe it or not. But we are elevating people that are talented for the reasons that you want us to, because they deserve more responsibility, and these issues that I refer to, they need it."
The sport needs Darby and others like him.
Who will replace him as series director nobody knows for sure. The process could take from one week to a year.
Many names have been suggested. Ray Evernham, who was Jeff Gordon's crew chief for three of his four championships and a former team owner, was the hot rumor on Wednesday even though he has absolutely no interest in the job.
Crew chief Chad Knaus, who has led Jimmie Johnson to the past four Cup titles, was asked about his interest during a visit to Hendrick Motorsports. There was none. Larry Carter's name came up during a visit to Michael Waltrip Racing.
Joe Balash, the Nationwide Series director, likely will get an interview, and he's more than qualified. The transition would be easy, but then there would be an opening to fill in that series.
Whoever gets the job will get this from Darby: "It's just a very people-oriented position that you have to be a great listener and only talk when you need to. You have just got to pay a lot of attention to everything that's going on around you."
Darby will continue doing that until his replacement is found.
There also may be a smoke break or two.