Hall of Fame a fan's dream come true
May, 5, 2010
05/05/10
3:38
PM ET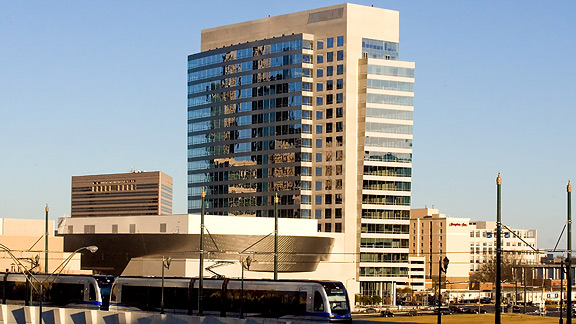 Jason Smith/Getty ImagesNASCAR's new Hall of Fame is almost ready for the public.
CHARLOTTE, N.C. -- First impression of NASCAR's Hall of Fame: How can they put writer Mike Hembree's 2007 hard card on display and not have David Pearson in the Hall of Honor as one of the initial inductees?
Just not right.
Now that I've gotten that beef out of the way, the place is awesome.
If you're not wowed by your first trip through 150,000 square feet of memorabilia and interactive games honoring the history of the sport, you aren't a true NASCAR fan.
Or as Joey Logano, who decided to check it out because he was in the area, said, "Cool, man."
Cool begins at the beginning, where Glory Road showcases historic cars from past to present, beginning with Red Byron's 1939 No. 22 Ford Coupe to the 1963 Ford Galaxy driven by Glenn "Fireball" Roberts to the black No. 3 Chevy driven by Dale Earnhardt to the No. 48 Chevy driven by Jimmie Johnson.
From there you go to the Hall of Honor, where cars and displays honoring the first class -- Bill France Sr., Bill France Jr., Richard Petty, Junior Johnson and Earnhardt, who all will be inducted May 23 -- are being kept.
Again, Pearson should be in there, but that's another story.
Not far away is my favorite part, the interactive experience in which you can do everything from change a tire to drive a simulator. I made it around Darlington Raceway in 33.48 seconds my first time, putting me in the top 14 but a long way from Victory Lane.
If you want an idea of how tough that track is, I spun out coming off pit road. At one point I did have a great view of the press box as I sat wrecked against the wall in front of it.
But at least I made it around the track, something fellow writer Joe Menzer from NASCAR.com couldn't do without hitting something -- several times.
From there you'll go up a flight of stairs to Heritage Speedway, a collection of everything from Mark Martin's helmet and shirt from 1974 to the two-volume accident report filed after Earnhardt's tragic death on the last lap of the 2001 Daytona 500.
There's enough to keep you busy for the better part of the day.
The grand opening is Tuesday. Ticket and other information can be found online at www.nascarhall.com.
I'll go into more detail about what you'll see in the coming week, but I thought I'd give you at least a sneak preview today.
And if you want to see a few pictures, they'll be posted on Twitter under Dnewtonespn.
As the Hall slogan says, this is "Where the race lives on."