Gil de Ferran steps away ... again
August, 7, 2009
08/07/09
5:04
PM ET
It was another typical Friday at Mid-Ohio Sports Car Course for Gil de Ferran. He drove his Acura prototype to pole position for the American Le Mans Series race, then casually announced he will retire from driving at the end of the 2009 ALMS campaign to concentrate on expanding his de Ferran Motorsports operation into the IndyCar Series.
De Ferran, 41, is one of the most successful drivers in American racing over the last 15 years. He scored the rare achievement of winning a CART-sanctioned Indy car race in his rookie season (1995); was the last driver to win a CART race using Goodyear tires; won two consecutive CART series championships in 2000 and '01, setting a world closed course record of 241.028 mph at California Speedway in the process; and, finally, won the 2003 Indianapolis 500 and his open-wheel sendoff at Texas Motor Speedway the same year, after moving along with Team Penske into the Indy Racing League.
[+] Enlarge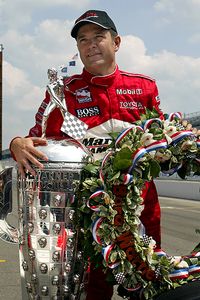 AP Photo/Michael ConroyGil de Ferran strikes a pose after winning the 2003 Indianapolis 500.
In the process, Gil became a legend within the Honda Motor Corp. Robert Clarke, the former head of Honda Performance Development (the builder/developer of Honda's CART and IndyCar Series engines), said that de Ferran was hands down the best development driver in terms of both engines and chassis that he has ever seen.
That's why he was able to lure the Brazilian out of his first retirement to accelerate the process of bringing Acura's ALMS sports cars up to speed. Established in 2008, de Ferran Motorsports was instrumental in Acura's rise to the front of the admittedly depleted ALMS grid with their radical ARX-02 prototype that races in the ALMS P1 division.
The de Ferran team has won the last three ALMS races and in the process identified Simon Pagenaud as a star of the future. So Gil is stepping out of the driver's seat with a clear conscience, knowing that the groundwork has been laid to keep his cars up front in sports cars -- and hopefully Indy cars as well.
"I think my career has been built on challenges and I want to focus on my team," de Ferran remarked to an overflow crowd in Mid-Ohio's cramped press facility. "Unquestionably, I had a tremendous time getting back into the cockpit for the last two years, but the reality is the team is a more important thing for me than my driving. The standards I set for myself didn't allow me to do both.
"Ideally, in a perfect world, we would like to run two sports cars and two Indy cars. That's the dream, and that's why I'm stepping out of the cockpit -- to pursue that dream."
Always known as the thinking-man's driver -- Team Penske president Tim Cindric nicknamed de Ferran 'Porque?' which is Portuguese for 'Why?' because of his propensity to ask questions -- Gil is now ready to devote that brain power to team ownership. And he's clearly excited about the possibility of being involved in the IndyCar Series in 2010.
"I feel like the building phase that I planned to be a part of is finished," he said. "My background is in Indy cars, I understand the series well, I know a lot of the people and I'm confident we can attract quality personnel.
"I think my past involvement in the sport puts us in a unique position to understand what we need to make the team into a competitive proposition."
Clarke, who joined de Ferran Motorsports this year as general manager after his retirement from HPD, said he expects to see the same kind of success from de Ferran the team owner as he experienced with de Ferran the driver. Gil gained management experience serving as the Honda Formula One team's sporting director from 2005-07.
"I think the time when he was out of the seat with Honda F1 [he] developed business skills that I don't think he knew that he had, and clearly I didn't know about," Clarke said. "He's a smart guy; he's quite strategic in his thinking, he's innovative and perceptive and able to think of the big picture, even though he's a guy who enjoys details -- he frustrates me sometimes in that way!
"But he is able to pull back and look at the big picture, which is where we need to be as a team right now."
A pair of my great memories of de Ferran the driver occurred on the same weekend, at Rockingham Motor Speedway in England in 2001. On the tricky quad-oval, Gil scored perhaps the most dramatic of his 12 CART/IRL race wins, passing Kenny Brack on the outside of the last corner of the last lap.
A day earlier, while we waited out the weepers that threatened to cancel the event altogether, Gil and I worked on a magazine article that I had been commissioned to ghost-write. Most of the time for an assignment like that, you interview the driver, type it up to the designated length, and the driver in question gives it a cursory glance and says, "OK, that's fine."
Not de Ferran. He pored over the text in great detail, saying things like, "Let's change this word here." Or, "Since we talked, I thought of something else that might work well as a conclusion."
With all due respect, he was a better editor than more than a few folks I've worked with who were paid in that capacity over the years.
That vignette won't surprise anyone who knows anything about Gil de Ferran. And it also won't be a surprise when de Ferran Motorsports quickly establishes itself as a front-runner when it joins the IndyCar Series in the future.