New car development on track for 2012
September, 24, 2009
09/24/09
6:01
PM ET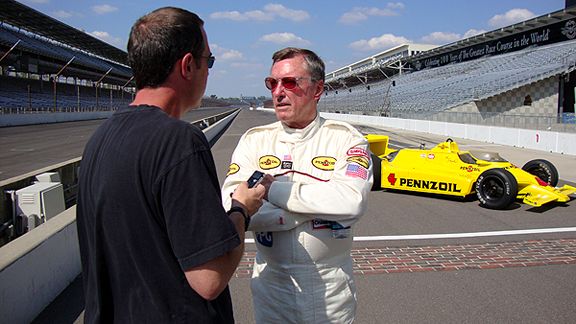 John Oreovicz archiveJohn Oreovicz, front, talks to Johnny Rutherford about the famed Chaparral 2K, which is in the background.
A couple of weeks ago on a spectacularly sunny September day, the Indianapolis Motor Speedway Hall of Fame Museum broke out the 1980 Chaparral 2K that Johnny Rutherford drove to victory in the 1980 Indianapolis 500.
Now 71, Rutherford showed up, suited up in his pristine original overalls from 30 years ago -- imagine A.J. Foyt trying that -- and drove a couple of ceremonial laps to kick off ticket sales for the 2010 Indianapolis 500.
Alighting from the bright yellow racer, JR was beaming. "This is what the next Indy car should be," he exclaimed. "With all the modern safety features, of course."
Many observers include the 2K among the most beautiful racing cars of all time. It was designed by John Barnard, who went on to greater fame designing the McLaren Formula One cars that won a series of championships for Niki Lauda and Alain Prost in the 1980s. Those cars pioneered the carbon fiber chassis construction that is still the basis of modern open-wheel cars, and Barnard also invented the paddle shift operation common in most racing cars today.
Unfortunately, that kind of innovation is unlikely to be found in the next generation of Indy cars that will replace the Dallara chassis used since 2003. The best Indy car fans can hope for is that there will at least be competition in terms of engines and chassis manufacturers.
What the next Indy car will look and sound like is still conjecture. But it appears that it is on track for a 2012 debut, likely as an evolutionary chassis powered by a turbocharged V-6 engine.
Brian Barnhart, president of the Indy Racing League's competition and racing operations, hopes to have the package finalized by Thanksgiving.
"We expect the engine and chassis specifications to be announced in the fourth quarter," Barnhart said. "Four [engine] manufacturers have expressed interest to participate in the series beginning in 2012 -- which in this environment we feel very good about. We're maintaining dialogue with them and hope to have some final word from them in the next couple of months."
It's a given that Honda -- which is contracted to the IRL to provide engines to the IndyCar Series through 2013 -- is one of the four. The other three are assumed to be three Volkswagen Group brands.
Erik Berkman, president of Honda Performance Development, would not confirm the V-6 turbo layout. But he seemed confident that was the configuration that would prevail.
"That's what we have been proposing all along," Berkman said. "I wouldn't want to jinx it, but I'd like to think we could go that route."
Barnhart did reveal that all the manufacturers are in agreement about the basic engine architecture. The Volkswagen Group was previously believed to be in favor of a turbocharged inline 4-cylinder power plant.
"The manufacturers are in agreement in terms of engine specifications and the direction they want to go," Barnhart said. "We're not ready to announce that yet, but the groups we've been talking to are pretty consistent about what spec they want to go with. We haven't narrowed it down to the devil and the details, but the general specs have been agreed upon."
At least two design studies have been commissioned to help shape the look of the new Indy car. But Johnny Rutherford had it right when he said that maybe they should just copy the looks of the iconic Chaparral 2K.
"It was quite a jump what this car would let you do -- it was amazing," he recalled. "That was the best season I've ever had in championship racing. The Chaparral was a great race car and the beginning of what we still see today. Barnard came across something that worked really well and I was just fortunate to reap the benefits and drive it."