Flying high with your life in Vickers' hands
May, 21, 2009
05/21/09
9:30
AM ET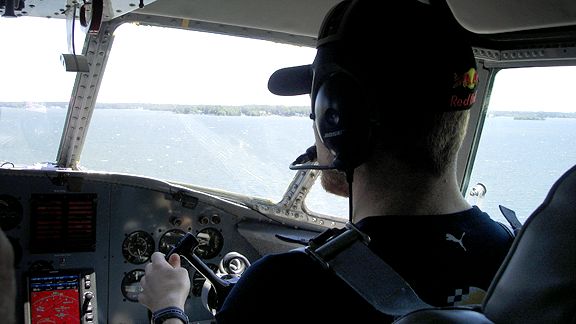 Marty SmithBrian Vickers is a man of many talents, as he demonstrates at the controls of the Red Bull Albatross.
CORNELIUS, N.C. -- Red Bull gives you water wings. I've seen it firsthand, courtesy of "The Sheriff" Brian Lee Vickers and his random sponsor exploits.
Vickers has an energy crisis -- he has too much of it. And when it kicks in full-throttle, Dennis the Menace comes out to play.
Dennis is Vickers' alter ego. And today, it's in full effect.
He's a decent enough airman, too. But don't tell Vickers that. He'll believe it.
Ol' Red Beard is at the controls of the Red Bull Albatross, a big ol' hunk of steel built in 1951 that takes off and lands on water. It's pretty awesome, seats about 15 and offers the opportunity to stick your head out the back during flight.
I did it. My hair actually moved.
The Albatross is in town for the Coca-Cola 600 to tote around media and sponsor types. We've been flying around Lake Norman, just north of Charlotte, for a half hour, 45 minutes, maybe, and Vickers will land it on the water.
He's been behind the wheel for 15 minutes or so. He has no license. Thank heavens the plane's full-time pilot is right beside him, wheel of his own in hand. Vickers is like a driver's ed student, sans the timidity.
At this point, I'm stationed in the nose of the plane, laying belly-down on what seems to be a polar bearskin rug, peering straight down at the water out a porthole. It's a stellar view. I live here, and I had never seen the lake like this. I see a few spots I recognize, some watering holes and a couple of my buddies' houses.
I suddenly think about the release waiver I signed, handing my life to Red Bull lawyers if The Sheriff happens to run out of talent.
Ultimately, the landing is smoother than USAir's.
As we drift to a halt, the plane makes the same creaks and groans that the Titanic makes incessantly throughout the movie. I am reminded of my landlubberliness.
After the flight, we boat back to the Rusty Rudder for lunch. Vickers discusses such things as NASA and the currency of Iceland. He reads the Wall Street Journal.
I need a nap, but I settle for a Red Bull.