Crunching numbers for California
October, 8, 2009
10/08/09
12:36
PM ET
Call me a shameless promoter, but I'm really excited about the "30 For 30" film series that debuted on ESPN this past Tuesday.
But why wouldn't I be? Take 30 acclaimed filmmakers and turn them loose on the sports topic of their choice. The series debuted this week with "King's Ransom," telling the story of Wayne Gretzky's trade from the Edmonton Oilers to the Los Angeles Kings in the NHL. I knew ESPN was taking this seriously when they opened with a film about hockey! I have to go comfort Barry Melrose and John Buccigross as they silently weep.
There, there.
Here's a link to the Web site, where you can read up on some of the future films, but let's leave some room for mystery, because there are still some "Coming Soon" spots on the schedule: http://30for30.espn.com.
[+] Enlarge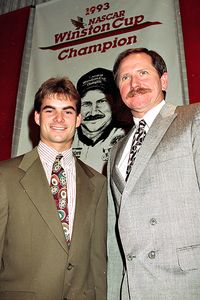 AP Photo/Ed BaileyDale Earnhardt, right, was the subject of an ESPN film. Matt Willis thinks Jeff Gordon would be a fitting subject for another one.
And while I'm really looking forward to the three-hour period every Tuesday night that will be spent watching an hour-long film and then some World Series of Poker (special thanks to my DVR during this, the baseball postseason, or when the research department and I light up the town on a Tuesday night), I noticed the lack of a NASCAR movie on the schedule, although I've heard one might come up.
So here are five picks off the top of my head for stories I'd like to see the "30 For 30" series tackle. Now, I'm not including topics such as Dale Earnhardt's life, since ESPN already produced an entire movie on The Intimidator.
• Tim Richmond: I'm fascinated by the Tim Richmond story, and would love to see a film chronicling his life in the fast lane (literally and figuratively), downfall and blackballing by NASCAR.
• 1979 Daytona 500: The race that really put NASCAR on the map. The first race televised live flag-to-flag saw a thrilling finish in the season's biggest race while much of the Northeast was snowed in and with nothing to do other than see NASCAR history.
• Alan Kulwicki: Although Tony Stewart is often compared to Kulwicki, the comparisons aren't dead-on. Kulwicki always marched to the beat of his own drummer and is the last truly independent driver to win a title, perhaps ever.
• 1998/2001 Daytona 500: I'm putting these together, although they're different stories. The first would obviously recap one of the most popular wins in NASCAR history, while the second shows the race's greatest tragedy and subsequent investigation.
• Jeff Gordon: You could argue that nobody has more to do with the current NASCAR scene than Gordon. When Gordon burst upon the scene, he stood out like a sore thumb, but nobody could argue with his success. Now NASCAR is filled with young guns, but for many casual fans, when you say NASCAR they think Jeff Gordon.
What would you like to see a film made on? Leave a comment or shoot me an e-mail, and remember, the "30 For 30" series only deals with topics in the ESPN era, dating to 1979.
He's the Mon
Only one driver has finished in the top five in all three Chase races so far this season, and it's Juan Pablo Montoya. Not to mention it's the first time in Montoya's career he's had three consecutive top-5 finishes.
A championship dark horse who is now a trendy sleeper pick for the title, Montoya had never experienced NASCAR success to this degree, making it hard to project his performance when looking at his past statistics. His numbers at California are downright pedestrian, with an average position of just worse than 20th and a driver rating of 68.4.
But when you compare those career averages to his numbers at California earlier this season, in just the second race of the year, you have start considering the fact that he could continue that quality run Sunday.
In February, Montoya's average position was a 10.8, and he was in the top 15 for more than 98 percent of the race. His driver rating was more than 22 points higher than his career average at California.
Juan and only
Some simple comparisons will make Juan Pablo Montoya's season seem amazing. On one hand, you could compare him to his Earnhardt Ganassi Racing teammates, but that's simply not fair. The No. 8 team was shut down earlier in the season, for one thing. Martin Truex Jr. has had some decent runs in the No. 1 but currently sits 25th in the points, right between A.J. Allmendinger and Elliott Sadler.
Well, why don't we compare Montoya to the other Chase drivers three races into the Chase? Graph time!
Select Montoya ranks in the 2009 Chase
Stat -- Number (rank)
Avg. finish -- 3.7 (second)
Avg. position -- 4.6 (second)
Driver rating -- 122.2 (second)
California dreamin'
Matt Kenseth won here in February, but it's another Roush Fenway driver that seemingly has some unfinished business out West.
Greg Biffle, a Washington native, has won at California before and has finished second and fourth in the past two races at the track. And scanning through the box score from the race earlier this season, it seems like he left something out there on the track.
Nobody ran the fastest lap on the track more often in that race than Biffle. Biffle was also 10th with 25 laps to go, but came home in fourth place, a pretty impressive feat when you consider the fact that he went by drivers such as Jimmie Johnson, Tony Stewart, Carl Edwards and Denny Hamlin in the closing laps.
Look for the Biff on those long green-flag runs, too. Nobody was faster on those in February. Are you aware everybody loves the Biff? I sure do.
Well, that's all I've got for you this week. Enjoy the race!