Discussion
Questions to answer in INDYCAR
Updated:
October 21, 2011, 11:21 AM ET
By
John Oreovicz
| ESPN.com
INDIANAPOLIS -- Questions are raised any time a racing driver dies. But when it's a high-profile star like two-time Indianapolis 500 winner Dan Wheldon, who perished in a graphically violent 15-car accident Sunday at Las Vegas Motor Speedway, the scrutiny is even more intense.
"This is the big accident everyone always hoped wouldn't occur," said ABC analyst (and former Indy car racer) Eddie Cheever.
Pundits from Jimmie Johnson to Jody Scheckter called for the IZOD IndyCar ...

Read full story
DAN WHELDON, 1978-2011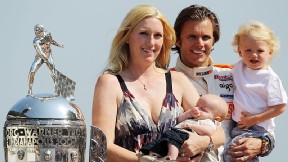 Dan Wheldon won 16 races in a storied IndyCar Series career, along with two Indianapolis 500s -- including this year's 95th running -- and one title. He was killed on the 11th lap of the Honda Indy 300 at Las Vegas Motor Speedway on Oct. 16. He left behind a wife, Susie, and two sons, 2-year-old Sebastian and 6-month-old Oliver.


Columns
•
Oreovicz: Unknowns led to fatal crash
•
Oreovicz: Remembering the good times
•
Little: Wheldon's spirit, humor will live on
•
Blount: Safety ideas coming to fore
•
Oreovicz: Key questions to answer
•
Hinton: More heartbreak for Mario Andretti
•
MacGregor: Unanswerable questions
•
Newton: Wheldon's death rocks NASCAR
•
Oreovicz: Heavy hearts in Las Vegas
•
Blount: From celebration to sorrow
News And Tributes
•
INDYCAR finding: Wheldon's head struck post
•
Barnhart still coping with Wheldon's death
•
Tribute to Wheldon at Indy
•
Drivers, officials to meet Monday
•
Wheldon remembered in Florida service
•
Driver meeting called to discuss death
•
Wheldon dies after Lap 11 crash
•
Wheldon died of head trauma
•
NASCAR planning tribute at Talladega
•
Expert: Too early to blame fence
•
New chassis to be named in honor of Wheldon
•&nbsp
Jimmie Johnson: IndyCar should quit ovals
•
Newton: Kahne wanted to accept challenge
•
Fans pay tribute to Wheldon
•
Conversation: Remembering Dan Wheldon
•
Dan Wheldon photo gallery
Video
•
ESPN3: Wheldon memorial replay
•
Wheldon honored at Indy service
•
NASCAR Countdown: Briscoe's emotional tribute
•
Sports Reporters: Schaap on Wheldon
•
Florida funeral for Wheldon
•
NASCAR Now: Wheldon tragedy
•
SportsCenter: NASCAR reflects on Wheldon
•
A tragedy at Las Vegas Motor Speedway
•
Blount and Oreovicz: Sad day for racing
•
Schaap: Wheldon remembered
•
Jamie Little reports from Las Vegas
•
SportsCenter: Wheldon killed in crash
Podcasts
•
Wheldon's death stuns motorsports world
•
NASCAR drivers react to Vegas tragedy