Discussion
Dan Wheldon memorial held at Indy
Updated:
October 23, 2011, 9:07 PM ET
Associated Press
INDIANAPOLIS -- Dan Wheldon's friends shed a few tears and shared lots of laughs Sunday.
Some couldn't even bear to say goodbye a week after the two-time Indianapolis 500 winner was killed in a fiery crash at Las Vegas.
The 87-minute memorial service was a fitting tribute to Wheldon's life, with former teammates and bosses providing dozens of stories about the roles Wheldon played -- fierce competitor on the track, comedian off of it and loving father and husband.
"At first ...

Read full story
DAN WHELDON, 1978-2011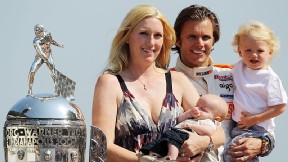 Dan Wheldon won 16 races in a storied IndyCar Series career, along with two Indianapolis 500s -- including this year's 95th running -- and one title. He was killed on the 11th lap of the Honda Indy 300 at Las Vegas Motor Speedway on Oct. 16. He left behind a wife, Susie, and two sons, 2-year-old Sebastian and 6-month-old Oliver.


Columns
•
Oreovicz: Unknowns led to fatal crash
•
Oreovicz: Remembering the good times
•
Little: Wheldon's spirit, humor will live on
•
Blount: Safety ideas coming to fore
•
Oreovicz: Key questions to answer
•
Hinton: More heartbreak for Mario Andretti
•
MacGregor: Unanswerable questions
•
Newton: Wheldon's death rocks NASCAR
•
Oreovicz: Heavy hearts in Las Vegas
•
Blount: From celebration to sorrow
News And Tributes
•
INDYCAR finding: Wheldon's head struck post
•
Barnhart still coping with Wheldon's death
•
Tribute to Wheldon at Indy
•
Drivers, officials to meet Monday
•
Wheldon remembered in Florida service
•
Driver meeting called to discuss death
•
Wheldon dies after Lap 11 crash
•
Wheldon died of head trauma
•
NASCAR planning tribute at Talladega
•
Expert: Too early to blame fence
•
New chassis to be named in honor of Wheldon
•&nbsp
Jimmie Johnson: IndyCar should quit ovals
•
Newton: Kahne wanted to accept challenge
•
Fans pay tribute to Wheldon
•
Conversation: Remembering Dan Wheldon
•
Dan Wheldon photo gallery
Video
•
ESPN3: Wheldon memorial replay
•
Wheldon honored at Indy service
•
NASCAR Countdown: Briscoe's emotional tribute
•
Sports Reporters: Schaap on Wheldon
•
Florida funeral for Wheldon
•
NASCAR Now: Wheldon tragedy
•
SportsCenter: NASCAR reflects on Wheldon
•
A tragedy at Las Vegas Motor Speedway
•
Blount and Oreovicz: Sad day for racing
•
Schaap: Wheldon remembered
•
Jamie Little reports from Las Vegas
•
SportsCenter: Wheldon killed in crash
Podcasts
•
Wheldon's death stuns motorsports world
•
NASCAR drivers react to Vegas tragedy