Discussion
It's always been a risk for fans
Updated:
February 24, 2013, 9:55 AM ET
By
Ed Hinton
| ESPN.com
DAYTONA BEACH, Fla. -- Bad as this was, it could have been much, much worse. There has been much worse, for auto racing spectators, in America and abroad.
Here, Saturday, the catch fencing was shredded and the steel reinforcement cables severed by the heaviest shrapnel I've ever seen come from disintegrating cars at a major race.
Yet that catch fencing did the best job, against a harsher test, that catch fencing has ever done. It was the result of years of research and ...

Read full story
55th Daytona 500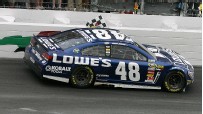 Follow Motorsports on ESPN:
Twitter
Horrific Crash At Daytona